5G increases the complexity challenge for any cloud, any network, any workload across physical and hybrid ecosystems.
As CSPs transform their networks to meet 5G use case requirements for Mobile Access Edge Computing (MEC) supporting Enhanced Mobile Broadband (eMBB), Massive Machine Type Communication (mMTC), and Ultra-Reliable Low Latency Communication (URLLC), the complexity challenge is increased with the introduction of new virtual technologies like edge cloud, network slicing, virtual core, and cloud RAN (C-RAN).
Proactive Service Assurance
CSPs need to address the 5G challenge early with a carrier-grade solution that is designed for the cloud to assure visibility with near real-time actionable insights.
5G roll-outs must be carefully planned to support seamless continuity with existing networks for coverage of geo-analytics, RAN connection data flows, troubleshooting, and service assurance. With NETSCOUT's flexible 5G solution, CSPs will achieve:
End-to-End Smart Visibility into the edge cloud and virtual RAN ensuring accurate metrics for all 5G services
Visibility at every phase of the 5G life cycle from pre-launch, launch, to operations
Scalability in a carrier-grade solution that reduces Total Cost of Ownership (TCO)
Flexible monitoring capabilities with complete visibility across multi-generations of mobile network technologies
Seamless monitoring for 5G deployments with or without Control and User Plane Separation (CUPs)
24x7 automated monitoring of network slices with visibility into north/south/east/west traffic for both public and private cloud applications and services
Maximum efficacy of 5G radio bearers to minimize RRC reconfiguration when 5G hands down to LTE.
NETSCOUT's solution delivers end-to-end Smart Visibility from RAN to Core throughout the 5G life cycle
Our powerful software based geo-analytics platform helps you accurately measure performance and effectively pinpoints subscriber-affecting issues across multi-generation (3G/4G/5G) of mobile networks for mobility, data, and VoLTE services in hybrid network environments.
Our solution assures continuous visibility 24 x7 by automated monitoring of service chains or network slices for east, west, north and south traffic to fulfill rapid response for all 5G use cases.
Infographic: 5 Ways to Get Smart Visibility from Here to 5G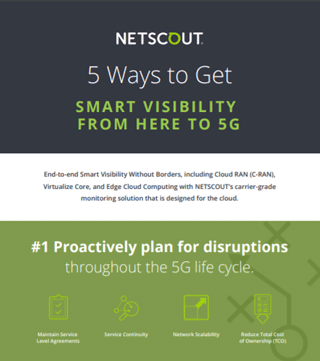 End-to-end Smart Visibility Without Borders, including Cloud RAN (C-RAN), Virtualize Core, and Edge Cloud Computing with NETSCOUT's carrier-grade monitoring solution that is designed for the cloud.
Talk to an expert
To learn more about how NETSCOUT's 5G solution can help you get the most out of your 5G initiatives, speak to one of our highly experienced subject matter architects. We've got answers to your most pressing questions.
NETSCOUT's 5G Solution with Smart Data Can Help You:
Assure data flows and troubleshooting for session trace of both LTE and 5G with or without CUPs
Assure services and proactively plan for visibility into Key Performance Indicators (KPIs) based on 5G use cases
Gain seamless visibility into hybrid (physical and virtual) networks
Roll-out and plan drive test and propagation modeling, identifying geographic hotspots and congested cells
Products in this Solution
…
Success Story
Data Sheet
White Paper
Article