Visibility for service assurance and cybersecurity in data centers and hybrid cloud environments
The vSTREAM™ complements existing Adaptive Session Intelligence™ (ASI)-based instrumentation to provide the same smart data visibility within virtualized and cloud infrastructures that is already possible in physical environments. The vSTREAM is ideal for monitoring service-critical traffic running within virtualized or cloud infrastructures.
Benefits
Achieve User Experience Goals
Leverage end-to-end visibility across data centers, multi-cloud, and remote sites.
Seamless, Affordable Visibility
Scalable and simplified packet-data visibility and analysis is easy to deploy and manage.
Reduce time to Solve Problems
Combination of East-West and North-South visibility and proven workflows for comprehensive service assurance decreases the mean-time-to-repair (MTTR).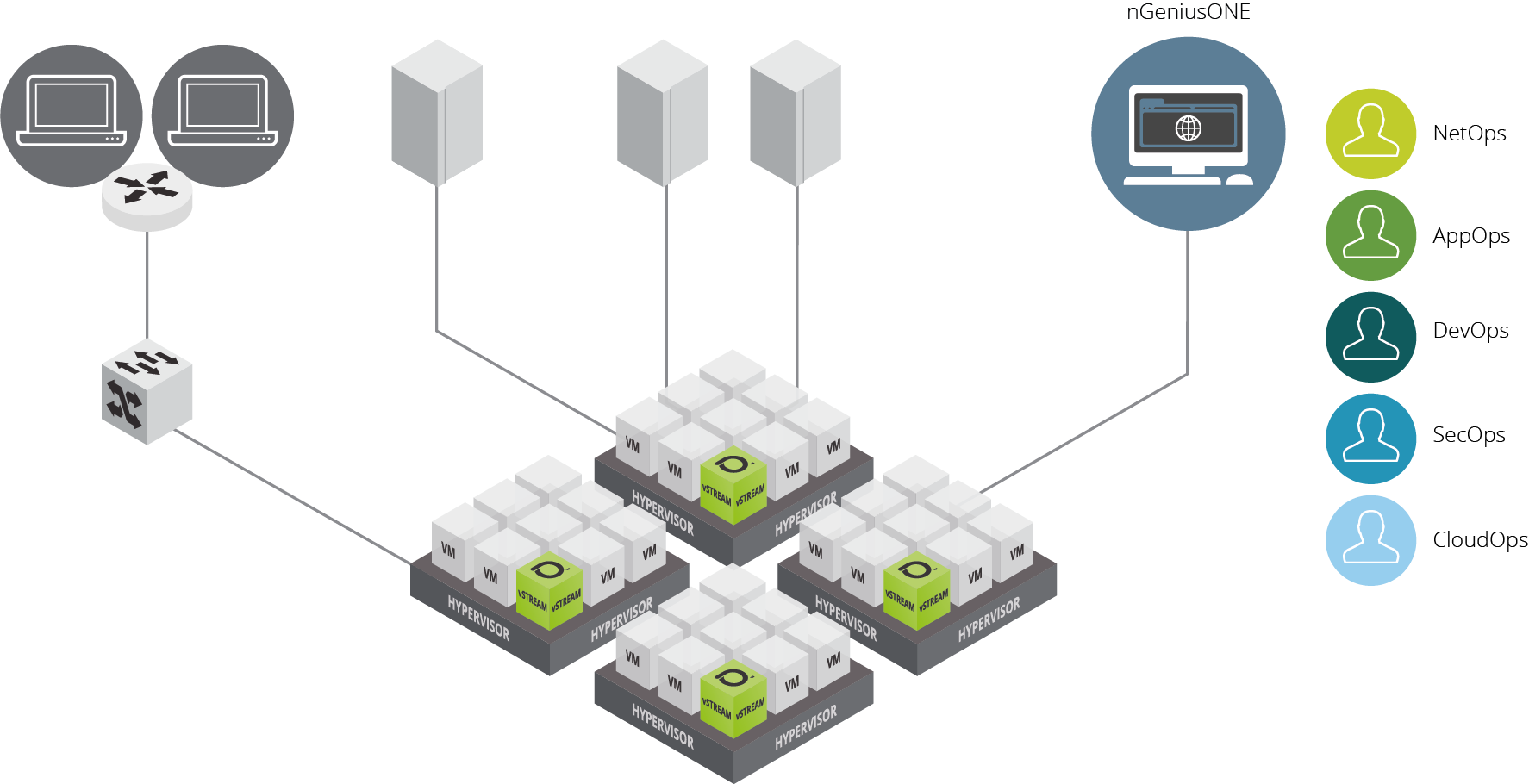 Unparalleled Visibility and Control in Hybrid Cloud Environments
NETSCOUT delivers visibility across technology services, infrastructures and platforms, including private and public cloud, SDNs and virtualized environments. As a software-based instrumentation, vSTREAM provides insight into packet traffic and application workloads giving IT organizations smart data for visibility and control for service assurance performance management and cybersecurity purposes.
Features
Visibility into Application Performance

Real-time analysis of application performance and end-user experience for proactive monitoring, troubleshooting, baselines, and dependencies

Superior End-to-End Analytics

East-West traffic monitoring helps identify performance problems and security issues across data centers, cloud, and branches

High performance, agent-less architecture

Easy-to-deploy and easy-to-manage approach.

Power of Smart Data

Packet-based monitoring and analysis presents real-time views of sessions, conversations, network-wide KPIs, and packet capture capabilities
Deployments
NETSCOUT delivers visibility across technology services, infrastructures and the platforms that comprise today's connected world, including private and public cloud, SDDCs and virtualized environments.
Contact NETSCOUT Today
To learn more about how NETSCOUT can help your company, speak to one of our highly-experienced subject matter experts.