Decrypt SSL/TLS Encrypted Traffic for High Performance Active and Passive Assurance Tools
The nGenius Decryption Appliance (nDA) enables high-performance visibility into traffic encrypted with TLS/SSL and SSH (including the latest standards). With active inline and passive out-of-band deployment options, nDA can support up to 40Gbs of bi-directional traffic while assuring optimal performance of downstream service and security assurance tools.
Benefits
High Capacity
Decrypt up to 40 Gbps of Bidirectional Traffic with Models Designed for Unique Network Needs
Flexible Deployment
Support for Multiple Service Assurance and Security Tools with Passive and Active Deployment Options
Investment Protection
Incorporates Latest TLS + SSH Versions and Encryption Algorithms for Ultimate Compatibility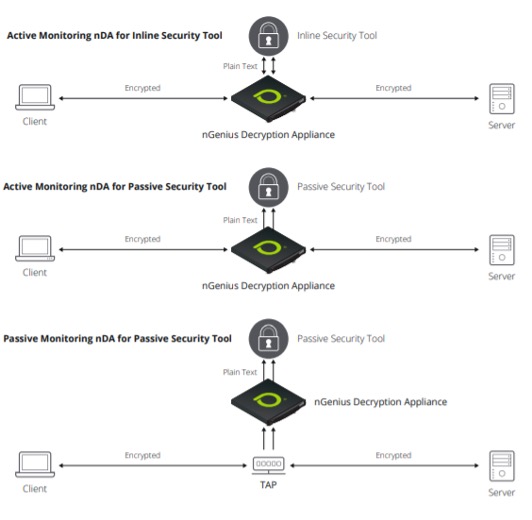 Experience the NETSCOUT Advantage
nGenius Decryption Appliance is a purpose-built, high-performance TLS & SSL decryption tool for the most demanding, pervasive security monitoring applications. When security-optimized capabilities and value really matter, enterprises and service providers alike select NETSCOUT.
NETSCOUT products are used by over 20,000 enterprise customers, including 92 of the Fortune 100 and more than 150 top service provider customers. nGenius Decryption Appliance integrates seamlessly with the NETSCOUT nGenius Packet Flow Switches or any 3rd party packet brokers and is supported by the company's business processes, including its award-winning customer care program.
Get Started With NETSCOUT Today