The NETSCOUT / Oracle Cloud Infrastructure (OCI) Partnership
NETSCOUT is an Oracle Partner Network Member to provide first-of-its-kind network traffic visibility into Oracle Cloud Infrastructure (OCI) .
Application and service complexities can threaten or delay successful data transformations from on-premises, centralized facilities to the cloud. Enterprise organizations are accelerating their digital transformation with OCI to achieve revenue, customer satisfaction, and cost-savings goals. Whether migrating applications using lift and shift, refactoring existing applications, or developing new apps with microservices, managing the business on OCI cloud relies heavily on an enterprise's ability to quickly address issues as they occur, which includes eliminating performance "blind spots."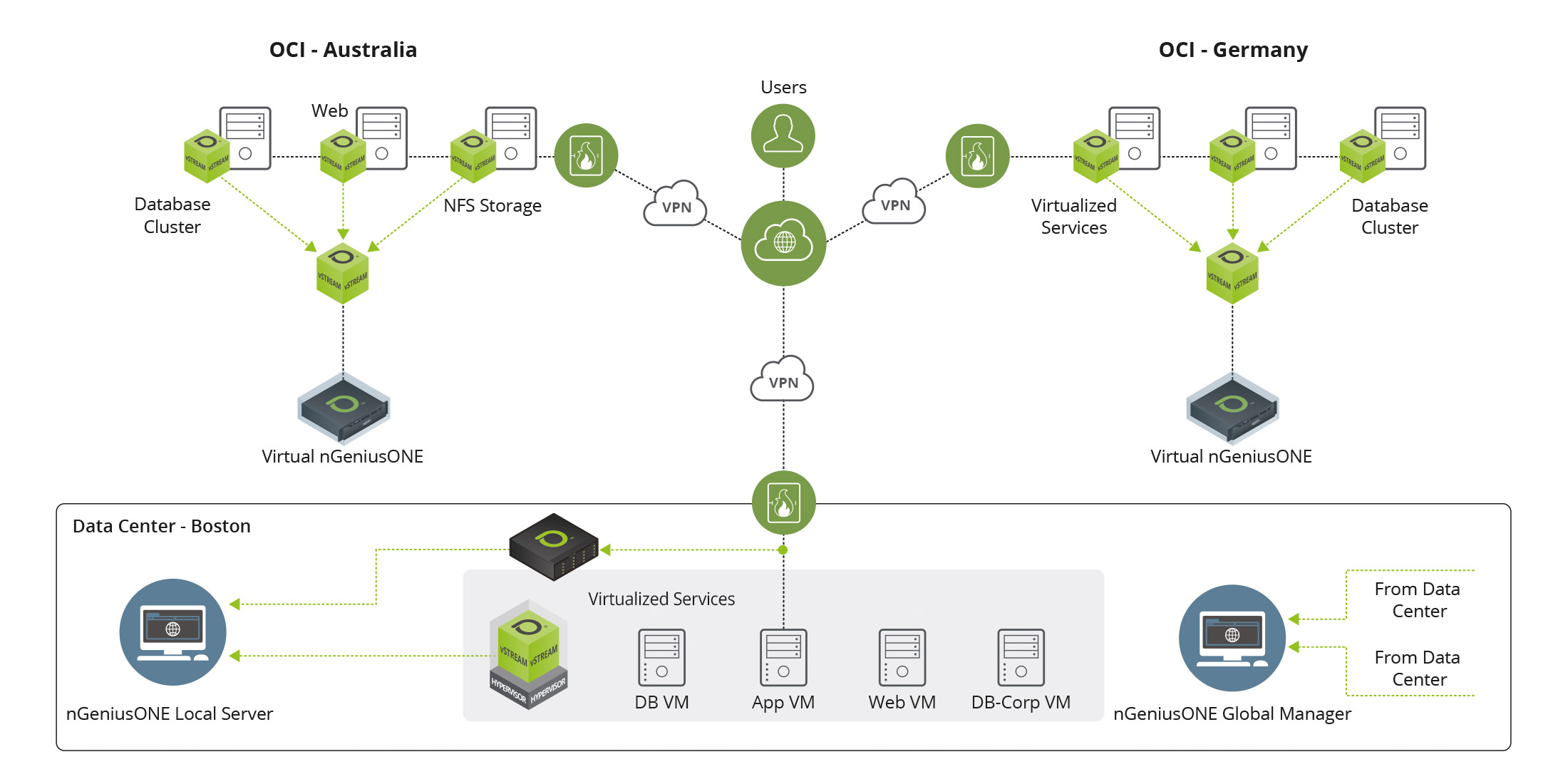 Leveraging NETSCOUT's nGeniusONE Service Assurance solution enables you to deliver, deploy, and secure applications and services across physical, virtual, and cloud environments. The solution uses our Smart Data technology to analyze real-time, packet-based information for key performance indicators and evidence-based intelligence from all connected applications and services, including their interactions and dependencies. NETSCOUT's Smart Data fuels the end-to-end visibility and in-depth metrics needed to assure network and application performance, gain more control of service quality, and maintain end-user experiences in multi-cloud environments.
Innovative Solution for OCI Environments
NETSCOUT's innovative Smart Data technology goes beyond traditional north-south traffic views to deliver deep insights into traffic across OCI. The nGeniusONE Service Assurance solution leverages real-time network traffic analysis from vSTREAM and InfiniStreamNG appliances to provide application performance management capabilities that are ideal for enterprises running application workloads that require compute, network, and storage resources in multi-cloud environments. This offering enables these enterprises to assure a high-quality customer and user experience as they migrate applications and other workloads to the cloud. These capabilities are also critical to DevOps organizations with services that seek to optimize the performance of refactored applications, as well as assure outstanding customer experience for apps developed natively in the OCI cloud that rely heavily on microservices.
Highlights of the nGeniusONE Solution With vSTREAM
Dynamically recognizes different digital services, applications, and protocols behind IP sessions and delivers detailed performance metrics and actionable intelligence on service availability, reliability, and responsiveness
Uses Smart Data to intelligently and efficiently analyze traffic flows for a contextual view of service and its interdependencies end-to-end across the service delivery infrastructure
Generate real-time performance, traffic, and error metrics, as well as session event records
Key Benefits
Accelerate deployments of services into OCI while assuring application reliability, availability, responsiveness, and business continuity
Achieve end-user experience objectives and swift problem resolution for application services with Smart Data and smart analytics from NETSCOUT
Empower collaboration between enterprises and OCI as they work together to achieve business goals
Quick time to value with easy-to-deploy and easy-to-manage visibility for troubleshooting
Oracle Partner Network Member
NETSCOUT is an Oracle Partner Network (OPN) member and our vSTREAM virtual appliance and virtual nGeniusONE are both Oracle Cloud Ready and available through the Oracle Cloud Marketplace. NETSCOUT's relationship with Oracle provides our joint customers with borderless visibility and performance management of applications throughout their network, from the core to the edge, as they migrate to the cloud.
Visit OCI Marketplace for listings and more information.