Maximizing ARP Funding to Strengthen IT Security and Performance in K-20 Schools
With the most recent round of federal funding through the American Rescue Plan (ARP), schools have an opportunity to make impactful long-term investments in broadband, cybersecurity, and connectivity.
IT professional confirmed NETSCOUT monitoring and troubleshooting solution reduced MTTR by 80 – 100% as part of their organization's cloud migration. End-Through-End visibility protects user productivity and helps solve problems fast in the hybrid cloud.
Netscout consistently works for me, shortening the time it takes to find the root cause of performance problems.
- Network Administrator at Large Education Institution
Network-Wide Security and Availability
Schools, Colleges, and Universities must provide student privacy and protect academic assets, and that implies high-availability, well-secured systems.
NETSCOUT's Arbor Adaptive DDoS Protection solutions help ensure fast, secure access for students, educators, and administrators. NETSCOUT delivers a real time-network visibility for availability, security and performance management from a single platform through scalable Deep Packet Inspection to provide early warning, triage, evidence and root cause determination capabilities.
Network Performance Management
Voice, video, Learning Management and Conferencing software, and the links between them, are critical to all levels of Educational institutions and require the high-performance links and constant availability that are monitored by nGeniusONE.
nGenius Enterprise Performance Management helps IT teams manage successful Virtual, Cloud, and SDN rollouts of new applications with NETSCOUT Single-Pane Views and Smarter Analytics.
On-Site Application Performance and Security
Colleges and Universities have the same IT requirements as other large organizations, such as employee payroll, benefits tracking, inventory, billing, and more. There are also specialized IT needs for educational institutions, such as student resources including health care, meal plans, and scholarships. These applications can be tracked in detail by the NETSCOUT solution, helping IT teams quickly identify bottlenecks.
Instructors, professors and staff also have specialized needs such as class scheduling, assignments and submissions, and grading. Whether these functions are addressed using industry-standard tools or custom software, they can be monitored by nGeniusONE and protected by Arbor Adaptive DDoS and Omnis Security solutions.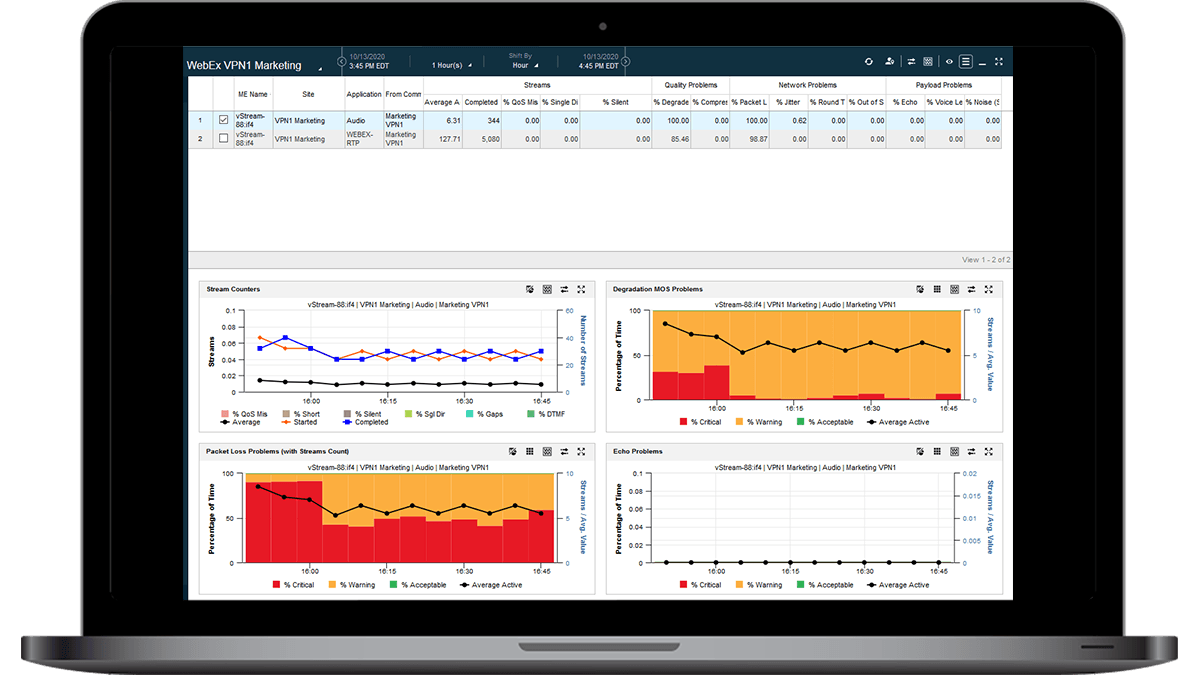 This screen shows a display of multiple streams involved in a Zoom conference. Notice that some seriously degraded MOS scores are shown for the audio portion of the conference.
Protecting, Securing and Ensuring Performance of Distance Learning Systems
Educational institutions need very specific software when learning and teaching remotely, such as LMSs, Web conferencing, etc. The constant availability and performance of these applications, and the student experience using them, is key to the reputation of the institution.
Distance Learning Systems are, by definition, distributed systems and therefore vulnerable to attack. NETSCOUT delivers intelligent, automated, Adaptive DDoS protection for these systems.
Voice, video, learning management, and conferencing software needs constant availability, and clear troubleshooting workflows for better MTTR.
nGenius Enterprise Performance Management provides real-time visibility into multi-cloud and hybrid environments, and rapid troubleshooting across applications deployed on various platforms.
Protect your institution's services with NETSCOUT.