Seamless Application Visibility
Digital transformations are being driven by enterprise migrations to Software-Defined Networking. SDN benefits include agility, security, simplified management, and reduced data center costs. Many companies have implemented a Software-Defined Wide Area Network (SD-WAN) to connect remote sites as well as migrating some key services to public clouds.
Visibility is critical for ensuring network performance, especially in complex environments. Without a single source of truth for application dependencies and user experience, it may be impossible to identify the root cause of disruptions before they affect users and overwhelm essential network functions.
NETSCOUT nGenius Enterprise Performance Management solutions enable early detection and rapid resolution of network and application issues and seamless visibility during and after SDN migrations, making it easier to pinpoint the source of performance issues. End-through-end visibility and continuous SDN performance monitoring using NETSCOUT solutions reduces risk to your business operations.
Case Study
No More SDN Blind Spots: Assuring Cisco ACI Rollout Success With NETSCOUT
This leading railway augmented their IT Project Lifecyle Activities with NETSCOUT Smart Visibility.
Visibility and Control Across Your Entire Network at Scale
NETSCOUT nGenius® Enterprise Performance Management closes visibility gaps so you can maintain business operations and service continuity throughout your SDN transformations.
End-Through-End SDN Performance Monitoring
NETSCOUT has developed a revolutionary performance management solution to extend the power of Adaptive Service Intelligence® (ASI) technology that takes packet analysis beyond traditional data centers and north-south traffic into virtualized environments to provide deep insights into east-west traffic. It provides seamless views that scale across your SDN and SD-WAN deployments and alongside your hybrid-cloud and legacy data center environments.
nGeniusONE delivers unrivaled end-through-end visibility into business services and provides contextual workflows to speed problem resolution. Through overarching views powered by NETSCOUT's Adaptive Service Intelligence (ASI) technology you have unmatched visibility into SDN performance monitoring of applications and user experience. nGeniusONE exposes underlying service dependencies that help IT teams manage health, availability, security, and user experience issues more effectively across SDN and SD-WAN deployments.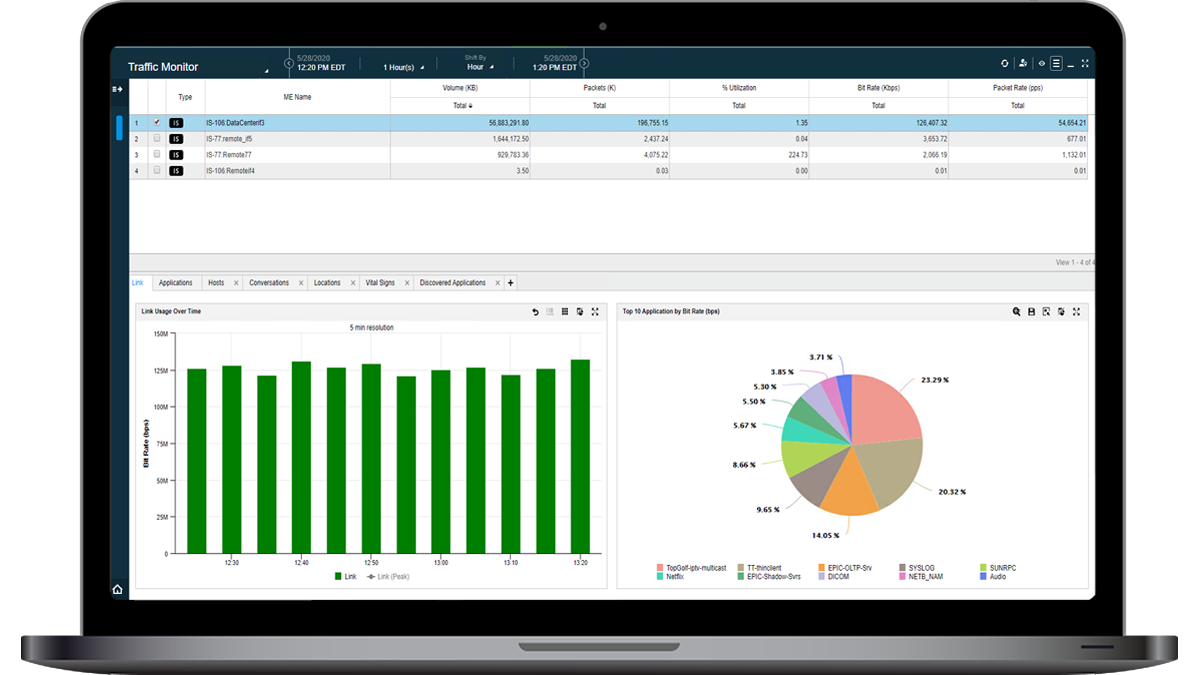 Get Started With NETSCOUT Today