90%
of Tier 1 Service Providers
90%
of U.S. Fortune 100 Companies
NETSCOUT Smart Data
Netscout's Smart Data technology distills real-time, precise, and relevant intelligence from all connected services and their interactions, establishing a panoramic real-time view of the digital connections between applications, users, and services.
Systems run more efficiently. User demands are met faster and more accurately. Threats are detected and thwarted before they cause chaos and irrefutable damage. Applications run more continuously. Businesses save money and drive growth and innovation. IT and technology teams deliver the digital experience required to excel and succeed. We all enjoy a safer, more meaningful connected world. Smart Data fuels the visibility and analytics to protect and assure the user experience in our connected world.
Scalable
High performance and easily deployable, light weight architecture that collects and processes data at the source to deliver consistent, real time visibility across the entire infrastructure.
High Fidelity
Distills real-time, precise metrics that are critical to effective troubleshooting and proactively monitoring services and applications without losing access to session and forensic details.
Multi-Purpose
Goes beyond baseline metrics and provides a real-time picture of the most accurate markers that IT needs to maintain the health of its infrastructure in a single view.
Packet data, the communication between all of the service components, can provide the holistic perspective that IT is seeking. However, it has been difficult and costly to obtain. Until now.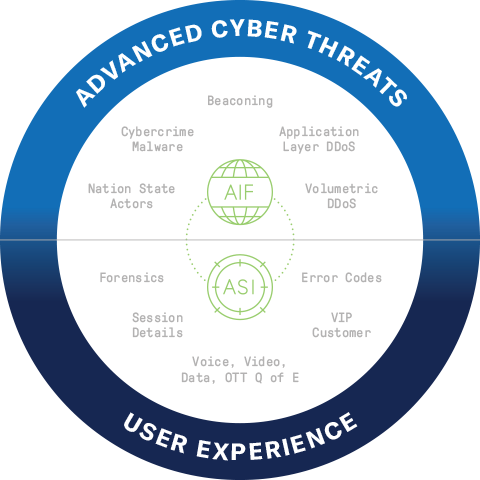 Proud to be Recognized as a Market Leader

NETSCOUT is the market share leader in distributed enterprise network management with a rich portfolio of monitoring and analytics tools that span virtual, physical, and cloud environments.

The largest vendor in the DDoS market, NETSCOUT Arbor ranks first due to new investments in security around visibility and threat analytics.

NETSCOUT is the market share leader in the Automated Assurance market, thanks to its strong incumbency among the top Tier 1 CSPs and strategic R&D investments to evolve its products for NFV/SDN, 5G and Edge computing technologies.