The NETSCOUT/ F5 Partnership
Maintaining secure networks and delivering high-quality communications services has never been more important or more challenging as the world emerges from the pandemic and continues its transition to a multi-cloud world that enables digitization. To accomplish that goal IT, Network Operations, Engineering, and Security teams must first have visibility to the network, services, applications, and devices/subscribers running on it. Simply said, you can't manage and protect what you can't see!
NETSCOUT's participation in the F5 Technology Alliance program allows it to build, test, certify and offer integrations with F5 via the F5 SSLO Catalog. The new integration between the F5 and NETSCOUT vSTREAM/ISNG provides IT, Network Operations, Engineering, Network Security technicians, Engineers, and Analysts with the ability to collect, investigate and research unencrypted and encrypted network traffic at the packet level.
Key Benefits
Observability for Encrypted Traffic
Gain visibility to encrypted traffic with F5 feed to NETSCOUT's service and security assurance applications.
Authorized Access to Encrypted Services
Maintain integrity of encrypted services as only authorized service and security applications have access to unencrypted traffic.
Deploy Encrypted Services with Confidence
Gain visibility to encrypted traffic to assure the delivery of high-quality services.
Custom App Automated Assurance
Discovery and continuous monitoring of custom applications to ensure SLAs are met.
User Experience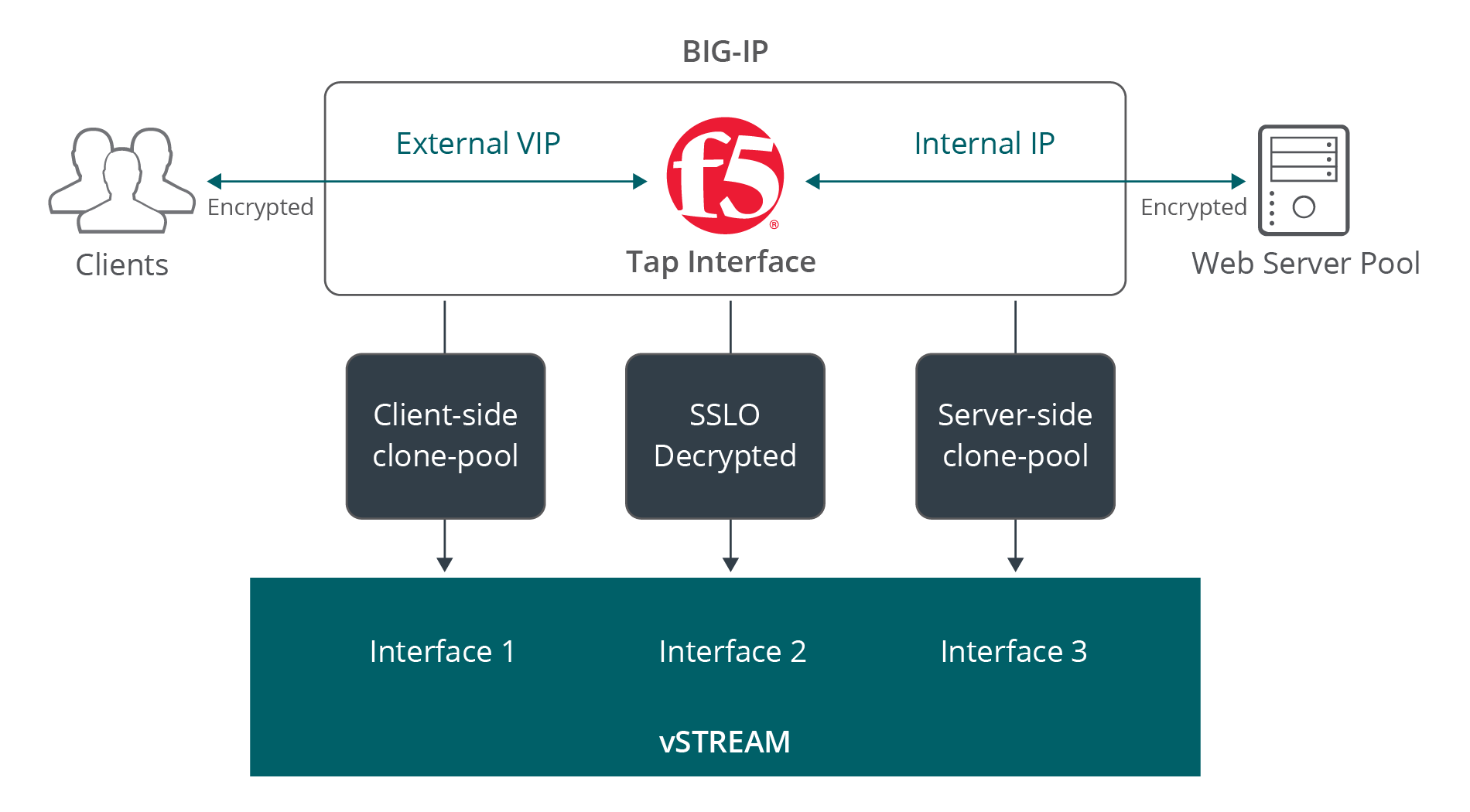 When F5 is used in combination with NETSCOUT nGenius Enterprise Performance Management, nGenius Business Analytics, and Omnis Cyber Intelligence products users can perform proactive service assurance and service triage, analytics, and notifications can be enabled to alert network security engineers of threats to the infrastructure.
Figure on the right, depicts the use of an SSL Orchestrator with F5 BIG-IP. In physical environments, SSL Orchestrator can be added as a blade-based function. In a virtual/cloud environment, the SSL Orchestrator module can be enabled as a standalone or add-on software license to the BIG-IP Virtual Edition. In this model, the BIG-IP can provide the ISNG or vSTREAM with copies of client and/or server-side encrypted traffic, through the use of Clone Pools, while the SSL Orchestrator provides decrypted copies of traffic.
Further integration efforts with F5 enable user-controlled business application definitions to be imported directly from F5 BIG-IP server pool definitions. Now BIG-IP Local Traffic Manager can provide NETSCOUT's ISNG instrumentation with clear, unencrypted traffic for custom applications in both physical and virtual/cloud environments. As these applications typically drive greater revenue, profitability, and competitive differentiation, ensuring a better customer experience, or helping to comply with regulatory requirements, while assuring optimal performance and security is essential.