Intelligent Visibility into Network Traffic
By providing intelligent visibility into network flow data and attaining insight into where traffic is coming from, Arbor Insight enables more accurate traffic engineering, network planning and peering analysis – all of which helps reduce costs and optimize services.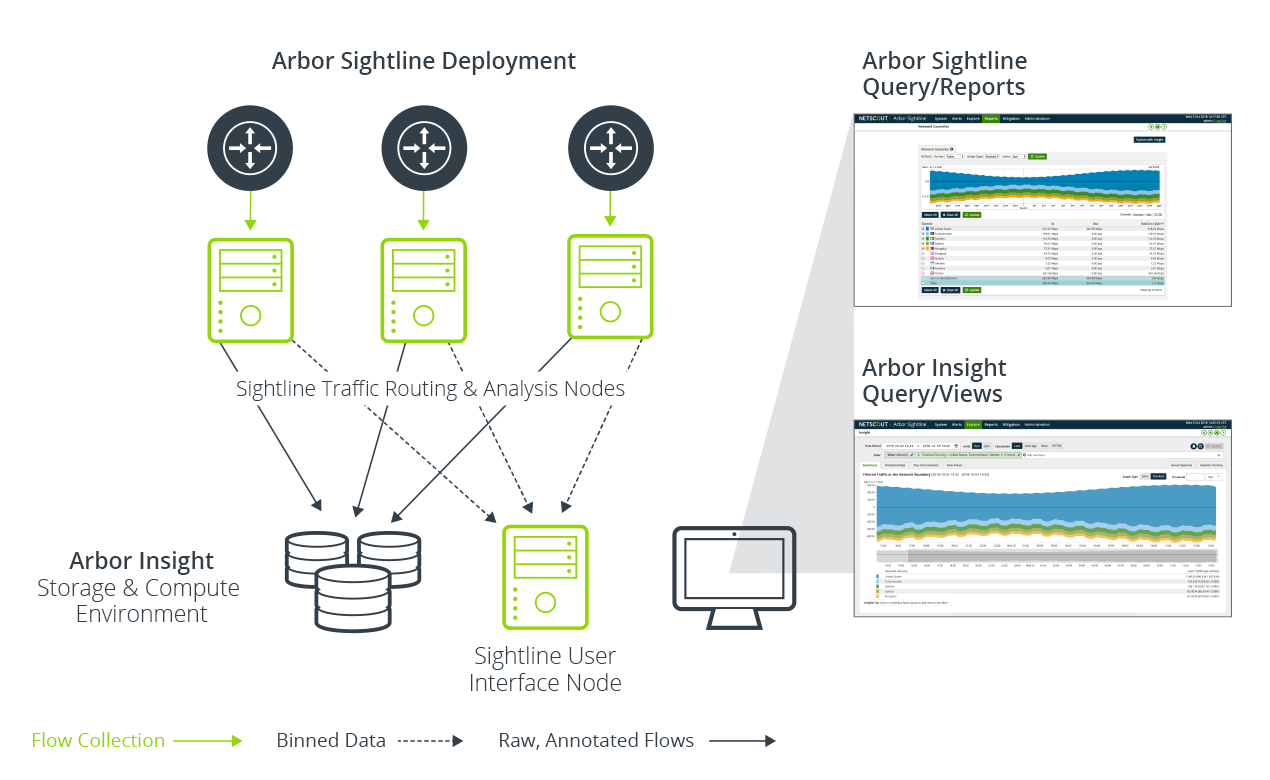 Arbor Insight is designed to enhance the capabilities and workflows of Arbor Sightline. Together, they enable network operators to gain even more pervasive network flow monitoring while conducting agile, multi-dimensional, visual analysis against a combination of binned and annotated raw flows.
Benefits
Turn Deep Visibility into Clear Insights, Instantly
Arbor Insight employs big data techniques to generate a photographic memory of network traffic analytics and activity reporting. Take advantage of high-speed big data analytics for faster insights and smarter business decisions.
Extend and Enhance your Arbor Sightline Deployment
Arbor Sightline's value is extended to help with understanding network traffic in order to grow your business or to perform enhanced forensic investigation to maintain network uptime.
Exploring at the Speed of Thought
Leverage Arbor Sightline's unique flow annotations and enrichment to conduct agile, multi-dimensional searches of network traffic data with unlimited filtering.
Attain Deep Understanding of Network Threats Through Analytic Forensics
Perform much faster and more thorough DDoS attack and advanced threat forensics.

Enhanced Digital Forensic Investigation:
Move freely and intuitively through historical data in less time to learn more about past attacks, targets and indicators without being overwhelmed by multi-screen/multi report process thanks to Arbor Insights' powerful network flow data monitoring and visibility capabilities.
Solution Brief
Arbor DDoS Attack Protection Solutions
Intelligently Automated, Hybrid DDoS Protection, Backed by Global Visibility and Threat Intelligence. Industry best practice for DDoS defense is a multi-layer, or hybrid approach that takes into account the different types and targets of DDoS attacks. High volume flood attacks that target internet connectivity must be mitigated in the cloud, away from the intended target before they overwhelm...
Solution Brief
What You Don't Know About Your Network Might Cost You!
Greater Visibility Helps SaaS and Enterprise Network Operators Improve Efficiency and Protect Availability
Contact NETSCOUT Today
To learn more about how NETSCOUT can help your company, speak to one of our highly-experienced subject matter experts.