Benefits
Service Analytics
Immediately locate any degradations in quality of service (QoS).
Video Analytics
Use latency data to analyze OTT data and user experience.
Subscriber Experience
Know exactly how many subscribers are impacted.
Smart Outcomes
Pinpoint service issues and make quick and impactful decisions that reduce customer support costs with detailed fiber monitoring.
Focus Areas
High Speed Internet (HSI)
Emerging from the pandemic, remote/hybrid work arrangements are still the norm making HSI a critical service offering for webinars, web surfing, and OTT apps. Ensuring dependable service levels takes continuous visibility and fiber monitoring.
Rapidly pinpointing the source of service issues is critical to keeping services running smoothly as well as utilizing service technicians most efficiently and economically.
Service and Subscriber Availability
Your subscribers depend on service availability whether they work at home or in their business. Early warning of service loss helps to reduce downtime for:
Voice
Video
High-speed Data
Mobile Service
Assure a confident and successful deployment of cloudified or disaggregated networks, and be sure they're working as well as your legacy systems, with network monitoring.
Cable and Fixed Architecture
As networks evolve to meet higher bandwidth requirements, you must be able to measure subscriber experience. Use NETSCOUT Smart Data for visibility from the core, to the edge, and through the last mile.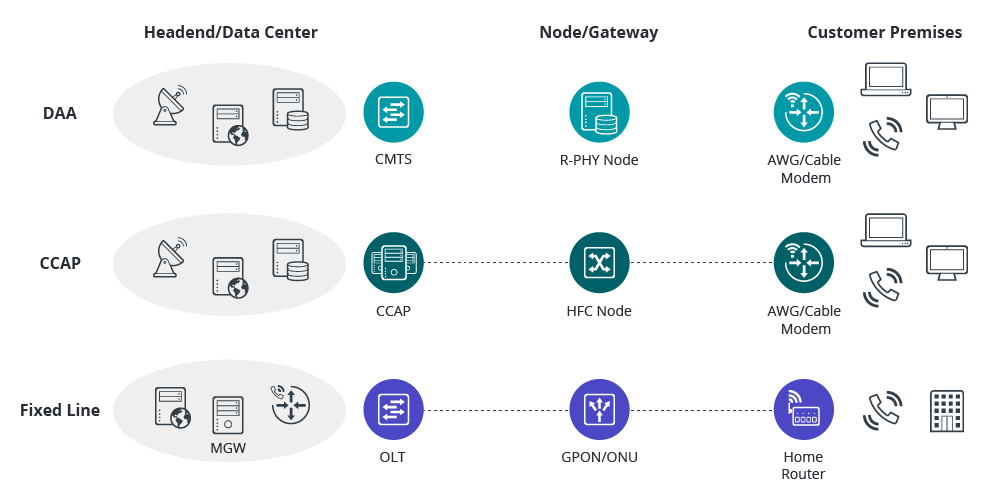 How Can NETSCOUT Help Cable, MSO, and Fixed Line Operators?

Headend/Data Center
HSI Performance
Voice, Video, Data Loss, and Errors
Link Congestion
Video Quality
Node/Gateway
Low Uplink BW
Low CPU and Memory
Fault Isolation: Network vs App
Signaling Errors in Multivendor DAA
Premises
CPE Availability
WiFi vs Wired
Uplink vs Downlink Latency
Active Testing
Key Issues and Monitoring Points for FTTx
Monitoring the FTTx infrastructure helps to assure the delivery of network performance and high quality customer experience to the "last mile". This diagram presents the critical monitoring points for expected FTTx network issues.
Know Exactly How Many Subscribers Are Impacted