NETSCOUT® Smart Data solves the traditional barriers to using wire data, providing a deep, packet-level understanding of the communications between service, infrastructure, and characteristics, regardless of the physical location of the data concerned.
Scalable: High performance and easily deployable, light weight architecture that collects and processes data at the source to deliver consistent, real time visibility across the entire infrastructure

High Fidelity: Distills real-time, precise metrics that are critical to effective troubleshooting and proactively monitoring services and applications without losing access to session and forensic details

Multi-Purpose: Goes beyond baseline metrics and provides a real-time picture of the most accurate markers that IT needs to maintain the health of its infrastructure in a single view
Visit our Resource Center to learn more about NETSCOUT Smart Data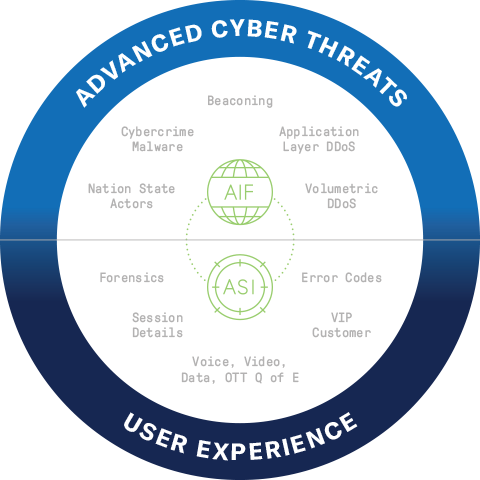 Smart Data-Fueled Solutions
Our ability to distill real-time, precise intelligence from the noise of traffic sets us apart. While we live in a data-driven world, most companies struggle to extract the full value from their data. Technology teams collect and comb through large amounts of disparate sources of data, with limited ability to automate and obtain visibility into the data they required.
Our Smart Data-fueled solutions accelerate:
Service Providers with nGeniusONE and Business Analytics

Deployment and monitoring virtual networks, fast and effectively
Use real-time data to support business initiatives

Enterprise IT with nGeniusONE

Roll out new cloud applications and successful cloud migration strategies
Continuously deliver vital high-quality applications and services

Security Operations and Architects with nGeniusONE and Packet Flow System (PFS) Security Visibility

Defeat critical security threats
Create scalable security architectures for cyber-threat analytics

DDoS Defense with Arbor Cyber Threat and DDoS Protection

Protect and secure digital business from complex cyber threats and DDoS attacks
Deliver best-in-class DDoS services
NETSCOUT Smart Data technologies include:
Adaptive Service Intelligence (ASI) transforms wire data into real time, condensed user performance metrics and threat awareness indicators, without losing the ability to dig into the details


Active Threat Level Analysis System (ATLAS) monitors and gathers real time telemetry on one-third of Internet traffic. ATLAS Intelligence connects global attack campaigns on the broader Internet with confirmed threat activity on the internal communications on your organization.
Smart Data Platform
Our Smart Data platform democratizes the pervasive visibility and acquisition of wire data across physical, virtual, and public cloud environments, automatically preparing and organizing this data, at the source, in real time.
NETSCOUT Smart Data provides continuous, uniform visibility and automates the precise identification of risk and performance status across all connected services and their interactions – from the network edge and across all services, allowing IT and network teams to deliver the most superior user experience.