nGenius Business Analytics
Smart Data – Powerful Analytics – Simple Delivery
Enables more informed business decisions by allowing you to tap into the smart data hidden in your high-volume network traffic, to derive timely and valuable insights.

nGenius Business Analytics
nGenius® Business Analytics is a next-generation approach to business analytics that powers customer-specific use cases by enriching smart data from our Adaptive Service Intelligence (ASI) technology with data from non-network sources such as BSS/OSS, subscribers, devices, locations and applications. Built upon an open framework, nGenius Business Analytics uses KAFKA and REST, industry-standard APIs, to export this valuable subscriber and service-level intelligence into your data lakes and business analytics platforms, for the most complete insights into customer experience, revenue growth, churn, operational efficiency and productivity.
Big Data Analytics Challenge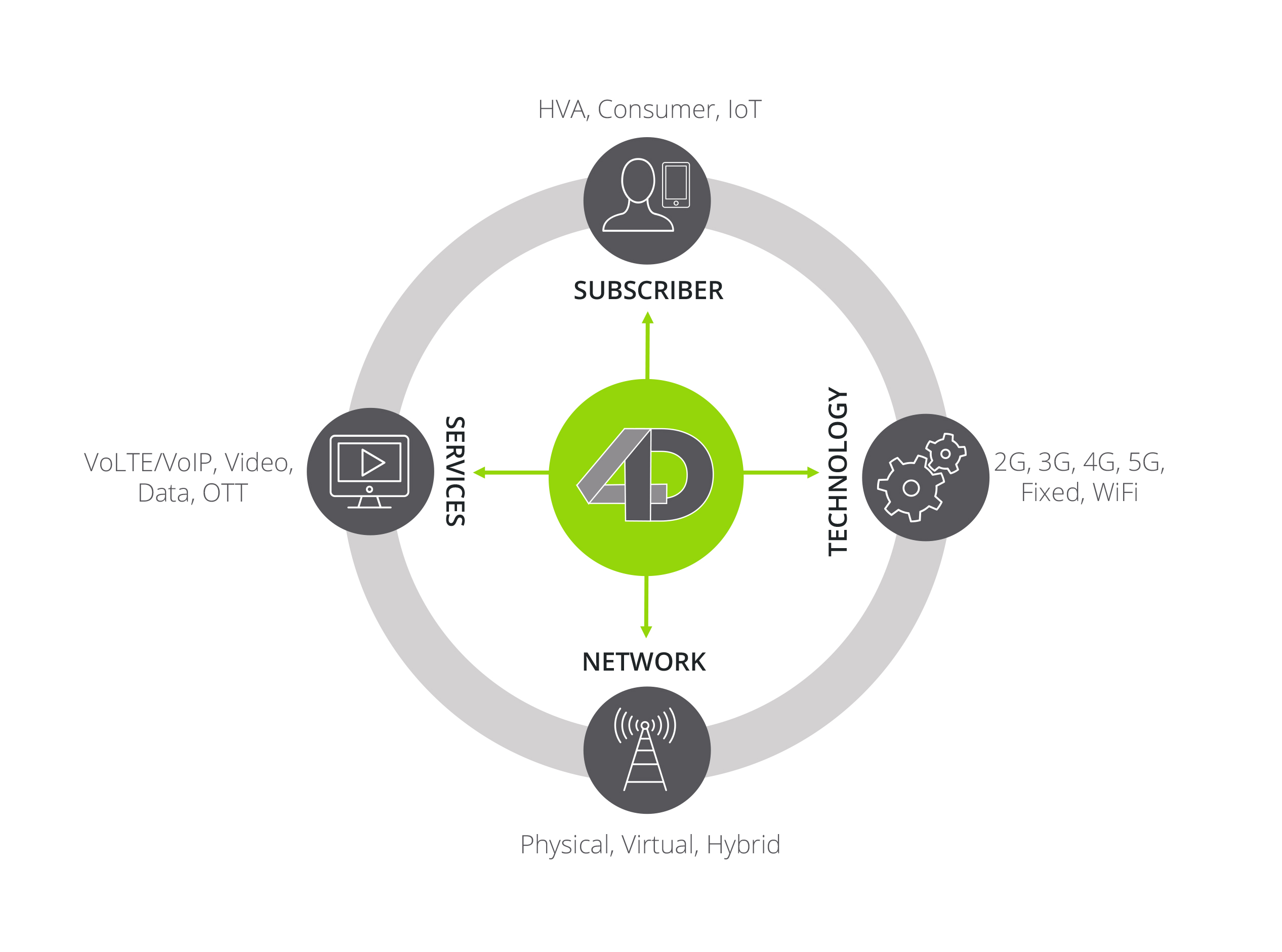 The sheer volume of structured and unstructured data being collected by service providers is staggering, as is the number of ways that this data can be combined and analyzed. With so much depending upon accurate and timely business intelligence, are you confident in the quality and timeliness of the data being fed into your Big Data analytics platform?
Telecom Analytics Is in Our DNA
NETSCOUT helps service providers remove the barriers associated with mining high-volume network traffic. Our patented ASI technology analyzes packet data in real-time to derive timely and valuable insights that can be shared across the organization, for more informed business decisions. ASI smart data is scalable, multi-dimensional, and can be exported into third party applications for insights into network and service assurance, subscriber analytics, Big Data analytics, CEM and cybersecurity.
NETSCOUT's rich data set provides end-to-end visibility across mobile, fixed-line, cable and enterprise networks, enabling you to improve customer experience and gain lucrative insights into usage behavior.
Talk to an Expert
To learn more about how NETSCOUT can help you, speak to one of our experienced subject matter experts to address your unique needs and challenges. We've got answers.
nGenius Business Analytics delivers a next-generation approach to business analytics with capabilities such as:
Explorer – real-time ASI data exploration with ad-hoc queries, scenario analysis and custom KPI builder

Self Service Analytics – executive reporting, custom dashboards, interactive geo-mapping of ASI metadata and the ability to combine ASI data with external data sets

Data Enablement – enables ASI smart data to be easily and cost-effectively exported and consumed by third party applications using industry standard KAFKA and REST APIs

Subscriber Insights – pre-built dashboards (for self-service analytics) enabling actionable insights into subscriber behavior, customer experience scoring and trend reporting by multiple dimensions such as device, location, service, HVA/VIP and more
…
Success Story
Video
Data Sheet
Smart Data: Providing Actionable Intelligence Across Multi Dimensional Networks
Senior Solution Architect at NETSCOUT, Martin Klapdor discusses how Smart Data provides actionable intelligence and end-to-end visibility across networks. Carrier Service Providers (CSPs) can gain rich and consistent view of their networks;gather intelligence and manage analysis on infrastructure, application, and services across multi vendor technologies.
Watch Video
nGenius Business Analytics Video - a next Generation Approach to Analytics
As a Communications Service Provider, you need to know how your subscribers are really behaving. Analyze data and uncover intelligent and timely insights into your subscribers, services, networks, and applications - all without breaking the bank.
Watch Video
nGeniusONE for Service Providers
With the nGeniusONE Service Assurance platform, service providers can proactively manage service delivery across complex network, service and application tiers with a highly scalable and unified approach.
Download PDF
nGenius Business Analytics
Receive in-depth subscriber analytics and gain a unique view into how your subscribers are really behaving.
Download PDF
Contact NETSCOUT
Please complete this form to contact NETSCOUT.