Read this new exciting research powered by ATLAS smart data!
NETSCOUT's Arbor Active Threat Level Analysis System (ATLAS®) has actively monitored the global internet threat landscape since 2007. Today, it provides us with visibility into approximately one-third of the global internet. With this new report, we're sharing findings from our singular vantage point.
The complexion of the threat landscape is moving more rapidly, expanding footprint and changing tactics. Methods that are commonplace in the DDoS threat tool kit have sprung to crimeware and espionage.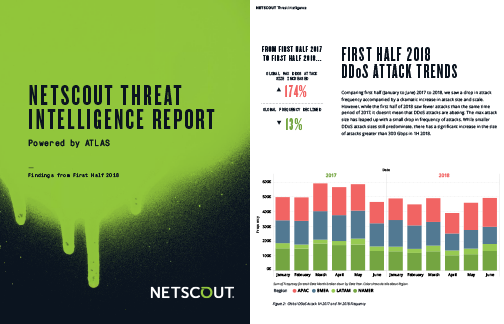 Stay current in the world of increasingly sophisticated attacks
Download the full report to learn:
Understand what is happening on the DDoS Landscape – the largest attacks and what is driving them.
How Nation-State activity is going 'internet-scale'.
Botnets, crimeware, intrusions – how these facets of the threat landscape tie in together.