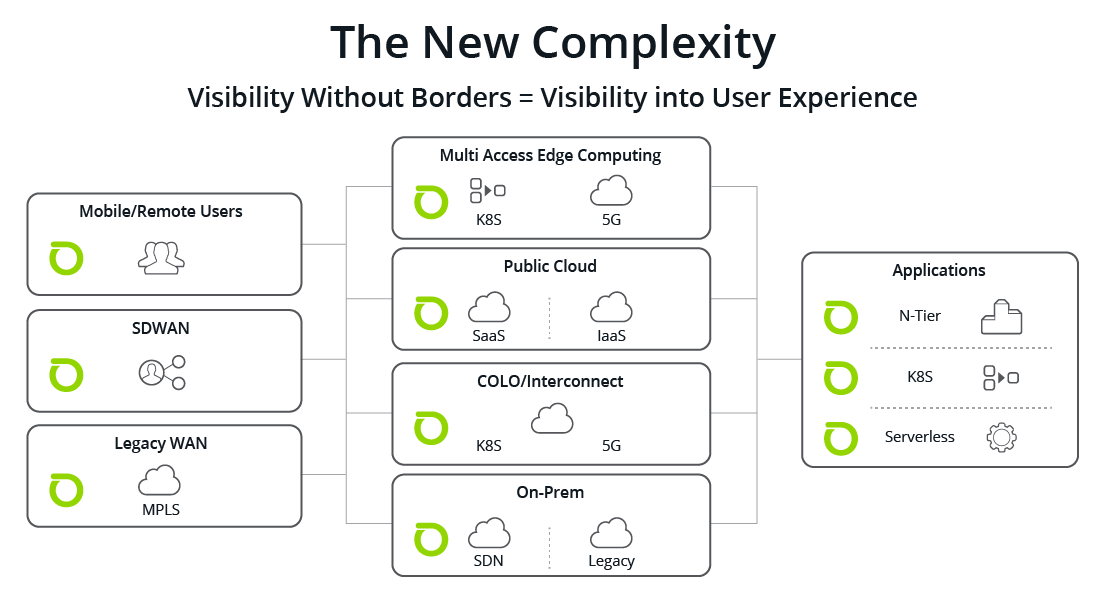 Visibility Without Borders - Assure User Experience Throughout Your 5G Journey
NETSCOUT, a multi-cloud certified company and a trusted, proven vendor of end-to-end scalable monitoring solutions, is 5G Ready Now.
Our software-based monitoring solution is now providing top tier one Carrier Service Providers (CSPs) in North America with the visibility they need to achieve success with their 5G deployments, and we are Ready Now to also help enterprises navigate their 5G/IoT/Cloud journey and transform with confidence.
The evolutionary 5G journey contains many borders associated with end-to-end monitoring of fixed and mobile 5G networks — multi-vendor technologies, cloud infrastructure, Multi Access Edge Computing (MEC), new and diverse Internet of Things (IoT) and Industrial Internet of Things (IIoT) use cases, virtualization, and connectivity.
For enterprises, it is important to secure a solution that evolves with your monitoring strategies to ensure continuous end-to-end real-time visibility in this fluid landscape. Enterprises need Visibility Without Borders to manage risks, assure uninterrupted service, and transform with agility and confidence.
NETSCOUT's Visibility Without Borders can help enterprises achieve pervasive monitoring in real-time with actionable insights from anywhere, any cloud, with any application, in any infrastructure at every phase of the 5G life cycle management.
5G Visibility Challenges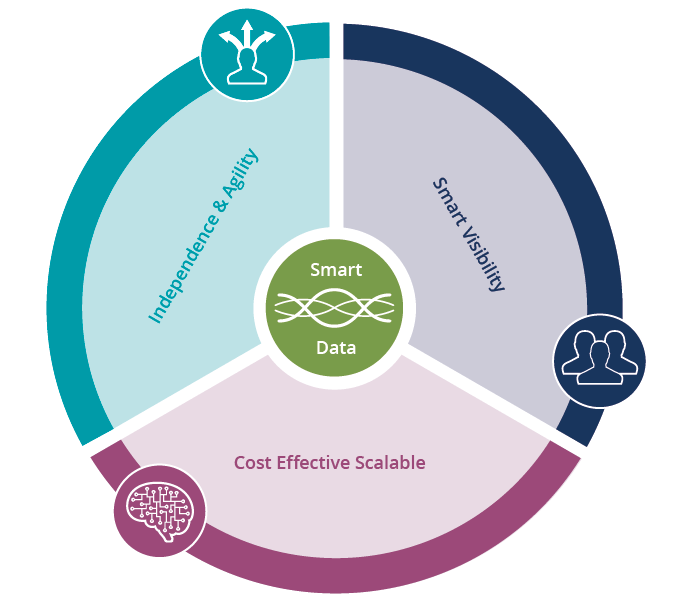 The quality of business insights is dependent on the quality of the data being used to ensure alignment cross-organization initiatives for — service delivery, operations, and business performance.
5G requirements demand improved latency and reliability for success. This means through automation and machine learning, the speed of transactions across the network will increase as well as the volume of traffic into the data center.
How enterprises choose to ensure consistent high-fidelity, real-time monitoring that scales across all layers of the network, from physical, to virtual, virtualized services, and automation is critical to achieve the most cost-savings for real-time visibility and insights.
Enterprises also need to remove bottle necks around vendor solutions to ensure agility and continuous innovation with an enterprise-grade monitoring solution that is:
Vendor Independent
Agile
Scalable
Our Smart Data solution is vendor-agnostic and provides insight for successful visibility into mission-critical and business-critical services at every phase of the 5G life cycle management.
Benefits
NETSCOUT's Smart Data, and the resulting visibility it delivers, is the secret enterprises need to make informed decisions, reduce spending, and quickly gain cross-organization intelligence. NETSCOUT's 5G solution with Smart Data can help enterprises:
Rapidly Assure Services
Proactively plan and gain visibility into key performance metrics based on 5G use cases for both Non-Standalone and Standalone architecture.
Gain Superior Customer Experience
Enable dramatic reduction in MTTR through cost-effective automation to achieve superior customer experience.
Achieve End-to-End Monitoring
Gain seamless visibility into hybrid (physical and virtual) and cloud networks; on prem/off prem.
Launch 5G with Confidence
Protect existing network resources and ensure the launch of 5G services with confidence.