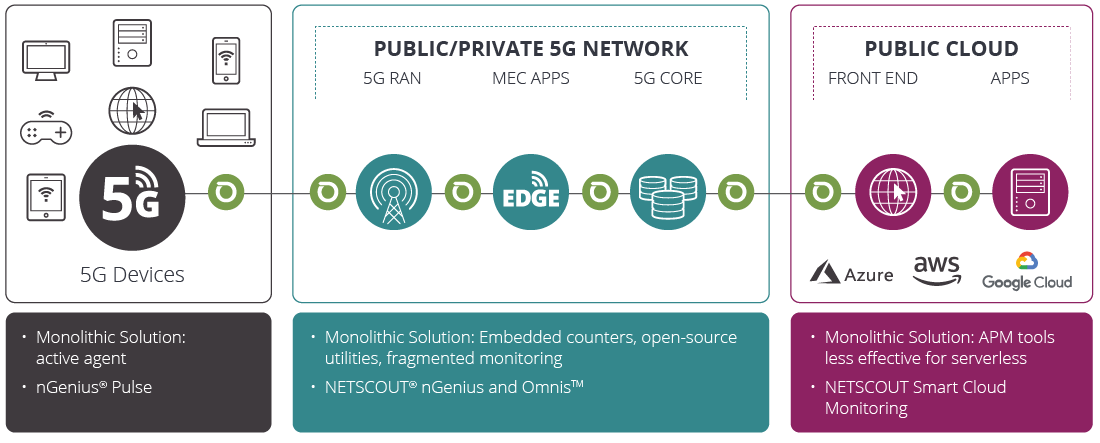 Visibility Without Borders - Assure User Experience Throughout Your 5G Journey
NETSCOUT, a multi-cloud certified company and a trusted, proven vendor of end-to-end scalable monitoring solutions, is 5G Ready Now.
Our software-based monitoring solution is now providing top tier one Carrier Service Providers (CSPs) in North America with the visibility they need to achieve success with their 5G deployments, whether you are implementing private 5G, 5G on the Edge. We are Ready Now to also help enterprises navigate their 5G/IoT/Cloud journey and transform with confidence.
5G Services Real-time Visibility
The evolutionary 5G journey contains many borders associated with end-to-end monitoring of fixed and mobile 5G networks — multi-vendor technologies, cloud infrastructure, Multi Access Edge Computing (MEC), new and diverse Internet of Things (IoT) and Industrial Internet of Things (IIoT) use cases, virtualization, and connectivity.
For enterprises, it is important to secure a solution that evolves with your monitoring strategies to ensure continuous end-to-end real-time visibility in this fluid landscape. Enterprises need Visibility Without Borders to manage risks, assure uninterrupted service, and transform with agility and confidence.
NETSCOUT's Visibility Without Borders can help enterprises achieve pervasive monitoring in real-time with actionable insights from anywhere, any cloud, with any application, in any infrastructure at every phase of the 5G life cycle management.
5G Smart City Interactive Graphic
NETSCOUT is 5G Ready Now with a software-based vendor agnostic monitoring solution that offers end through end visibility and insights into performance for existing 4G capabilities and evolving 5G Use Cases.
Hover over a plus sign for more details.
Banking
Confidence and the assurance to consistently deliver superior customer experience, while maintaining brand recognition and reliable support for 4G and new 5G banking application services.
Capital Markets
Gain end-through-end visibility to measure latency on 5G/IoT/Cloud and data center applications for Service Level Agreements (SLAs) across distributed IT networks.
Channel Partners
Achieve consistent customer excellence, with scalable options for 4G solutions while evolving to meet the demands of emerging 5G/IoT/Cloud initiatives.
Utilities
High availability of energy services through real-time visibility and proactive monitoring of Advance Metering Infrastructure (AMI) and Smart Grids to assure service for critical 4G/ 5G business applications across geographic locations.
Education
Complete visibility across campus wide networks for emerging 4G/5G applications and services for assurance of connectivity, network performance, applications, and immersive technologies.
Carrier Service Provider
Proactive insights into customer experience with Smart Data which aids in rapid troubleshooting to reduce cost and launch new 4G/5G services faster.
State, Local Government
Migrate applications and services to the cloud with confidence and drastically reduce CapEx and OpEX without compromising the end-user experience.
Federal Department of Defense Agencies
Assurance for the delivery of mission critical 4G and 5G services across globally dispersed national security and IT infrastructures.
Healthcare
Unparalleled visibility to quickly ensure performance, uptime, and security 24/7/365 for critical patient care applications and services across networks for 4G and emerging 5G services.
Insurance
Confidence to launch digital transformation initiatives, painlessly integrate 5G/IoT/ hybrid cloud technologies, monitor remote operation environments, and protect businesses from cyber-attacks, to maintain high availability of 4G and 5G mission-critical services.
Manufacturing
Scalable monitoring at the Edge to lead the way with efficient process, control, maintenance, and smooth integration of new applications for IoT, IIoT, 4G and private 5G networks.
Pharmaceuticals
Assure reliable business operations and protect R&D and supply chain integrity with real-time monitoring and visibility for 4G and emerging 5G services.
Retail Shops
Efficiency in productivity, operations, and security initiatives to assure retail POS, shipping, and inventory services are consistently available over wired or wireless environments in support of 4G/5G services.
Transportation
On time delivery of 4G services and emerging 5G transportation services for airlines, airports systems, and railroad systems Positive Train Control (PTC) for evolving fleets and goods tracking through realtime visibility and rapid troubleshooting.
5G Services Visibility Challenges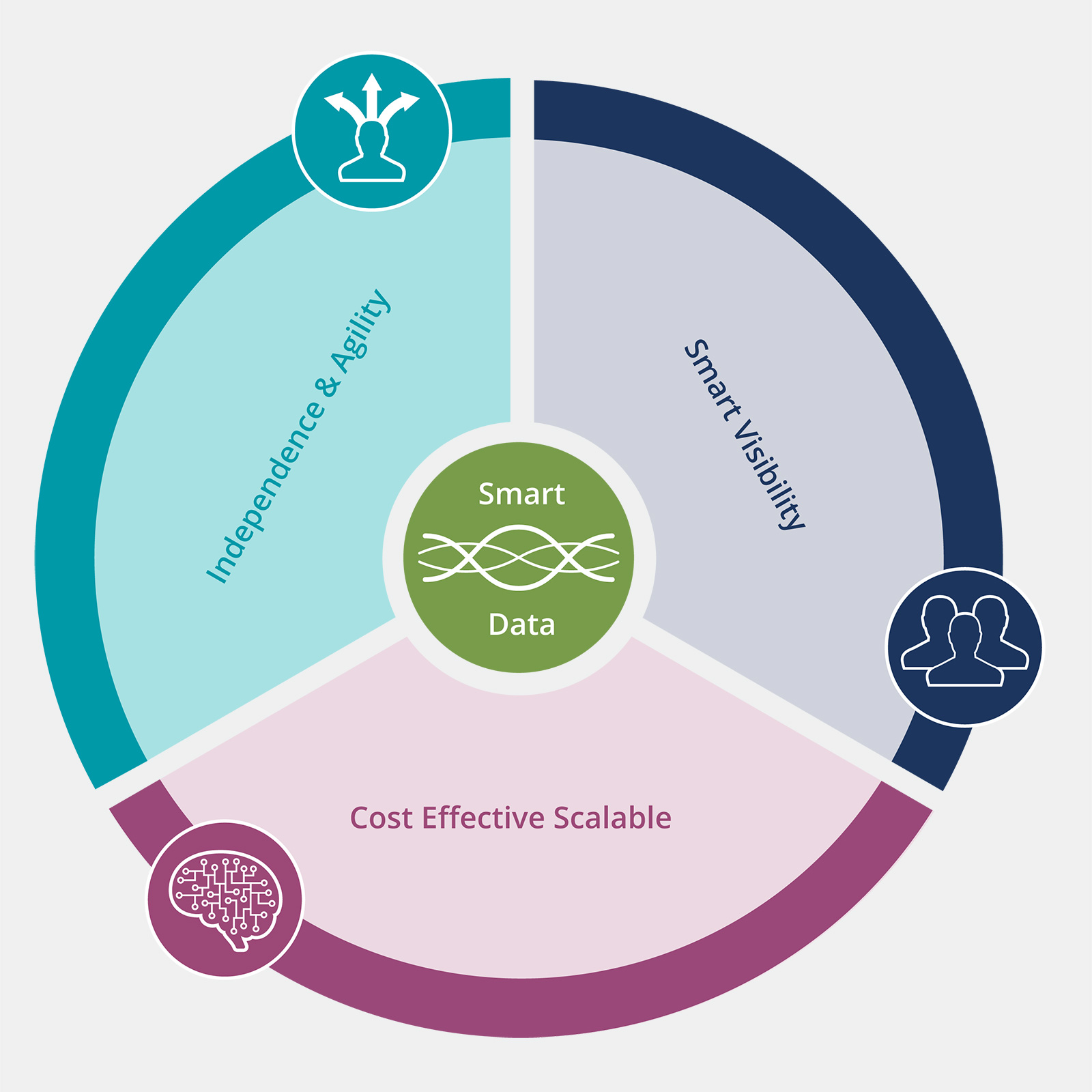 5G requirements demand improved latency and reliability for success, as the speed of transactions across the network will increase as well as the volume of traffic into the data center. The quality of business insights is dependent on the quality of the data being used. Data integrity is critical to ensure alignment across-organization initiatives for — service delivery, operations, and business performance. The demands of 5G increases these core challenges for enterprises:
Real-Time Monitoring: scalable real-time monitoring across all layers of the network, from physical, to virtual, virtualized services, and automation is critical to achieve real-time visibility and insights and to realize the most cost-savings.
Vendor Solutions: Enterprises must work to remove bottle necks around vendor solutions to ensure agility, continuous innovation, and optimum user experience with an enterprise-grade monitoring solution that is: vendor independent, agile, and scalable.
Our Smart Data solution is vendor-agnostic and provides insight for successful visibility into mission-critical and business-critical services at every phase of the 5G life cycle management for any network, any infrastructure, any cloud, or any application.
Actionable Intelligence for Private 5G Networks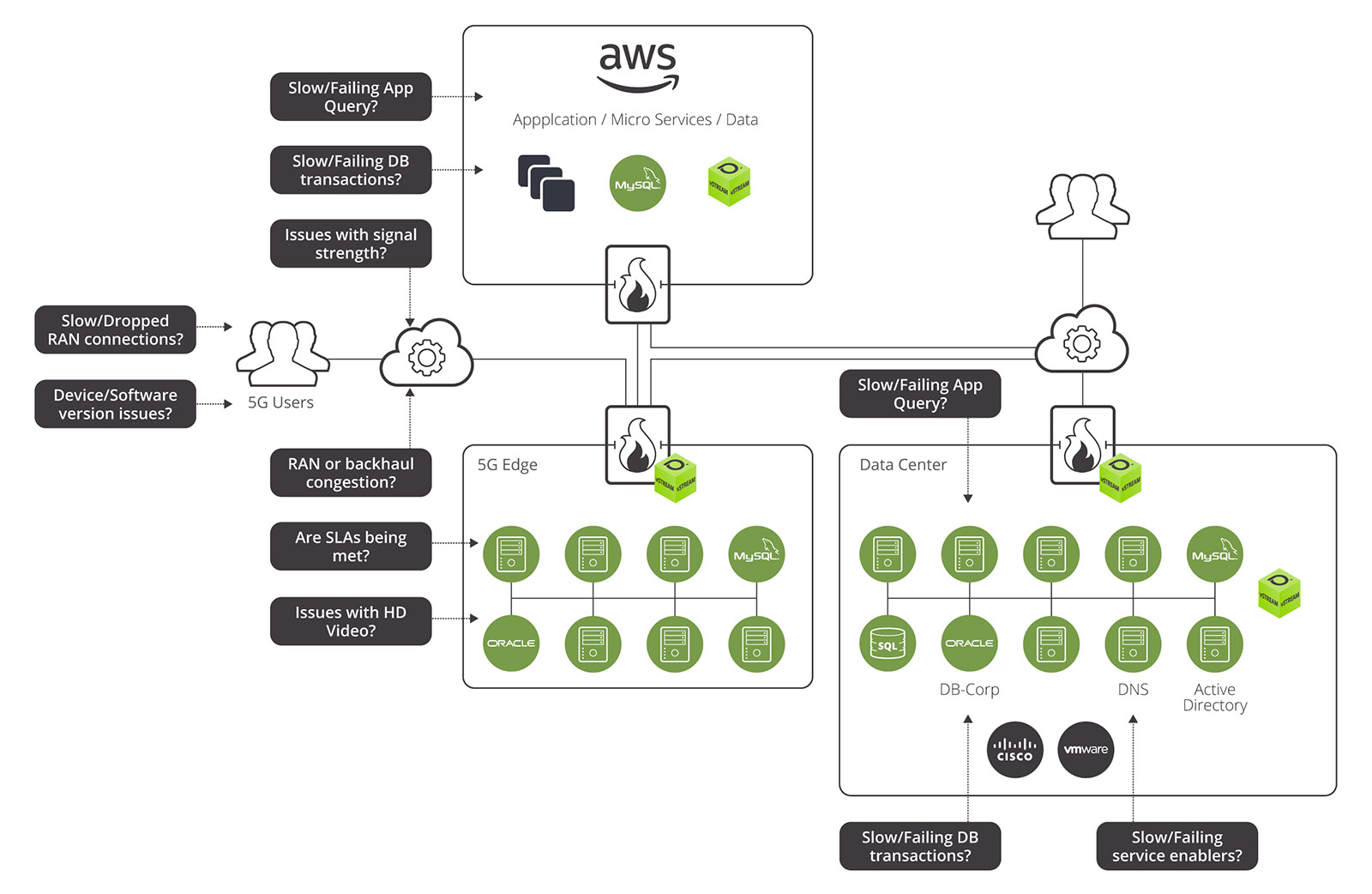 Private 5G networks are here and will make existing technology better by enhancing business use cases and enabling smart capabilities across enterprise verticals into the future. With 5G requiring multi-edge monitoring capabilities, enterprises will need a proven and trusted partnership to evolve their 5G offerings. By working with NETSCOUT, enterprises can be confident in achieving their strategy with smart edge monitoring capabilities for end-through-end visibility across infrastructure and application layers - on prem/off prem, data center, and at the Edge. NETSCOUT offers best-in-class enterprise 5G network solutions.
Smart Insights at Any Edge
With NETSCOUT's solution, IT application developers can easily leverage user plane performance metrics from the edge of the mobile operator's network and apply Smart Data to obtain actionable insights to improve on service level agreements (SLAs) and the end user experience.
NETSCOUT is 5G Ready Now!
Real-time Visibility & Analysis for Transforming Network, Application, and UC Environments
nGeniusONE assures the performance of cloud, virtual, co-lo, and on-site data center platforms running today's government, healthcare, and business services. nGeniusONE assures remote user experience by monitoring capacity and performance of VPN, VDI, UC, and healthcare delivery services.
Monitor Access to Critical Services from the User Perspective
nGeniusPULSE delivers the visibility needed into today's evolving IT eco-system to ensure the availability, reliability, and performance of your mission-critical business services across your multi-cloud environment, over Ethernet or Wi-Fi, from wherever users need access. All while monitoring the health of your supporting infrastructure.
Data without Smart Data Analytics is a Recipe for Failure
Digital transformation continues to sweep across industry sectors, supporting the shift from physical to digital assets and fueling the adoption of new data-driven business models. Information and data is literally the driving force behind digital transformation, serving a vital role in providing much-needed insight into service delivery, business operations, and critical business performance.
Benefits
NETSCOUT's Smart Data, and the resulting visibility it delivers, is the secret enterprises need to make informed decisions, reduce spending, and quickly gain cross-organization intelligence. NETSCOUT's 5G network solutions with Smart Data can help enterprises:
Rapidly Assure Services
Proactively plan and gain visibility into key performance metrics based on 5G use cases for both Non-Standalone and Standalone architecture.
Gain Superior Customer Experience
Enable dramatic reduction in MTTR through cost-effective automation to achieve superior customer experience.
Achieve End-to-End Monitoring
Gain seamless visibility into hybrid (physical and virtual) and cloud networks; on prem/off prem.
Launch 5G with Confidence
Protect existing network resources and ensure the launch of 5G services with confidence.