What Are 5G Networks?
5G networks are cellular networks in which the service area is divided into small geographical areas called cells. All 5G wireless devices in a cell are connected to the Internet and telephone network by radio waves through a local antenna in the cell. The main advantage of the 5G networks is that they will have greater bandwidth, giving higher download speeds, potentially up to 10 gigabits per second. 5G follows a 40-year history of significant wireless technologies including 4G, 3G and 2G.
Why Is 5G Important?
5G's high bandwidth, low latency, and better spectrum efficiencies will allow the connectivity of billions of IoT devices. 5G networks also support the reliability and latency for the following use cases for:
Enhanced mobile broadband (eMBB),
Massive machine-type communications (mMTC), and
Ultra-reliable low-latency communications (URLLC)
What Are the Benefits of 5G Networks?
The basic benefit of 5G for the average user is a faster connection (higher bandwidth) and lower latency. For example, by using a 5G network, applications such as Webex and Zoom conference calls can have faster throughput and less quality-destroying jitter and buffering.
How Low Is the Latency With 5G?
Latency requirements for 5G services are expected to be less than 10 milliseconds (ms) as compared to 4G, which is between 20-30 ms. Powerful 5G performance and network monitoring can help you keep tabs on latency.
How Much Bandwidth Does 5G Provide?
5G bandwidth depends on spectrum holding per service provider. 5G allocated spectrum is added to the existing 4G/3G spectrum to determine total network bandwidth and capacity.
What Kind of Spectral Efficiency Does 5G Provide?
5G provides spectral efficiency for three main spectrum bands simultaneously: low band (sub-1GHz), mid-band (1-6GHZ), and high band (24Ghz and above).
These new spectrums can translate to greater service potential. However, the vastly different performance characteristics of these three bands will increasingly challenge Communications Service Providers to decide how and where they deploy 5G sites. The intersection of these new spectrum bands and the desired introduction of new 5G services further complicate the RF planning process.
It is important that service providers plan properly when implementing high band spectrums such as mmWave to determine signal levels at the line of sight and non-line of sight to minimize interference challenges in the context of increased coverage.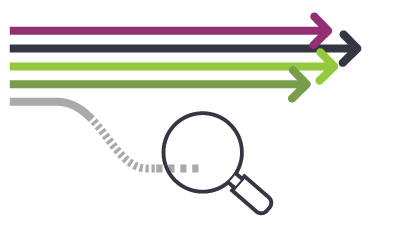 What's the Difference Between 4G and 5G?
There are several key differences between 4G and 5G networks including:
Different spectrum: 4G networks operate at around 800 MHz and 2.6 GHz, while 5G has been assigned to the frequency bands around 600 MHz and 24+ GHz and will soon add 2.5 GHz, 3.5 GHz, and 3.7-4.2 GHz mid-band spectrums into the mix.
Different bandwidth: 5G has dramatically higher transfer rates and lower latency requirements than 4G.
Different use cases: 4G will continue to improve and be invested in by CSPs to deliver the services many consumers and businesses already use—voice, data, lightweight video streaming, and so on. 5G will tackle the heavy-hitting applications: virtual reality, enterprise IoT, ultra-high-definition video, autonomous vehicles, and other use cases that demand the increased speed, capacity, and real-time capabilities 4G can't deliver.
Different infrastructure: 5G utilizes small cells, which are smaller than the macro cells used by previous mobile generations. And because high-frequency wavelengths are less able to travel long distances without interference, they need to be placed closer together.
Why Is 5G Spectral Analysis Important?
To maximize their investments, mobile operators need to fully understand their 5G spectrum usage. These higher-frequency bands provide greater throughput, but the question becomes whether subscribers are getting better throughput, and if so, on which frequency. To ensure monetization opportunities, it's critical that 5G bearers be "robust" and not fall back to lower frequencies or LTE.

Why Are 5G Networks Important For IoT?
5G's high bandwidth, low latency, and better spectrum efficiencies will allow the connectivity of billions of IoT devices.
Which 5G Architecture Is Best?
There are two architecture deployment scenarios for 5G: Non-Stand Alone (NSA) and Stand Alone (SA).
Most 5G networks use the NSA architecture linking an LTE core to the new radios to support 5G frequency bands, allowing carrier service providers (CSPs) to leverage 3G and 4G existing investments while gradually rolling out broader 5G capabilities.
SA architecture connects 5G radio directly to the 5G core network. Therefore, control signaling does not depend on the 3G and 4G networks. Many carriers are beginning to deploy SA 5G networks based on the new cloud-native 5G core, allowing them to extend virtualized technologies out to the radio access network (RAN) and distribute cloud-based 5G services out to the edge.
How Do I Launch a 5G Network?
Best practices suggest the following steps of the 5G life cycle when launching commercial 5G services.  
PLAN
DESIGN
ENGINEER
TRIAL
LAUNCH
OPERATION
OPTIMIZE
Why Is RF Propagation Modeling Important For 5G?
The reality is that 5G networking will unlock hundreds of new use cases across both consumer and the enterprise space. However, without proper planning, many network rollouts are likely to fall short in several business and performance metrics. RF propagation modeling provides timely information before service providers commit CapEx to a 5G network rollout project and helps them achieve an optimized level of network coverage for every dollar spent on delivering the RF network.

Why Is Network Slicing Important For 5G?
As 5G technology becomes widely adopted, virtual networking architectures such as software-defined networking (SDN), network functions virtualization (NFV) and 5G network slicing will be seen as ways to meet Service Level Agreement (SLA) specific requirements for connectivity, speed, and capacity. 5G network slicing allows carrier service providers (CSPs) to provide portions of their networks for each specific customer requirement, optimizing resources and network topology to meet SLA-specific requirements, such as connectivity, speed, and capacity for each given application as needed.
Which Vendor Is Best For 5G?
When it comes to choosing a 5G security and service assurance solution, carrier service providers (CSPs) would be well-served by selecting an independent and agile vendor that offers end-to-end visibility into multi-generational networks, physical and virtual, using an affordable software-based approach.
To meet the emerging and future needs of the marketplace, CSPs are increasingly moving to the cloud and the Software Defined Data Center (SDDC). In this type of data center, the infrastructure is completely virtualized and delivered as a service. Intelligent software systems automate control of the data center and configuration of hardware to ensure SLAs are met. As CSPs refine their strategies for a 5G services rollout, they are compelled to look at where the quickest return on investment (ROI) will be.
What Is NETSCOUT's Approach to 5G Monitoring?
NETSCOUT's industry-proven service assurance, security, and big data solutions, fueled by Smart Data, can be leveraged by CSPs for all critical phases of the 5G life cycle; pre-launch, launch and operations. Throughout the past 30 years of innovation, NETSCOUT has been working with the largest Service Providers and Enterprises.
As the market leader, NETSCOUT has been working together with our customers to solve the next generation of challenges. We have evolved and transformed into a next-generation software solution provider to meet these new challenges.
What is Mobile Access Edge Computing (MEC) in 5G Networks?
MEC will allow mobile carriers to host high bandwidth and low latency applications close to the network edge. For example, a few application use cases for self-driving cars, virtual reality, and critical health care will be better served at the edge of the network. This capability supports the reliability and latency requirements for 5G networks and ensures the best response time and user experience.
5G Solutions
Learn About Our 5G Monitoring Solutions
Read Related Articles on Our Blog