Citrix (NASDAQ:CTXS) is powering a better way to work with unified workspace, networking, and analytics solutions that help organizations unlock innovation, engage customers, and boost productivity, without sacrificing security. With Citrix, users get a seamless work experience and IT has a unified platform to secure, manage, and monitor diverse technologies in complex cloud environments. Citrix solutions are in use by more than 400,000 organizations including 99 percent of the Fortune 100 and 98 percent of the Fortune 500.
The NETSCOUT/Citrix Partnership
NETSCOUT, a Citrix Ready Premier Partner, has developed the nGenius Enterprise Performance Management solution to provide the industry's most comprehensive view of application performance across infrastructure and application components associated with delivering IP-based services. This includes offering effective end-to-end application performance monitoring and rapid fault domain isolation for Citrix Virtual Apps and Desktops deployments in public or private cloud as well as legacy datacenters. nGeniusONE is complementary to Citrix Director and can monitor Virtual Desktop deployments ranging from bare metal to virtualized environments, including all flavors of public cloud.
Citrix Partner Designation and Certification
The Citrix Ready program helps customers identify complementary and compatible third-party solutions that are recommended to enhance virtualization, networking, and cloud computing solutions from Citrix. nGeniusONE has completed a rigorous verification process to ensure compatibility with Virtual Apps and Desktops and Citrix ADC, providing confidence in the joint solution.
Virtualization
The NETSCOUT and Citrix partnership solution provides holistic visibility across the Virtual Apps and Desktops delivery service chains by using NETSCOUT InfiniStreamNG software, hardware and virtual appliances, strategically placed throughout the organization's network and along the service delivery chain. The nGeniusONE solution analyzes packet data continuously in real time, converting it to smart data by extracting and logging the golden signals including latency, traffic, errors, and saturation, to provide insights into the health and performance of Citrix virtual desktops, published applications and unified communications as well as the network, backend applications, and service enablers. This information is aggregated, correlated, and visualized by nGeniusONE, enabling end-to-end monitoring of Citrix-virtualized services, and streamlined, top-down troubleshooting with task-oriented workflows for rapid troubleshooting and resolution. Finally, nGeniusONE will dynamically and continuously map your Citrix environment and its dependencies for use by various stakeholders.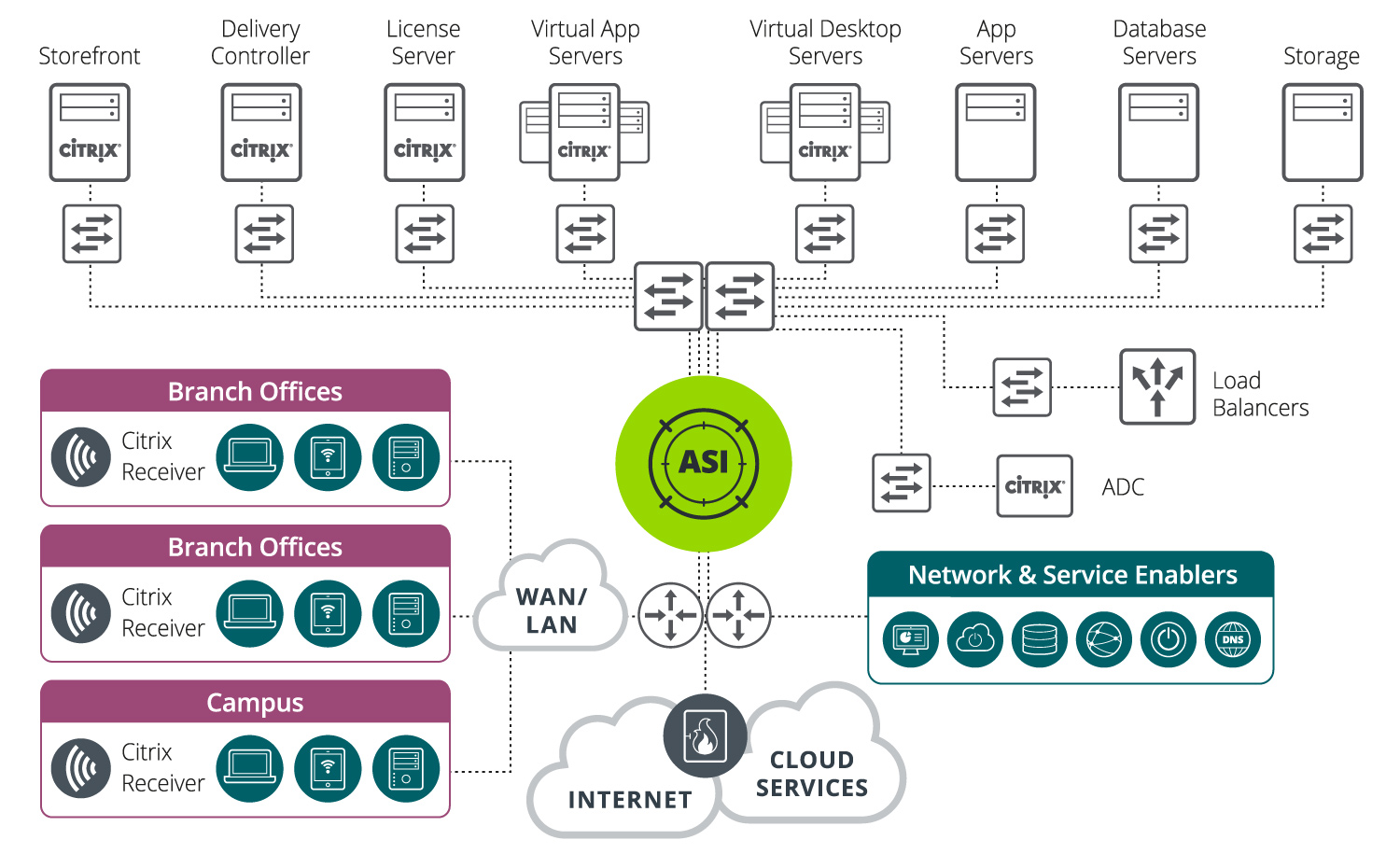 Efficiently Troubleshoot Service Degradations
Comprehensive application performance monitoring solution covers the multi-layer Citrix environment including the hardware, access, resource and control layers enabling IT teams to quickly pinpoint root cause of issues and reduce MTTR.
Protect and Optimize End-User Experience
A packet-based application monitoring methodology that helps IT teams rapidly research problems that impact Citrix-based applications to quickly restore customer-facing services.
Improve IT Team Collaboration
Using nGeniusONE workflows across all application tiers, the solution improves mean time to knowledge across all aspects of the service delivery chain including the Citrix layer. The Citrix team can swiftly collaborate to resolve issues.
Reduce Management Complexities and Costs
Combined visibility of data, voice, and video for performance monitoring in nGeniusONE helps optimize the performance of a converged IP network, reducing OPEX and CAPEX costs with a complete solution.