The nGeniusONE® solution provides real-time visibility into any infrastructure environment - data center, private & public cloud, remote offices, and co-locations. Leveraging NETSCOUT® Smart Data, nGeniusONE delivers smarter analytics for all their applications including voice, video, data, SaaS, UCaaS, and even custom applications from wherever they are accessed - headquarters, regional locations, or home offices.
nGeniusONE is the foundation of NETSCOUT's nGenius Enterprise Performance Management solution, providing continuous network and application monitoring and end-user experience assurance to support today's modern enterprises. The solution's insights increase IT team's understanding of consumption patterns, application utilization, and overall digital experience to better support resource optimization and capacity planning.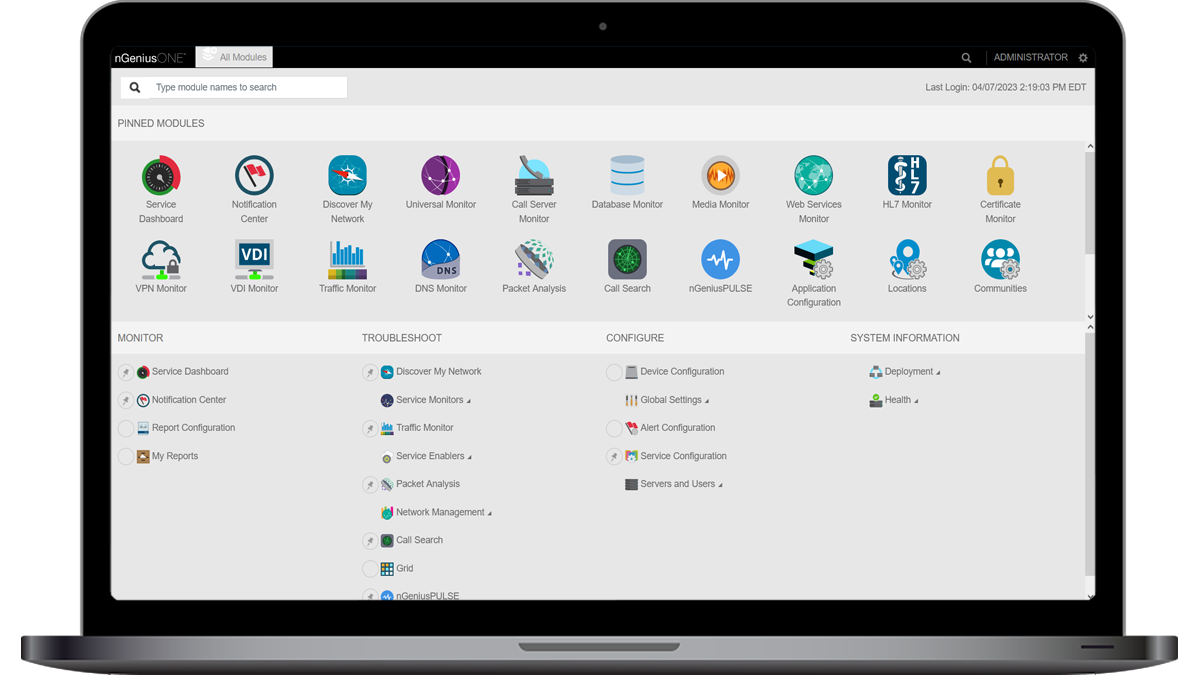 Rapid Insights into Network and Application Performance
Using NETSCOUT Smart Data, from InfiniStreamNG appliances, vSTREAM virtual appliances, and nPoint devices, nGeniusONE provides rapid IT troubleshooting, proactive analysis, network topology, health diagnostics reporting, and on-board packet captures that help reduce MTTR.
Combining Smart Data with our application and network monitoring analysis helps understand issues so you can troubleshoot with ease.
Learn more about NETSCOUT Smart Data.
Features
Performance Analysis

At-a-glance views into overall network and application performance to help keep your business up and running enterprise wide.

Service Dependency Mapping

Reduces migration risk by visualizing "hidden" client/server relationships and application service dependencies.

Session and Application Analysis

In-depth, application performance analysis including business and protocol-specific monitors, with metrics for troubleshooting and improving performance and end-user experience.

Synthetic Testing

Views into the results of configurable business transaction tests to detect changes in performance trends for early warning of degradations in digital user experience quality.
Unleash the Power of nGeniusONE.