Digital transformation and the shift to hybrid work models have increased the importance of VPN availability and VDI performance from anywhere, at anytime. Managing the access needs of remote, corporate, and home-based users presents a strategic challenge to IT organizations striving to deliver positive user experiences.
Employees maintain high expectations when it comes to the performance of business applications hosted in data centers, co-los, cloud and/or SaaS environments. nGenius Enterprise Performance Management solutions help assure reliable VPN and VDI performance in any working environment to keep productivity high.
Flexible hybrid work models and the expansive use of co-los in areas with large employee populations make it more difficult for IT teams to predict traffic patterns. VPN and VDI technology need to be continuously monitored as traffic profiles change due to changing demand and the fluctuating number of home-based workers.
Applications in the data center are critical to keep the business running, and traffic volumes at the data center's internet gateways are frequently shifting. This volatility underscores the need for packet-level visibility into the data center to keeping applications running at levels expected by the business.
Solution Brief
Enabling Remote-Home User Productivity
DDoS attacks pose a significant threat to the availability of this critical infrastructure and services. NETSCOUT's industry leading Arbor DDoS Protection solution is a hybrid (i.e. combo of cloud + on-premises), fully managed solution.
nGenius Enterprise Performance Management for VPN / VDI
With NETSCOUT solutions deployed in the data center, cloud, co-los and home, organizations gain visibility for:
VPN Performance Monitoring
Assure your remote employees can execute their responsibilities via seamless VPN access in both data centers and distributed colocation data centers. NETSCOUT provides the ability to visualize performance of applications through VPNs and internet connections as well as confirm access to on-prem and external business applications, network connectivity and avbailability to the VPN.
VDI Performance Monitoring
Use of Virtual Desktop Interface (VDI) technologies for remote employees to access applications and services to do their jobs has increased. NETSCOUT provides visibility into VDI performance from the data center to co-los to ensure top-quality VDI, application, network and user experience performance. This allows for continued employee productivity and smooth business operations.
User Experience Monitoring
Users expect the same quality of experience with business applications from wherever they do their jobs. Peak performance of both VPN and VDI technologies whether in private data centers or co-los is crucial to digital experience quality. Achieve user experience goals with visibility into performance of VPN and VDI technologies.
NETSCOUT Assures Remote Performance and Availability
Employees expect the same quality of experience accessing business applications and services from any environment, whether they are located in data centers or co-los, when connecting to the corporate network. NETSCOUT solutions continuously monitor, trend, and troubleshoot VPN and VDI performance issues impacting employees working from:
Home and off-property locations
Remote corporate offices and branches
Headquarters and data centers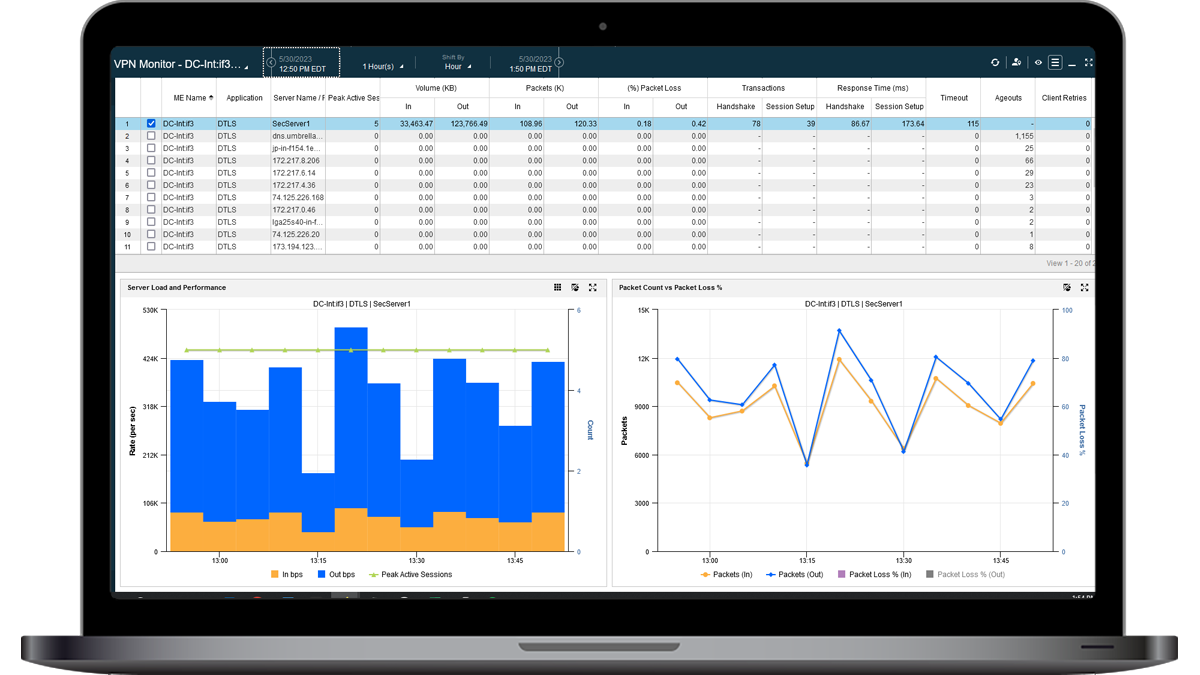 Get Started With NETSCOUT Today