Network Performance Monitoring
Maintaining high-performing digital services across distributed hybrid cloud environments is crucial for enterprise IT organizations. Providing both customers and the hybrid workforce with safe, secure access and availability to business applications and services has taken on a new dynamic. In some cases, managing quality performance in the wake of exponential traffic growth across SD-WAN links, crucial internet circuits, VPN gateways, and hybrid cloud has moved from an operational challenge to a business-critical priority.
Today's organizations require holistic visibility across the service delivery ecosystem to support new access dynamics for all users. Network performance monitoring provides visibility into network activity for tracking and trending traffic and application utilization, which is essential. Enterprise-wide visibility should be an integral part of a broad-based performance and availability strategy that encompasses not only the headquarters, remote offices, and private data centers, but also contact centers, public cloud and SaaS environments.
Case Study
Pharmaceutical Leader Improves SD-WAN Visibility with NETSCOUT
Agility and visibility are top of mind for this pharmaceutical organization's NetOps team. Expanding their NETSCOUT instrumentation has allowed them to address performance management issues quickly.
Network Availability and Performance
NETSCOUT solutions help enterprises and government agencies protect network service availability and performance in the world's most complex hybrid cloud environments.
Optimize Network Performance
NETSCOUT solutions help minimize disruptions by monitoring and trending incoming network traffic for internet circuits and VPN gateways. Metrics for traffic volume, dropped packets, and errors provide early warning of potential issues.
Capacity/Bandwidth Planning
End-through-end visibility helps streamline capacity, bandwidth, and budgeting decisions. Businesses can continuously monitor use of the network and rapidly pinpoint non-business network use.
Data Center Transformation
As the way work has evolved, so too must our data centers transform to support hybrid workers, companies, employees, and IT organizations. Deliver quality performance before, during, and after cloud and SaaS migrations to keep pace.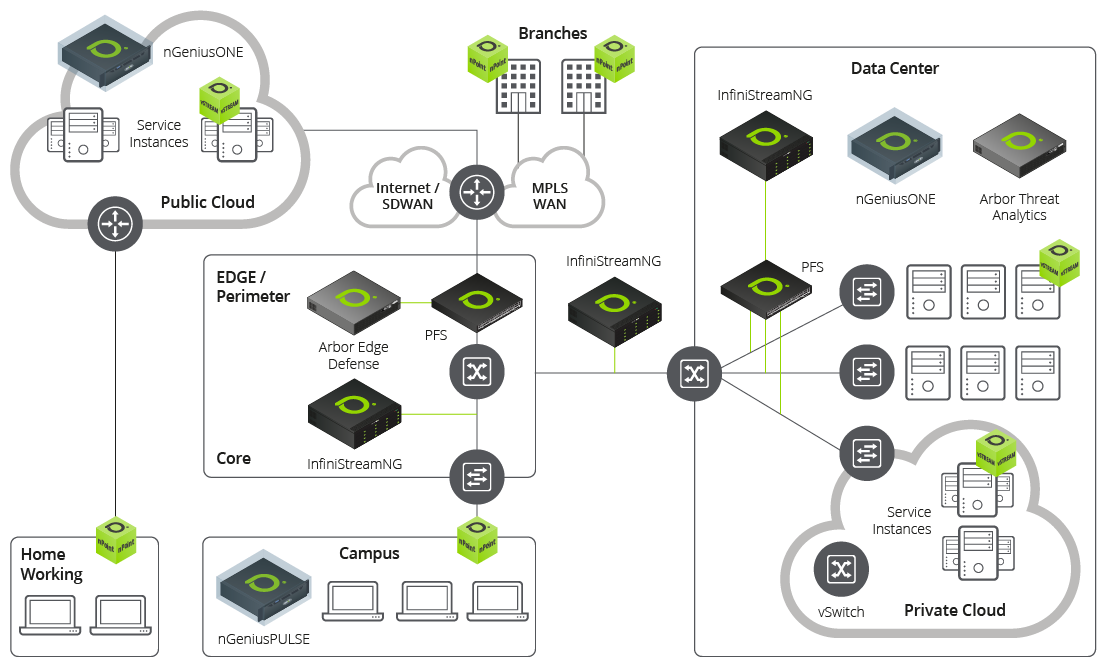 Visibility Anywhere and Everywhere
IT teams in today's world need end-through-end visibility throughout their entire enterprise network - from SD-WAN and remote offices to hybrid / multi-cloud environments to co-los and data centers. nGenius Enterprise Performance Management allows organizations to continuously monitor each edge of their environment and gather real-time insights from deep packet inspection. As businesses grow and mature, NETSCOUT solutions scale with them to ensure peak network performance.
Performance Management and Business Continuity
Business continuity demands seamless network availability and performance. NETSCOUT's nGenius Enterprise Performance Management solutions help enterprises validate performance expectations for internet bandwidth, WAN performance, VPN capacity, and hybrid cloud/SaaS performance levels while quickly pinpointing trouble spots to minimize disruptions and help users do their jobs.
Explore NETSCOUT's network performance solutions.