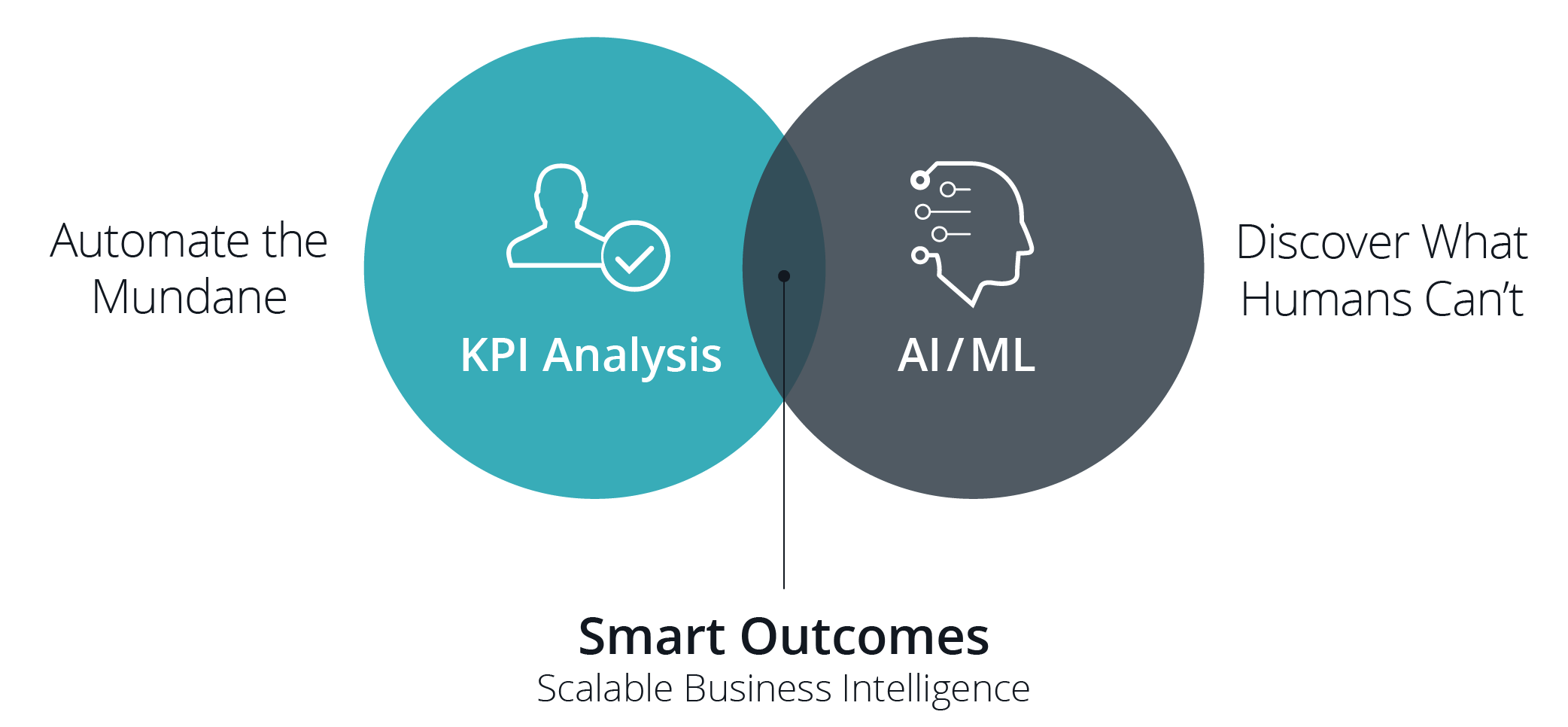 A Paradigm Shift In Actionable Business Intelligence Delivering Automated Operations Efficiency
Network complexity is increasing exponentially with the introduction of 5G, IoT, VoNR, Network Slicing, Edge Computing, and Cloud Migration, while still focusing on 4G, VoLTE, Voice, WiFi, Fixed Line and Video services.
Wouldn't it be nice to have an Automated Consultant that reduces the complexity of determining service impact across the entire network for every single service and every single subscriber? Typically, this involves multiple groups and possibly teams of people with deep domain knowledge across multiple disciplines sorting through hundreds of KPIs, KQI's and metrics manually.
NETSCOUT's Smart Data and Borderless Visibility is the Cornerstone of Advanced Service Provider Automation and Analytics
A strong data foundation and deep packet level visibility is required before constructing an Automation Intelligence layer. Leveraging NETSCOUT's Smart Data solves the traditional barriers to using packet level data, providing a deep understanding of the communications between service, infrastructure, and characteristics, regardless of the physical location of the data concerned. We provide a high performance and easily deployable, light weight architecture that collects and processes data at the source to deliver consistent, real-time visibility across the entire infrastructure.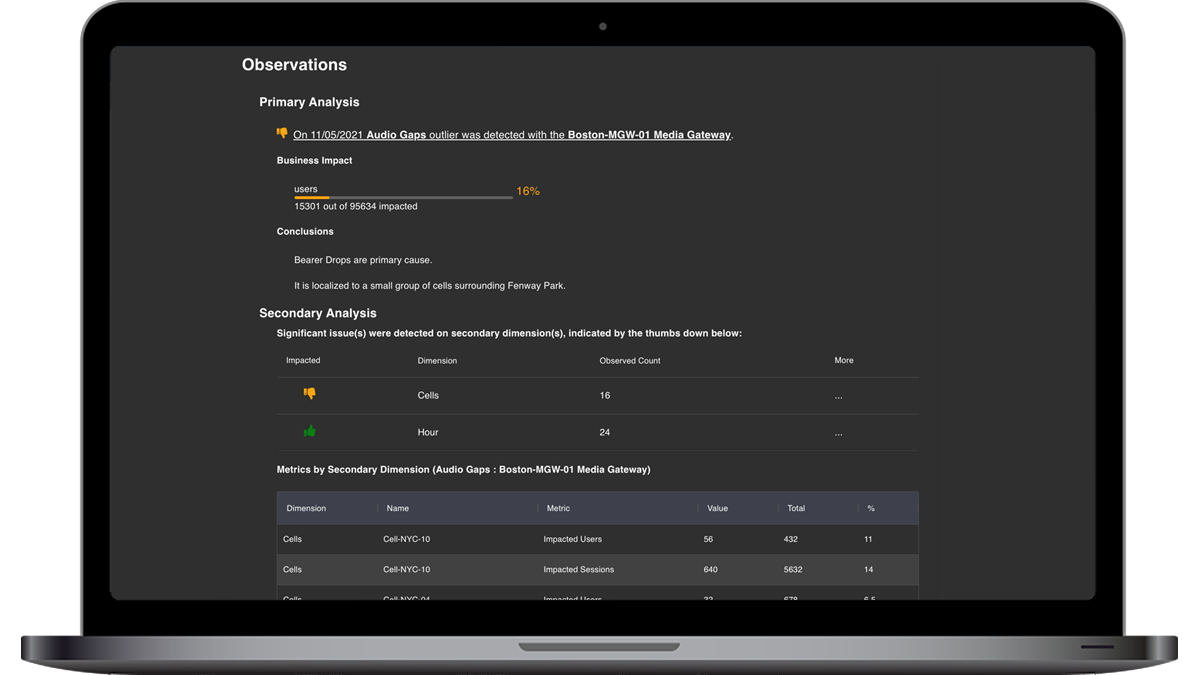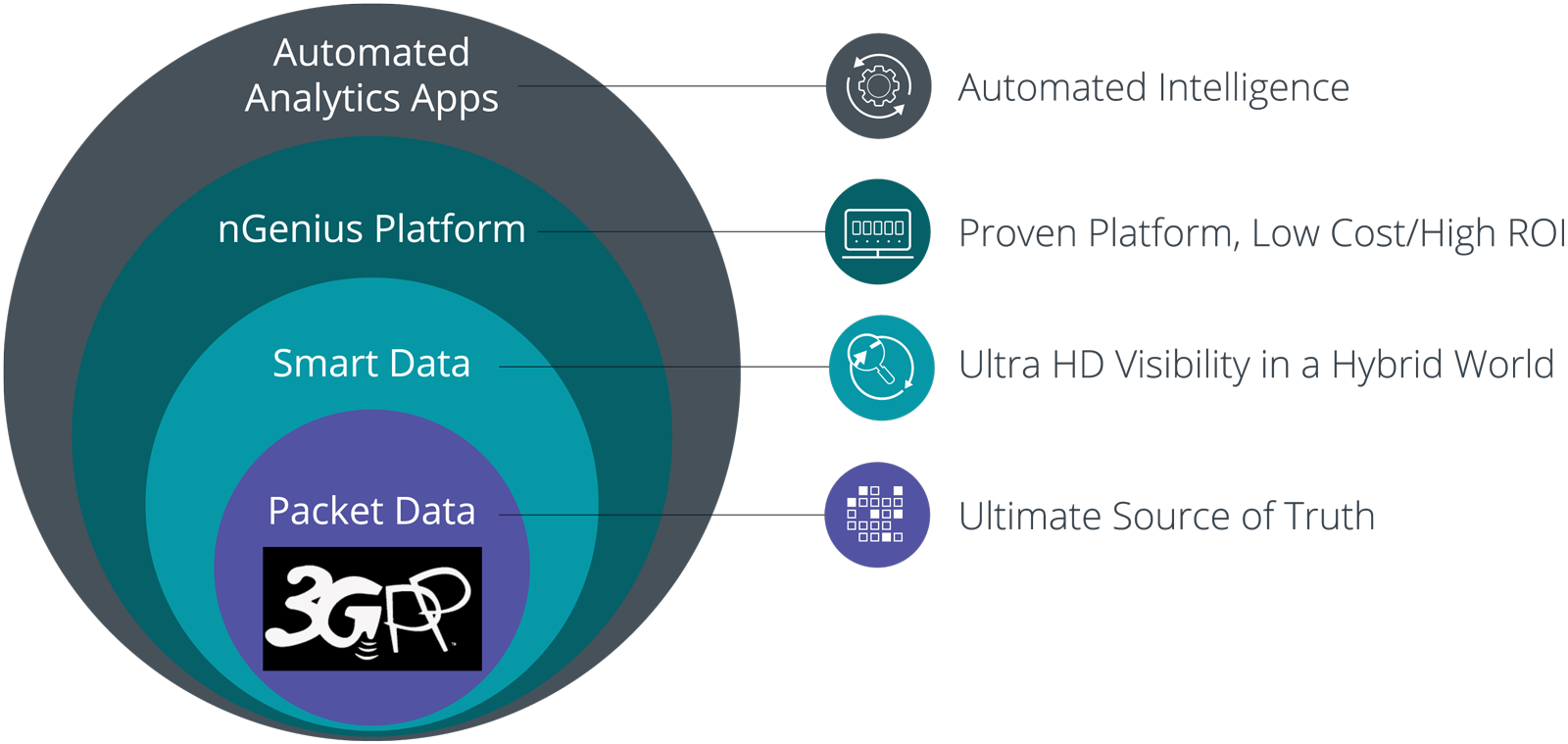 The Power of This Seamless Visibility Architecture Allows NETSCOUT to Announce a New Automation Solution – Automated Analytics
Automated Analytics is a paradigm shift that goes beyond the human reach - an intelligent automation engine running millions of iterative sequences and isolating the root issues that have the greatest business impact on subscribers and their service quality.
Offering a unique blend of AI/ML algorithms injected with 30+ years of domain knowledge from service providers around the globe driven by our ASI Smart Data to provide actionable business intelligence.
Performs deep outlier detection along with cross correlation through the entire network to direct you to the precise primary and possible secondary issues. Providing supporting evidence that are affecting VIP's, Market, Gateway, Service, Enterprise Customers, 5G Slice, UE's, firmware version, eNodeB, gNodeB... any aspect of your network that NETSCOUT is monitoring with our nGenius Platform.
Provides greater overall efficiency and minimizes human error by comparing possible issues across millions of scenarios, while reducing cost associated with data overload. All while providing faster results that is close to impossible for a team of humans to resolve in a timely manner.
This is automated intelligence applied to your entire network providing concise, top-down prioritized impactful data that can be displayed visually, place on a Kafka bus or sent to external business messaging applications.
Service Provider Automation Applications
Automated Analytics are built on top of the proven nGenius platform. nGenius is a scalable platform that brings together best-of-breed technologies (ISNG for the creation of Smart Data, nG1, and nSA for Service Assurance and analytics). The ability to run these applications on top of the existing nGenius platform, means that customers get a low cost/high ROI advanced analytics solution.
Automated Analytics provide a holistic analytics solution. Many analytics solutions focus only on what's broken or what's not working, whereas our applications bring not only what's broken or impacting business, but it also looks at what's working well and how services and customers are behaving.
Smart Outcome Architecture via Smart Analytics Chains
A Smart Analytics Chain is the combination of NETSCOUT's patented ASI Smart Data with deep domain knowledge and AI/ML building blocks.

Get CSP Automation Today
Grab onto the paradigm shift in actionable business intelligence.