Fact Sheet
NETSCOUT and AWS Technology Partners
NETSCOUT is an Advanced Technology Partner of the AWS Partner Program (APN). NETSCOUT is an AWS Migration and Networking Competency Partner. NETSCOUT's partnership with AWS allows you to reduce cloud migration time to results.
Key Benefits
Accelerate deployments of services
Accelerate deployments of services into AWS while assuring business continuity.
Achieve end-user experience objectives
Achieve end-user experience objectives and swift issue resolution for application services with Smart Data and smart analytics from NETSCOUT.
Empower collaboration between enterprises and AWS
Empower collaboration between enterprises and AWS as they work together to achieve business goals.
Quick time to value
Quick time to value with easy to deploy and easy to manage approach of services available on AWS Marketplace.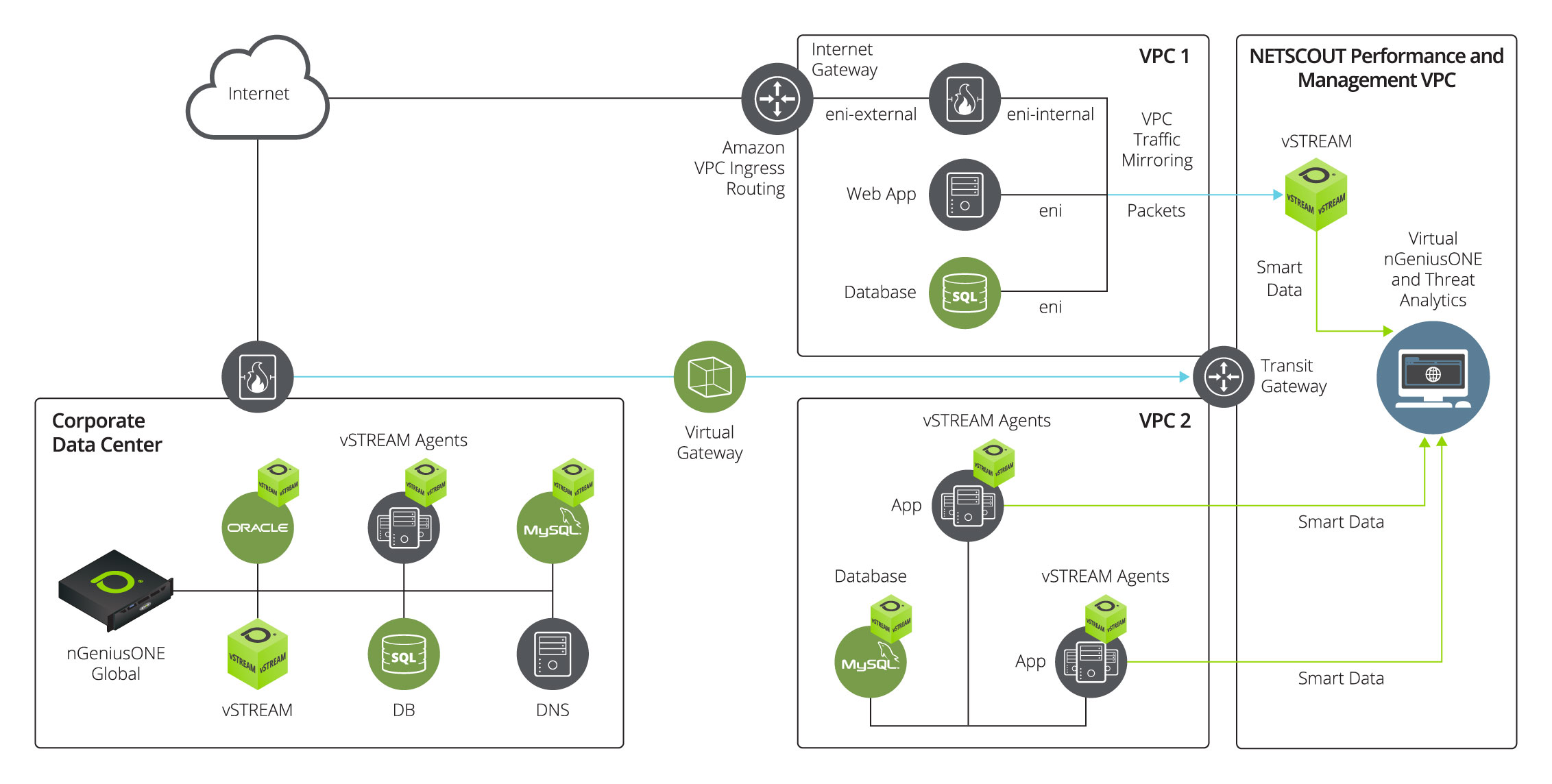 User Experience
NETSCOUT uses the industry's most scalable, lightweight distributed architecture to generate Smart Data. Through continuous monitoring and by capturing all wire data (traffic flows) traversing the hybrid cloud environment - performing simultaneous deep-packet inspection and real-time analysis - NETSCOUT generates Smart Data at its point of collection. You also gain a centralized view into the performance characteristics of all infrastructure and application components and their dependencies across geographically dispersed data centers and cloud environments. With valuable and timely intelligence into application performance and security, you can proactively find and fix errors, latencies, and threats before they become service delivery problems.
NETSCOUT supports AWS native features such as Amazon VPC Ingress Routing and Amazon VPC Traffic Mirroring to complement NETSCOUT's embedded virtual appliances that offer software-based instrumentation of application workloads.
NETSCOUT solutions let you migrate workloads to AWS with confidence, providing a foundation for common situational awareness for NetOps, SecOps and other IT groups by monitoring a variety of availability, reliability, responsiveness and threat metrics - making them easily accessible in real time to the right team members with custom views relevant to their function. Actionable visibility from NETSCOUT allows you to take full advantage of AWS capabilities.
NETSCOUT Omnis Cyber Intelligence with AWS Security Hub
Cross-platform Visibility without Borders allows organizations to quickly identify and contain cyber threats
Related Information
AWS Commercial Marketplace
Visit AWS Commercial Marketplace for more information
Visit AWS GovCloud for more information
Featured Resources
NETSCOUT on AWS: Maintain the security and performance of your applications and services
As more businesses shift their application workloads to the cloud, IT organizations are finding it's increasingly difficult to keep pace with the dynamic nature of their newly emerging hybrid environments. NETSCOUT's innovative Smart Data technology goes beyond traditional north-south traffic views, by providing pervasive visibility and deep insights into...
Migrating Applications to AWS
At NETSCOUT, we are committed to making sure that you have the information you need for a successful migration. Start your cloud migration journey with NETSCOUT end-thru-end visibility.
Securely Transition to the Cloud with AWS
An intelligent and repeatable 3-step methodology for moving to the cloud
NETSCOUT Support Information
NETSCOUT technical assistance provides different service offerings depending on the customer's license type.
Please visit NETSCOUT support page for details about Mastercare support
Bring Your Own License (BYOL) customers may receive NETSCOUT MasterCare support provided that they have an active NETSCOUT MasterCare Agreement.
Support for Pay As You Go (PAYG) is limited to email only with a target acknowledgement response time of 2 business days (not guaranteed) and includes 1 open/concurrent issue per PAYG nGeniusONE Active/Running EC2 Instance. nGeniusONE PAYG Support email: awssupport@netscout.com