The New Foundation for Hybrid Cloud Security
Security is essential to any organization's ability to accomplish its business objectives and thrive. SECOPS, NETOPS, and ITOPS are collectively responsible for everything, including threats that span the cloud, on-premises, and hybrid environments. As organizations migrate workloads to the cloud, infrastructure becomes more complex making end-to-end visibility a necessity to combat an increase in the attack surface and exposure to threats. Strengthening security and reducing business risk, therefore, requires going beyond traditional cloud security to control incoming and outgoing traffic. A shared responsibility security model requires a smart platform to illuminate threats everywhere, anywhere, anytime.
NETSCOUT Omnis® Cyber Intelligence (OCI) with AWS Security Hub delivers end-thru-end visibility across the hybrid cloud to detect, investigate and respond to potentially malicious activity. NETSCOUT OCI with AWS Security Hub offers a new foundation for threat visibility, exposing risks that exist in hybrid cloud interdependencies by transforming network traffic and global threat intelligence feeds into smart data, while decreasing operational overhead and achieving efficiencies in mitigating security threats.
Solution Brief
NETSCOUT Omnis Cyber Security Solution for AWS
Illuminate Threats Everywhere, Anywhere, Anytime with Smarter Security
Gain visibility into threats and derive actionable insights for security issues that span AWS, on-premises, and hybrid environments
Proactively examine security risks and Indicators of Compromise in complex, interconnected infrastructures by turning network traffic and global threat intelligence feeds into smart data
Strengthen security posture by integrating with AWS Security Hub to aggregate and organize findings, and for contextual drill-down forensics to resolve the highest priority security issues
How NETSCOUT Helps
IT teams are tasked with not only assuring service delivery and a delightful user experience, but also protecting digital assets from the on-premises data center to the cloud. The sheer sprawl of the IT footprint beyond the boundaries of the traditional enterprise means that NETOPS, SECOPS, and ITOPS must embrace new ways of gaining visibility and addressing both service delivery and security issues as they occur.
Recognizing that the threat landscape is growing, and attacks are continuing to escalate, it has never been more important to fully understand business risks and solve security issues faster. To make this happen requires continuous monitoring everywhere in the IT infrastructure. And this is where NETSCOUT can help as a market leader in protecting the connected world. With its comprehensive end-thru-end visibility and global threat intelligence feed, the NETSCOUT Omnis Cyber Intelligence (OCI) enables IT professionals to detect, validate, investigate, and respond to cyber threats, whether on-prem or in the cloud - quickly and efficiently.
NETSCOUT OCI is an enterprise-wide network threat and risk investigation solution providing a wealth of security insights in complex hybrid cloud environments and can help answer a key question: what's the impact on the business? This first-of-its-kind traffic visibility solution leverages AWS-native technologies including VPC traffic mirroring, VPC ingress routing, and Gateway Load Balancer (GWLB). Visibility is extended to AWS by directing routable traffic from any Virtual Private Cloud (VPC) to NETSCOUT OCI without leaving the cloud. NETSCOUT OCI exports its findings to AWS Security Hub using AWS Security Finding Format (ASFF).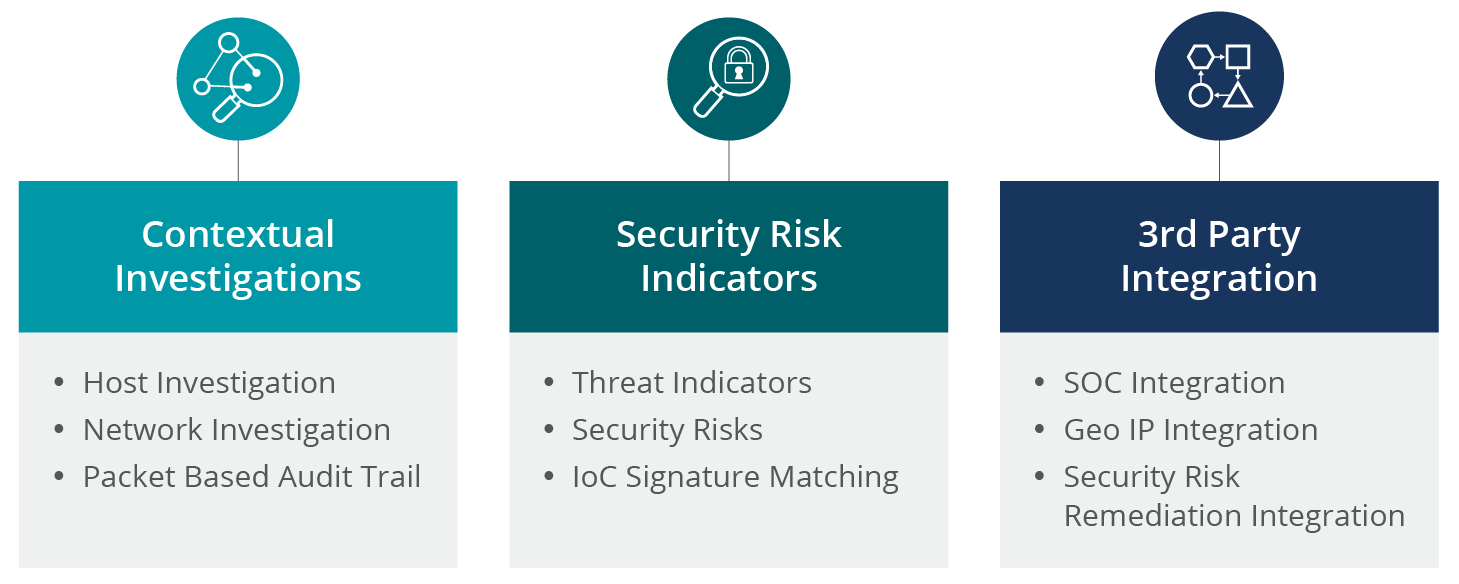 NETSCOUT OCI is AWS tested and certified featuring:
Smart data. NETSCOUT ASI technology and ATLAS® Threat Intelligence add context and analytics, turning wire data into actionable insights in the hybrid cloud.
Smart instrumentation. The virtual form factor is easily deployable on AWS and provides an agent-less architecture that's fully integrated with AWS technologies, enabling cost-effective, end-thru-end visibility from a single-pane-of-glass.
Smart investigation. Guided contextual or ad-hoc unguided investigations to determine extent of breach and remediation. Combine with Security Hub for a complete cybersecurity forensics, threat detection and response platform.
Talk to an Expert Today
To learn more about how NETSCOUT can help you transform packet data into smart data to gain anywhere, anytime security visibility and actionable intelligence, at scale, speak to one of our highly experienced subject matter architects. We've got answers to your most pressing digital transformation concerns.