VMware software powers the world's complex digital infrastructure. The company's cloud, networking and security, and digital workspace offerings provide a dynamic and efficient digital foundation to customers globally, aided by an extensive ecosystem of partners. Headquartered in Palo Alto, California, VMware is committed to being a force for good, from its breakthrough innovations to its global impact. With 2019 revenue of $8.97 billion, VMware has over 500,000 customers and 75,000 partners worldwide.
The NETSCOUT / VMware Partnership
NETSCOUT has partnered with VMware to provide visibility for application performance and assurance in a number of critical areas. NETSCOUT and VMware's initial technology partnership is first-of-its-kind wire-data visibility that, to-date, was unavailable as you moved to a VMware NSX Software Defined Network (SDN).
Migrating to a VMware NSX environment is a major transformation for any enterprise. NSX offers simplified management, micro-segmentation security, provisioning agility, and improved data center economics. As your organization benefits from accelerated service velocity, enhanced security, and rapid disaster recovery, successful migration will depend on overcoming the lack of visibility into application dependencies and user experience. Your bottom line depends on continuous availability and quality end-user experience; anything less, puts your business at risk. What is needed is a service assurance solution that eliminates the blind spots and provides a seamless view that will scale across your VMware ESX, NSX, and SD-WAN deployments, alongside multi-cloud and legacy data center environments.
White Paper
NETSCOUT Removes IT Visibility Gaps to Assure Performance in VMware Environments
On-prem VMware environments carry many different types of traffic that are often connected to mission-critical applications used by both employees and customers of the enterprise. Applications hosted in VMware environments interact with applications and services hosted on non-VMware platforms, sometimes located in the public cloud and with SaaS providers. NETSCOUT's nGenius Enterprise Performance Management solutions provide unified visibility network-wide, including traffic inside and outside VMware clusters, which enterprises need to rapidly and accurately identify, triage, isolate and collect evidence of enterprise application problems.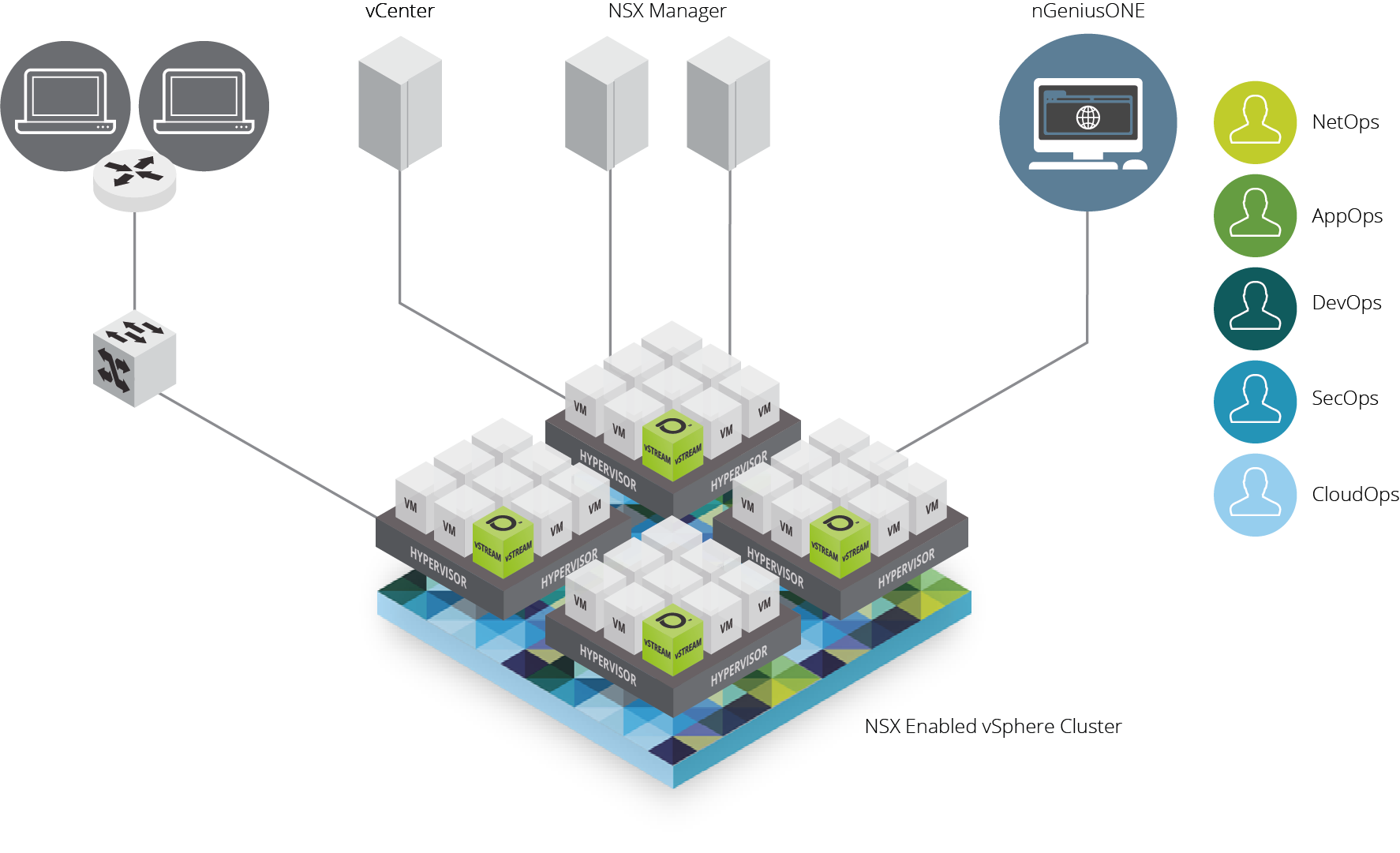 NSX-T Edition of vSTREAM with nGeniusONE Service Assurance platform delivers rich ASI intelligence for your organization's mission-critical VMware NSX data center and improves collaboration among all members of the IT team, from NetOps to DevOps, AppOps, SecOps, and Cloud Ops.
NETSCOUT NSX Edition of vSTREAM Bridges the East-West Application Visibility Gap
NETSCOUT leverages the power of packet data through its patented Adaptive Service Intelligence (ASI) technology and is designed to scale to the needs of the world's largest enterprises and service providers. The NSX-T edition of vSTREAM is unique in delivering application visibility, troubleshooting, and assurance directly from the hypervisor. nGeniusONE, with industry-leading support for more than 1,000 applications, including voice, video, and data, uses ASI-generated smart data from vSTREAM to pinpoint the source of application disruptions impacting the user community.
Unrivaled, end-to-end visibility into business application services, along with contextual workflows to speed problem resolution are available with the NSX-T edition of vSTREAM and nGeniusONE, making the solution both easy for a Level 1 responder to use and powerful for an expert to operate. Rather than looking at individual elements in isolation, the nGeniusONE solution offers an overarching view into the performance characteristics of applications and user experience, while validating that micro-segmentation security controls have been properly implemented. These views expose underlying service dependencies that help IT teams to more effectively manage health, availability, security, and user experience issues across their NSX data centers.
Key Benefits
Assure Quality User Experience
Visibility helps assure high-quality user experience in VMware environments and smart data and smart analytics for troubleshooting leveraging NSX-T edition of vSTREAM and nGeniusONE solution.
Improve Efficiency and Success
Improve efficiency and success of application migrations, with an understanding of the application service dependencies and a baseline of its performance.
Lower Mean Time to Repair
Faster MTTR and resolution time of application and network performance problems, with more complete visibility into East-West as well as North-South traffic activity.
Reduce Deployment Complexity
Reduce deployment complexity and manual tasks, with agentless architecture that operates independently of the application workloads being monitored.
Real-Time Visibility into Performance
Validate that micro-segmentation security controls have been properly implemented, with real-time visibility into network and application performance.
VMware Partner Designation and Certification
NETSCOUT Systems, Inc. is an Elite tier member of the VMware Technology Alliance Partner (TAP) Program. The VMware TAP program works with best-of-breed technology partners to leverage a comprehensive set of VMware technical and marketing services, support, tools, and expertise to deliver enhanced value to joint customers.
NETSCOUT's NSX-T edition of vSTREAM has also been certified as VMware Ready for Networking and Security, VMware's highest level of endorsement for products and solutions created to benefit their customers.
Learn More