In the 5G Era, the Customer Experience Matters, and Here's What to Do About It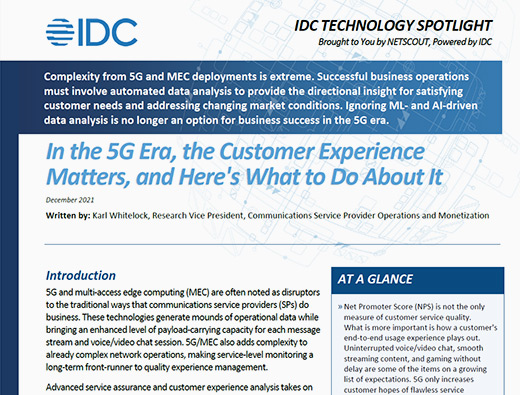 Brought to you by IDC and NETSCOUT.
This document notes several new assurance-related business and operational needs. It explores how customer service problems can be isolated or even averted with the right combination of business strategy, a purpose-built toolset, and industry expertise able to organize these capabilities to meet the strictest service quality controls. The document also notes how the right service support attributes can deliver far-reaching benefits to customers—human and machine.

The Customer Experience Matters!
Download the whitepaper and learn:
How 5G Complexity is the New Customer Experience Reality
Why Automation and AI are the Keys to Real-Time Customer Experience Management
The New Types of Service and Customer Experiences
Industry and Solution Challenges Being Faced
Download this white paper to get the facts and get prepared.