What Is NWDAF?
NWDAF, short for 5G network data analytics function, is a crucial 3GPP standard method. It efficiently collects data from user equipment, network functions, operations, administration, and maintenance (OAM) systems within the 5G Core, Cloud, and Edge networks. This wealth of data is then utilized for powerful 5G analytics, enabling better insights and actions to enhance the overall end-user experience.
What is 5G Network Core Data Analytics Framework?
According to 5G PPP Architecture Working Group View on 5G Architecture Version 3.0, the analytics framework for the 5G core network architecture considers data analytics capability at various layers and introduces data analytics functions (DAFs) into the following:
Core network domain (network data analytics functionality) (NWDAF)
Big Data and management and orchestration (Big Data/MDAF)
Application function level (AFDAF)
User equipment/RAN (DAF)
Data network (DN-DAF)
NETSCOUT Smart Data Powers Actionable Network Data Analytics Functions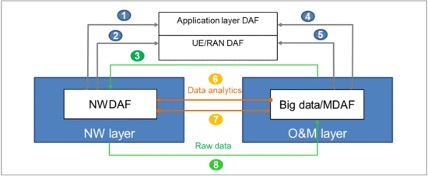 Figure 1 5G PPP Source - DAF Framework
What is an Example Use Case of a Data Analytics Function (DAF)?
An example use case of one of a DAFs would be to send KPIs to a policy control function to decide about security on a noisy node or determine if QoS is unequal across subscribers in a cell. Each logical data analytics module is implemented as multiple instances for different use cases and purposes. For instance, the Big Data module in the management and orchestration layer could be implemented as multiple instances per domain (e.g., RAN data analytics, VNF data analytics, etc.) at different levels (e.g., cross/intra domain). This framework allows for a dedicated data analytic module design at different layers, also enabling cross-layer optimization. Figure 1 depicts the overall integrated data analytics framework
What are NETSCOUT's NWDAF Products?
The foundation of NETSCOUT's service intelligence is Smart Data derived from direct access to the wired data source - the IP packets traversing the 5G SA Service-Based Architecture coupled with NETSCOUT advanced 5G analytics capability called Automated Analytics. NETSCOUT offerings transcend the traditional Key Performance Indicators (KPIs) and Key Quality Indicators (KQIs) and provides holistic end-through-end insights of the entire network health by subscriber device.
This combined capability- Smart Data and Automated Analytics, is the cornerstone of NETSCOUT's ability to provide advanced 5G analytics to drive closed-loop automation use cases, as defined within the NWDAF specification.
In addition to the use cases defined in the NWDAF 3GPP specification, NETSCOUT 5G Automated Analytics product capabilities can be leveraged to develop support for virtually any real-world customer use cases.
What is NETSCOUT's Service Intelligence Advantage?
NETSCOUT's advantage is our Adaptive Session Intelligence (ASI) derived from what is the source of truth: IP packets. From our passive inspection of IP packets, NETSCOUT creates Smart Data that provides:
Multi-Generational Network Intelligence
- 5G, 4G, 3G, 2G, Wi-Fi, Fixed
Per Subscriber
- Per session insights
Multi-Dimensional
- Service, handset, device, cell, location, network
Rich App/Network Metrics
- Errors, latency, throughput, audio gaps, video quality
Full Visibility
- Physical and virtual, cloud, Open APIs
How do NETSCOUT 5G Analytics Solutions Support 3GPP NWDAF Use Cases?
NETSCOUT's comprehensive end-through-end view with ASI Smart Data allows us to address all the 5G 3GPP NWDAF 5G use cases and much more at each area of the network (RAN, Core, Edge, Network Slice …), as well as determine network, service and device behavioral anomalies that impact user experience.
Our customer first approach propels our proactive stance to help our customers solved their most pressing business use cases to ensure real ROI and productivity gains and move towards predictive and prescriptive solutions with automation.
NETSCOUT is also focused on leveraging our Automated Analytics to address the use cases outlined in 3GPP TR23.791 for formula-based AI/ML analytics.
Network Data Analytics Function Resources
Learn About Our Smart Data and Analytics Solutions
Learn About Our 5G Network Monitoring Solutions