Success Story
5G Stand-Alone Device Migration: Challenge Met!
Contact an Expert
Meet the 5G visibility challenge with superior analytics.
The Opportunity
With new technology comes new challenges. 5G is no different.
Our customer, a Tier 1 North American CSP (communications service provider) is a market leader in 5G and has one of the lowest churn rates in the country. One of their business strategies is to move their subscribers and all handsets over to 5G while having as little impact to customers as possible.
How will this service provider manage these challenges while increasing the visibility that is needed to ensure optimal performance on 5G?
The Details
The high-level goal of the Device Performance Group at this CSP is to provide their subscribers with the same (or better) voice quality on VoNR as they have been experiencing over LTE for many years. As subscribers turn to 5G on their handset, a smooth user experience is essential.
Our customer's migration of subscribers from 4G to 5G is coincident with a number of over-the-air (OTA) software updates being received from handset manufacturers aimed at improving both data and voice QoE.
In order to monitor the success of the 5G service uptake, this CSP needed a high-visibility tool that could report on manufacturing, model, and software versions. They needed a quick understanding of how many people were moving to 5G as well as their performance on the uptake. Were call drop rates increasing? Were there more MOS / audio quality issues appearing? Were customers receiving sub-optimal performance?
With nGenius Business Analytics (nBA), they had full visibility into these measurements through call set up success rate, call drop rate, call quality indicators and user plane throughput. With this insight, the before and after of any issues associated with handset manufacturer software versions are now able to be detected and handled immediately and efficiently.
The Results
Using NETSCOUT's nBA, this CSP was able to gain a multi-faceted view into 5G user experience with the ability to:
Assess the service uptake of 5G by customer market
Determine 5G to 4G "leakage"
Quantify the unique number of subscribers affected by performance issues
Drill-down into call quality indicators by affected handsets; segmented by manufacturer, model, and software version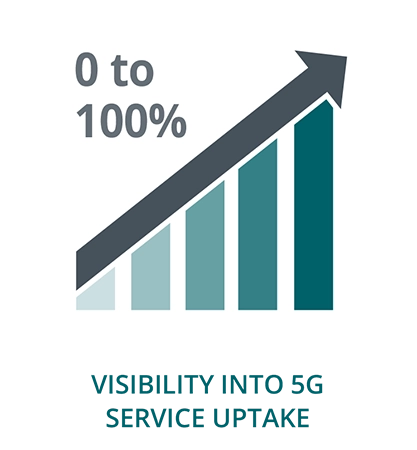 Contact an Expert
Meet the 5G visibility challenge with superior analytics.