Success Story
Orchestrated Service Assurance at the 5G Edge
Contact Us
Learn how to achieve Uninterrupted Service Assurance at the 5G Edge.
Contact an Expert
The Opportunity
As one large American Carrier Service Provider (CSP) prepared their network to support the 5G cloud edge, they realized during the planning stage that the use of traditional dedicated COTs servers would no longer support the robust nature of their 5G edge network because, the transactions at the 5G edge required extreme agility on-demand, faster deployment of services and network resources, elasticity to scale traffic up and down, and automated visibility for service assurance.
How will this CSP future-proof their virtual platform to gain visibility at the 5G Edge?
The Details
To support robustness and ensure visibility, this CSP turned to NETSCOUT® award winning virtual RAN Flow Broker and InfiniStreamNG™ solution.
Agility On-Demand:
To establish agility on-demand at the edge, the NETSCOUT team worked with this group to build a virtual RAN solution that fully integrated into their virtual orchestration architecture. After integration, the team relocated the RAN cell trace elements to the 5G cloud edge.
Redundancy:
This built-in virtual solution was also equipped with redundancy to secure the availability of smart data feeds for critical edge applications for the benefit of uninterrupted service assurance at the edge.
The Results
NETSCOUT's Solution Provided these benefits at the 5G Cloud Edge:
Orchestration with 100% uninterrupted visibility
Lowered CAPEX, by enabling virtual RAN cell instruments
Minimized OPEX through Mean Time to Repair (MTTR) and dynamic allocation of resources
Redundancy to support availability of critical applications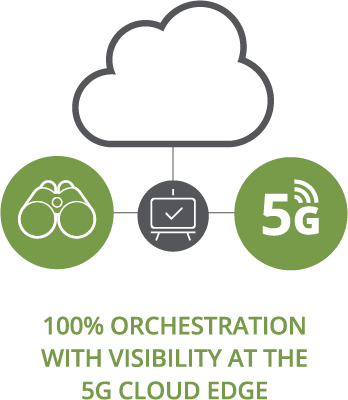 Contact Us
Learn how to achieve Uninterrupted Service Assurance at the 5G Edge.
Contact an Expert