Free White Paper
A Better Way to Enable Advanced Packet Conditioning
Software-driven network packet brokers have made core packet broker functionality more cost-effective and scalable than ever before. Now, read how that same software-focused approach is enabling advanced packet conditioning with more flexibility in deployment.
In the second part of their analysis of this new software-driven technology, ACG Research delves into the ways software is making pervasive network visibility easier to achieve.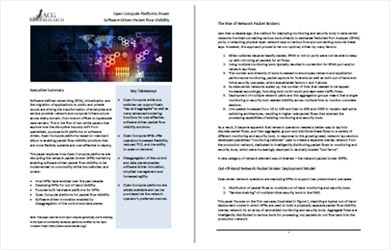 Discover the Benefits of a Software-Driven Approach
Register now and learn:
Why software delivers cost-effective advanced packet broker functionality
How new innovations are streamlining configuration and control
The ways software-driven innovation eases operational complexity
Software has made core packet broker functionality more flexible and cost-effective. Read how it's revolutionizing the way advanced packet conditioning is deployed as well. Register now.
Download Your White Paper
RECOMMENDED RESOURCES
Learn About Packet Broker 2.0
nGenius PFS 5000 Revealed