Free White Paper
Unlock the Benefits of a Unified Packet Plane
Digital transformation is defined as highly agile infrastructure investments that perform well today and keeps pace as your business services evolve. Go beyond your normal service assurance or cyber security tools for full business assurance visibility across all your network services.
The increased level of IT complexity has made it significantly more difficult to secure and manage the network. For example, the ZK Research 2016 Security Survey found that 45% of respondents admitted to turning off security features in devices to improve performance. These challenges can be solved with a higher level of visibility and by simplifying the infrastructure. A unified packet plane comprised of high performance network monitoring switches can achieve both goals.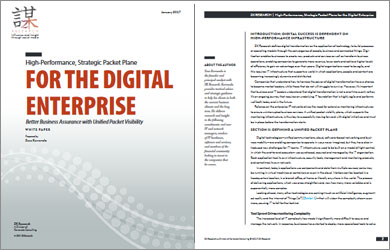 Discover the Path to Optimized Packet Visibility
Read this white paper and learn:
How to gain visibility into virtualized environments
The best ways to transition to active security
Tips for navigating protocols and other visibility roadblocks
This white paper by Zeus Kerravala of ZK Research will help you discover the benefits a unified packet plane provides. Read now.
Download Your White Paper
RECOMMENDED RESOURCES
Optimize Your Monitoring
A New Mandate for Monitoring