Free White Paper
Cost-effective change management with better proof of concepts
In the average enterprise network, security systems are scattered across numerous physical locations. If a configuration change is needed, reconfiguring and updating these devices places substantial demands on an organization's time and resources.
Discover how nGenius packet flow systems (PFS) enable users to share network security systems locally or globally, and how this technology makes proof of concepts (POCs) easier and safer.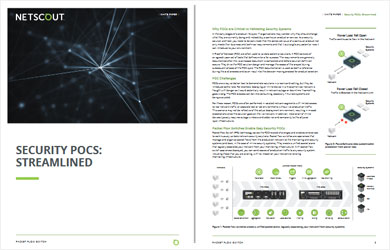 Reduce risk. Raise efficiency.
In this guide to streamlined POCs you'll learn:
A safer way to validate using live network traffic
Tips for reducing outage windows when testing
Why a unified packet plane means a safer network
How an nGenius PFS enables transparent network testing
Register now and discover the key to faster and more cost-effective security POCs.
Download Your White Paper
RECOMMENDED RESOURCES
10 Key Security Visibility Questions
De-Risk and Scale Cybersecurity