Free Webinar
A Better Way to Scale Your Active Security Efforts
Major breakthroughs in disaggregating network packet brokers have made network monitoring more pervasive and cost-effective than ever thought possible.
Now, further advancements have empowered packet brokers to deliver that same cost-effective effortless scalability to turbocharge your active security operations. Discover the latest capabilities coming to network packet brokers with this exclusive deep-dive webinar featuring NETSCOUT Product Manager, Gordon Beith.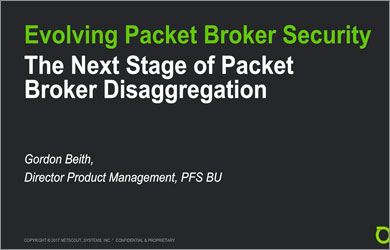 Get the Facts and Optimize Your Security
Register now and you'll receive:
A detailed look at the latest packet broker advancements
Applicable use cases and examples for your organization
Answers to popular and common questions
Software has redefined what's possible when it comes to network packet brokers. See what these breakthroughs mean for you active security efforts. Register now.
RECOMMENDED RESOURCES
Packet Broker 2.0 Architecture
PACKET BROKERS EVOLVED