Work-from-anywhere models require increased visibility to support the diverse needs of today's hybrid workforce. While many employees are working from home, corporate headquarters, or a combination of both, we must also consider working from coffee shops, airports, hotels, and more.
Digital transformations and hybrid cloud complicate the delivery of consistently high-quality performance, and the new workforce dynamic creates yet another level of complexity to challenge IT.
NETSCOUT nGenius® Enterprise Performance Management provides unparalleled visibility to solve performance and security issues that impact users around the world regardless of where they work.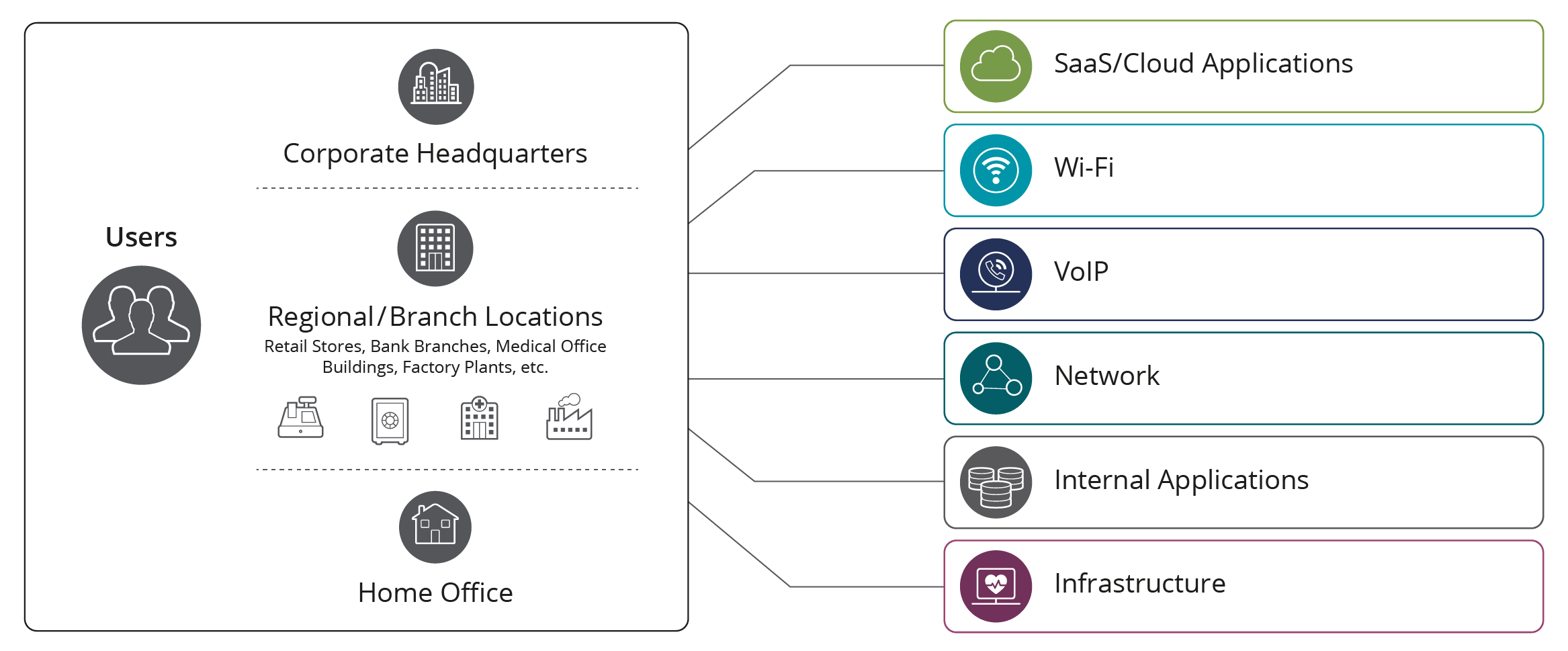 The Shifting Landscape – IT Challenges Supporting Remote Workers
Focus on the End-User Experience
Business continuity depends on employee productivity. Enterprise performance management was less complicated when employees were located in corporate facilities communicating with centralized data centers. A hybrid workforce, communicating across hybrid cloud, presents complexity in "3D."
nGenius Enterprise Performance Management delivers visibility and insights to assure the highest-quality employee digital experience in any network or application, anywhere. This solution solves one of IT's biggest challenges: problem identification and resolution in complex multi-vendor environments. IT organizations can assure digital experience with SaaS, UCaaS, and data center-based applications from disperse working locations.
Work From Home
Employees using VPN, VDI or SaaS from their home network access resources employ various technologies and vendors. Whether local broadband for Internet Access of SD-WAN for corporate resources, these have traditionally presented gaps in visibility for IT trying to provide network and application performance support. nGenius Enterprise Performance Management provides the end-through-end visibility needed to close these gaps.
Hybrid Workforce
Accessing applications from home, hotels, remote/brand offices, or headquarters, hosted in data centers, SaaS/UCaaS, and cloud is complicated by the complex paths a single transaction can take. Yet, the expectation is for flawless performance, regardless of where the user performs their job. NETSCOUT nGenius Performance Management provides IT managers with the real-time visibility needed to manage this complexity.
Key Areas
NETSCOUT's nGenius Enterprise Performance Management solution provides visibility for VPN, VDI, SaaS and UCaaS to assure network and application performance and digital employee experience.
Assure Quality and Productivity
Performance of corporate applications and resources, SaaS, and UCaaS should be as seamless at home as it is in the office, for all your users. Achieve high-quality, end-user experience objectives with SaaS, UCaaS, and data-center based applications.