ONUG
The goal of all ONUG events and working groups is to bring together the full IT community to allow IT business leaders to learn from peers, to make informed open infrastructure deployment decisions, and to create dialogue between the vendor and user communities to collectively drive open infrastructure choices and options via aggregated use case requirements.
NETSCOUT is a thought leader and contributor within ONUG Working Group (WG) Initiatives, including the Monitoring and Analytics (M&A) WG.
Working alongside enterprise IT leaders, vendors, and cloud/service providers, NETSCOUT collaborates to help build requirements for the development of solutions that address customer issues. Chief among these is the mastery and customer value delivered for Monitoring & Analytics and Software-Defined Security Services.
Helping to build Monitoring & Analytics Guidelines facilitates success for customers and within the industry. After being considered for the Right Stuff Innovation Award, NETSCOUT was recognized as a company that best addresses the goals outlined by the working groups.
NETSCOUT's participation in the Right Stuff Innovation Awards underscores a commitment to the development of markets and solutions required by the IT Community to support digital transformation for the hybrid multi-cloud and data center transformation era. Confident that collaboration will contribute to an increase in the preferred IT choices and options available to IT buyers in the large enterprise space, NETSCOUT offers thought leadership to help facilitate change.
Ensuring that IT organizations maintain full visibility of their applications and services, as they migrate to the cloud and adopt microservices architectures, is central to NETSCOUT's mission.

How to Use the Framework: End-to-End Monitoring Enterprise Applications in Hybrid Multi-Cloud
Please consider the following options when using the guide:
Fill-in gaps regarding your organization's monitoring strategy
Build entire monitoring schemes using framework as a guide
Evaluate existing monitoring schemes against the framework
Educational resource for monitoring and analytics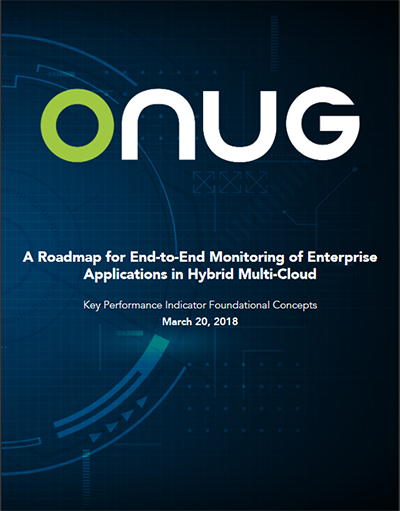 Download the Whitepaper