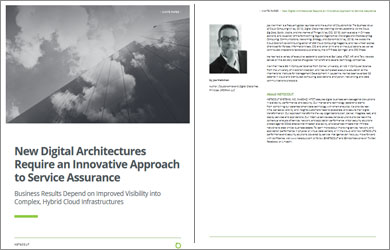 Free White Paper from Leading Author, Joe Weinman
New Digital Architectures Require an Innovative Approach to
Service Assurance
Business Results Depend on Improved Visibility into Complex, Hybrid Cloud Infrastructures
As global competition from traditional rivals and new entrants continues to intensify, businesses must deliver exceptional customer service and experiences. In an increasingly digital world, this necessitates holistic, end-to-end service assurance, i.e., monitoring, managing, and controlling the reliability, availability, performance, and security of increasingly complex, interdependent, distributed applications and services residing on an ever-growing variety of infrastructure options – such as private, public, hybrid, and multi-clouds – even as they shift and evolve at a dizzying pace.
Strategic Scope of End-to-End Service Assurance as Complexity Increases Exponentially
Digital architectures are becoming exponentially more complex at an accelerating rate, due to more infrastructure options, greater resource dispersion, and finer applications granularity. To keep pace and maintain relevance, service assurance needs to span technologies, industries, and business processes, and shift from silos to a holistic, end-to-end view.
Explore these dynamics in this paper today!
Get your free copy today!
Fill out the form to get your free copy today.