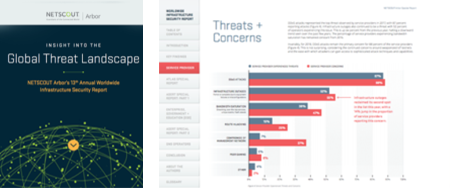 NETSCOUT Arbor's 13th Annual Worldwide Infrastructure Security Report (WISR) provides current data from the changing and increasingly complex global threat environment, arming you with insights to develop and implement a DDoS protection plan.
This latest report uncovers new challenges and security concerns across the respondents. For example, DDoS attacks represent the dominant threat observed by the majority of Service Providers. Whether you are a Service Provider, DNS Operator, or an Enterprise, Government, or Education organization, you need to understand the growing risk of DDoS attacks and how to protect against it.
Download the complete report now to learn the latest trends and observations from the organizational security community, including:
Operational Threats
DDoS Protection
Network Security
SDN / NFV
IPV6
Organizational Security
Get your free copy today!
Fill out the form to get your free copy today.