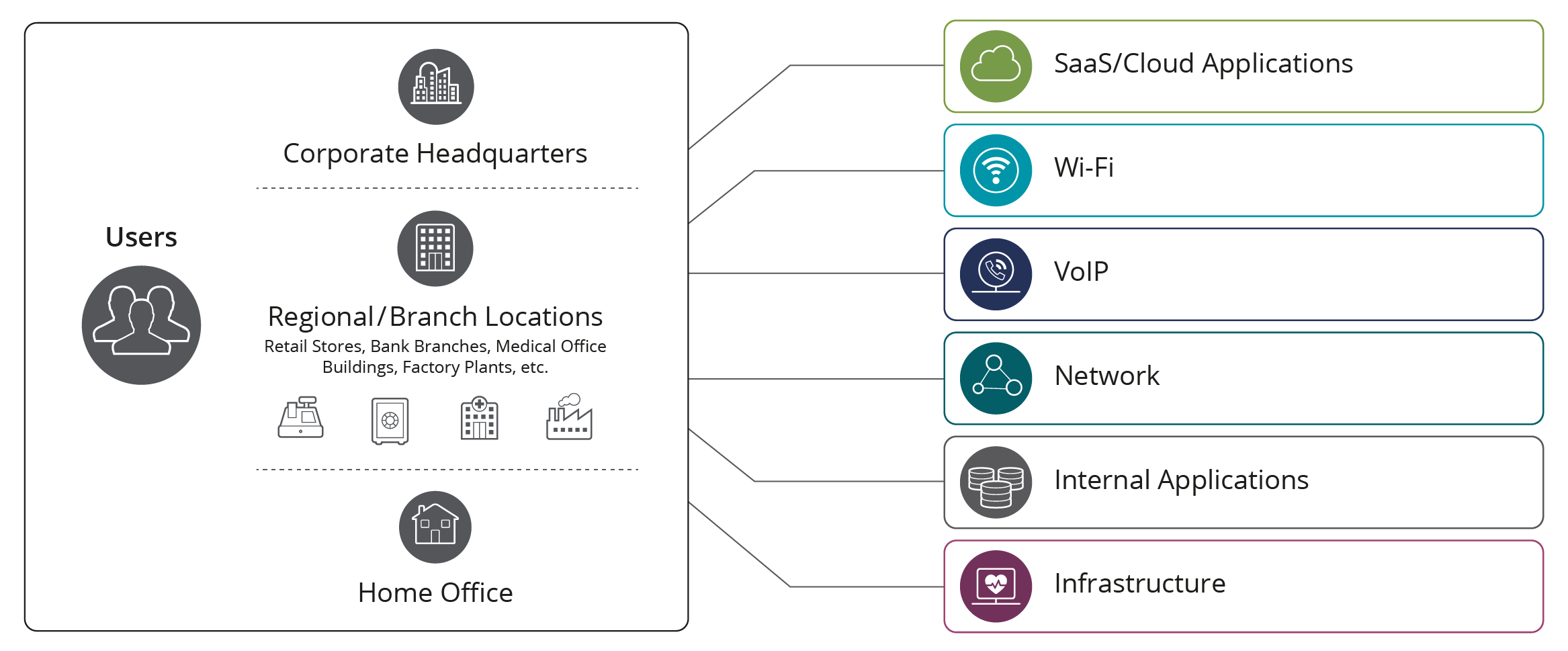 To maintain productivity and organizational collaboration, companies accelerated migration of some of their business compute out of private data centers to Software-as-a-Service (SaaS) applications, like Microsoft Office 365, and Unified Communications-as-a-Service (UCaaS), such as Zoom, Microsoft Teams, and Cisco Webex Teams.
The rise of the distributed workforce, necessitated by the pandemic, has led to a modern employee base that encompasses a geographically scattered, domestic, and international population. Digital transformations in cloud, Co-los, internet of things, SDN & SD-WANs, as well as SaaS & UCaaS have all combined to make it possible for employees to work basically anywhere the internet reaches.
While some employees will return to company-operated facilities over the next several months, many are predicted to remain home-based or hybrid. Ensuring parity in user experience with SaaS and UCaaS, regardless of the employee's location, will be essential in maintaining workplace productivity and business objectives.
Report
Communication, Collaboration & IT: Growing Pains and IT Strains
View trends in use of and challenges related to collaboration services based on a recent survey of 300 enterprise industry IT decision makers in Communications, Collaboration & IT: Growing Pains and IT Strains.
Fact Sheet
NETSCOUT Smart Edge Monitoring
Smart Edge Monitoring provides "last-mile" visibility into true end-user experience, returning IT control across all enterprise service edges.
Fact Sheet
NETSCOUT Visibility to Ensure Performance, Availability, and End-User Experience of UCaaS Service
Rapid, focused investigation can determine whether the issue is an application availability or a network performance problem, as well as which UC service is being impacted.
The NETSCOUT Solution
Netscout Visibility Without Borders provides the technology you need to track and trend performance of your SaaS and UCaaS applications. Regardless of whether your users connect from headquarters, remote locations, or home offices, you will have the power to collect and analyze key data and metrics to share and collaborate with your vendor partners to achieve high-quality performance and end-user experience.
Visibility to SaaS Performance
The variety of paths and complexity involved in connecting to different SaaS solutions can play a significant part in its performance. Netscout shows how a combination of passive packet monitoring and active synthetic tests can help get all your vendors on the same page.
UCaaS Monitoring
Unified communications have unique requirements from which users assess quality. It takes innovative technology to evaluate voice media, QoS assignments, set-up protocols, and adjacent application services to ensure quality expectations.
User Experience
Performance of SaaS and UCaaS should be as seamless at home as it is in the office. Achieve high-quality, end-user experience objectives with SaaS and UCaaS applications.
Netscout

Fills the IT Visibility Gap for SaaS/UCaaS Monitoring

The use of and reliance on SaaS and UCaaS applications became a commonplace necessity for many employees over the recent year. Accessing and enjoying a seamless experience with these services can at times be challenging, no matter whether employees are using them – from headquarters, branch locations, or home offices.

With so many variables impacting the quality of user experience – from internet providers, available bandwidth, competing traffic volume, even local connection over ethernet or Wi-Fi – can all play a part in the performance of a SaaS or UCaaS session.

Evaluate the performance and troubleshoot emerging issues to ensure a high-quality experience for all your users, wherever they do their jobs. Netscout service assurance solutions provide rapid triage of performance-impacting issues that helps IT and their technology partners quickly identify the source of performance degradations and restore high-quality end-user experience for all their employees.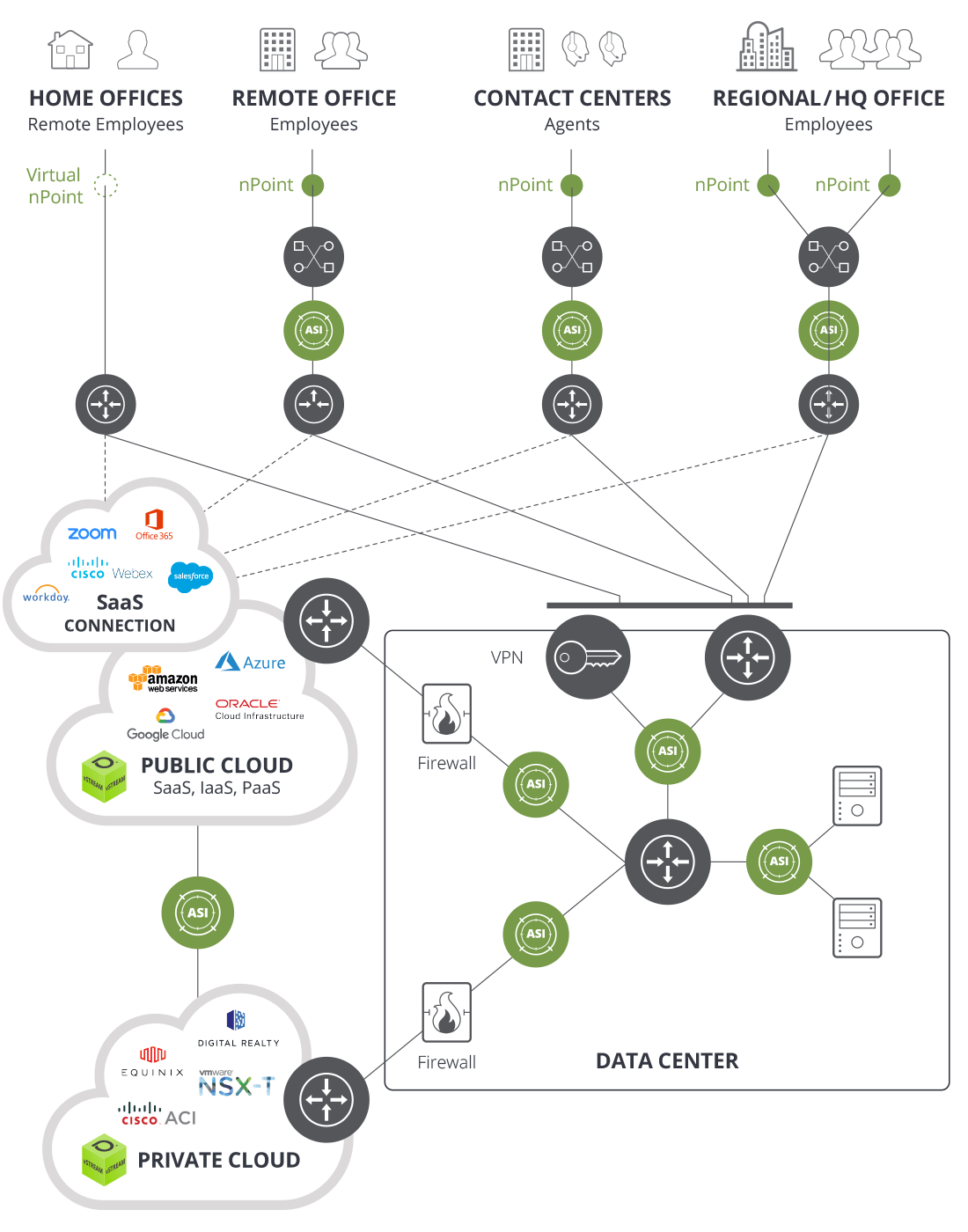 Contact NETSCOUT Today
To learn more about how NETSCOUT can help your company, speak to one of our highly-experienced subject matter experts about our tools and technology.