The Tremendous Promise of IoT
Digital transformation  continues to sweep across industry sectors, supporting the shift from physical to digital assets and fueling the adoption of new data-driven business models.
Alongside this transformation has been the rapid proliferation of connected devices, with IDC predicting there will be a staggering 30 billion connected "things" in use by 2020. The data gathered from Internet of Things (IoT) devices offers the opportunity to develop new insights in real-time, to improve operational efficiencies and customer satisfaction, and innovate with new and disruptive business models in a variety of industries such as transportation, government, healthcare, financial services and manufacturing.
Assuring IoT Application Performance and Service Delivery Infrastructure Can Be a Tall Order
Successful implementation of an IoT strategy depends on your ability to collect and analyze a wealth of data in real-time. This is accomplished by IoT services, which convert data analysis into insight and actions. Today, IT professionals are under increasing pressure to find ways to release these services faster, at scale, with higher quality, and more cost efficiently. Unfortunately, the more complex and scalable the IoT networks and infrastructure become and the faster the application delivery pipeline accelerates, the more challenging it becomes to assure IoT application performance and service delivery infrastructure in production environments.
Adding to the challenge, the proliferation of IoT devices has opened the floodgates to a new breed of malware threats that use IoT devices as hosts. The most recent Arbor Networks' Worldwide Infrastructure Security Report shows a dramatic spike in volumetric Distributed Denial of Service (DDoS) attacks, highlighting the fact that IoT is forever changing the threat landscape. These types of attacks are expected to become more prevalent over time and intensify in scale with increasing number of commercial applications being affected. IT must take steps to be prepared to deal with these challenges.
The Need to Rely on Smart Data to Achieve Business Assurance
As more and more organizations embark on their digital transformation journey and turn to IoT for a competitive edge, business assurance will become a key to successful business transformation. Business assurance technologies - that continuously monitor every action and transaction across all service delivery systems – can accelerate the velocity of the IoT apps delivery pipeline, ensure quality and performance of IoT services, mitigate corporate risk against DDoS, malware and advanced threat campaigns and optimize operational efficiencies. The secret to achieving successful business assurance is predicated on "smart data" that can offer insight across all layers of the IoT service delivery stack. That's why you need access to traffic flows that traverse the IoT network, which are the most important source of "smart data."
NETSCOUT Generates Smart Data So You Can Support IoT Business Models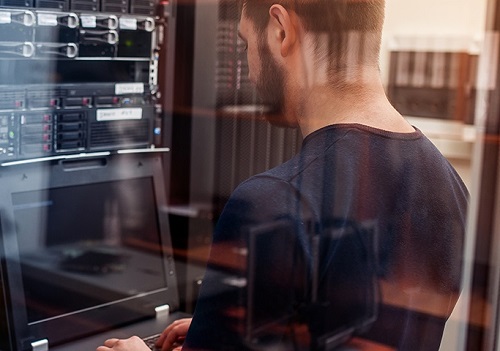 The fast pace of IoT adoption is indicative of the rapidly changing world we live in. To meet these changing needs, IT requires solutions that can ensure services and applications are reliable. That's where NETSCOUT can help.
Service Assurance in Your Environment of Choice
Whether you operate physical appliances and need to monitor traditional workloads or measure the performance of virtualized systems including virtual compute and storage resources on-premises, virtual networking on-premises (SDN/NFV), SDDC, and public, private and Hybrid Cloud environments, NETSCOUT software solutions and hardware independent architecture are designed to operate and assure services in your environment of choice.
Focus on the Packet
NETSCOUT knows the only effective way to monitor your complex and geographically dispersed systems, which often rely on different architectures and technologies, is by focusing on the packet. Our unique approach is made possible by harnessing the IP Intelligence found in your network traffic, which enables NETSCOUT to offer true system-level visibility into all applications, infrastructure, and interdependencies down to the subsystems in the context of the services that run in the system.
With Adaptive Service Intelligence (ASI+) technology, NETSCOUT continuously monitors and processes traffic data at the source and generates truly smart data that can be analysed in real-time or efficiently stored, using minimum necessary storage space, for future analysis. Armed with clear insights, IT can respond to the needs of the business at the pace dictated by your critical IoT initiatives.
Talk to an Expert
No one understands the complexity of IoT application performance and service delivery infrastructure more than NETSCOUT. Speak to one of our experienced subject matter experts to address your unique needs and challenges. We've got answers to your most pressing questions.
When it comes IoT, NETSCOUT can help you with:
Deployment Agility - Ensure business services are continuously rolled out smoothly and meet the expectations of the user community
Proactive Performance Monitoring - Continuously measure in real-time the performance of services and infrastructure to identify potential problems and plan for new services
Service Triage - Quickly pinpoint and resolve problems across the entire service stack before they have significant impact on the business
DDoS Protection - Protect the largest and most demanding networks from DDoS attacks
Advanced Persistent Threat (APT) Protection - Fight off any APT threat including malware and attack campaigns
Global Technology Company Leverages NETSCOUT's Solution to Assure Client's IoT Experience
nGeniusONE Visibility Assures Performance of Growing Traffic From IoT-Enabled Devices
Read More