Inscreva-se já para receber novidades da NETSCOUT sobre continuidade dos negócios.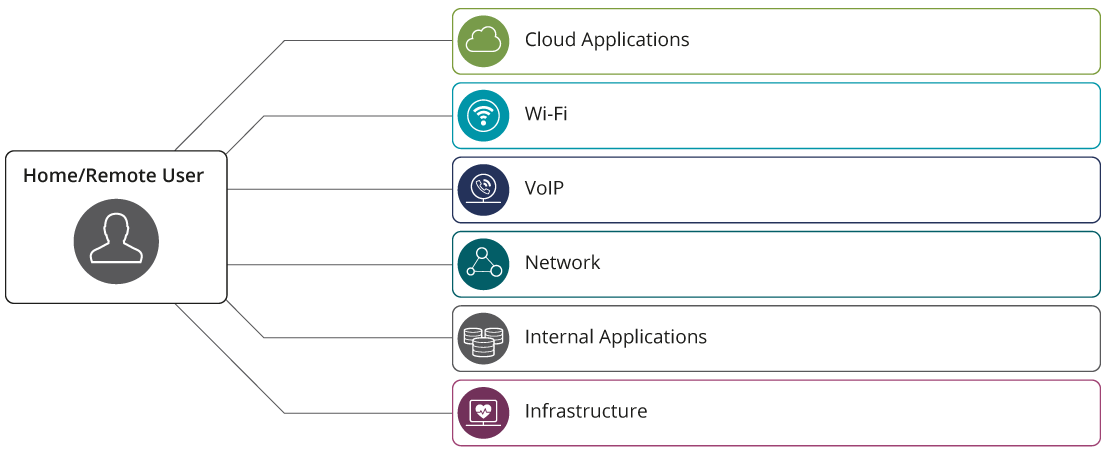 A demanda de acesso e desempenho dos usuários não muda com o trabalho remoto. Onde quer que eles estejam trabalhando, você precisa ser capaz de proteger, monitorar e validar a disponibilidade, o desempenho e a experiência dos usuários com as principais aplicações SaaS.
É importante entender a experiência de usuário dos funcionários que trabalham em casa para garantir que ela atenda às necessidades e expectativas da empresa por um desempenho de SaaS de alta qualidade.
Use Case
nGeniusPULSE for SaaS Monitoring
NETSCOUT's nGeniusPULSE provides visibility to how SaaS applications are performing at their remote sites and where delays are occurring.
nGeniusPULSE
O nGeniusPULSE da NETSCOUT oferece visibilidade da experiência do usuário, simulando as ações deles a partir de cada local, com agentes de TI virtuais instalados em cada desktop.
Com essa perspectiva, é possível saber se o usuário está com problemas de conectividade, além de ter acesso às informações necessárias para encontrar uma solução rápida. Os nPoints do nGeniusPULSE coletam, de forma automática e contínua, informações sobre o desempenho da TI em relação ao acesso do usuário aos principais serviços corporativos e de rede, incluindo:
Office365

Salesforce.com

Workday

ServiceNow

UCaaS

Acessibilidade da VPN

Capacidade da VPN

Desempenho de rede
O nGeniusPULSE foi desenvolvido para oferecer informações sobre o desempenho de serviços ou aplicações on-line, incluindo SaaS, UCaaS, serviços de VoIP e aplicações personalizadas no local, com qualquer tipo de implantação (na nuvem pública ou privada, no local ou em um ambiente híbrido) e forma de acesso (por conexão com fio ou Wi-Fi). Além disso, ele também monitora o desempenho de etapas ou ações nas aplicações, do login ao logout, com testes programados e consistentes.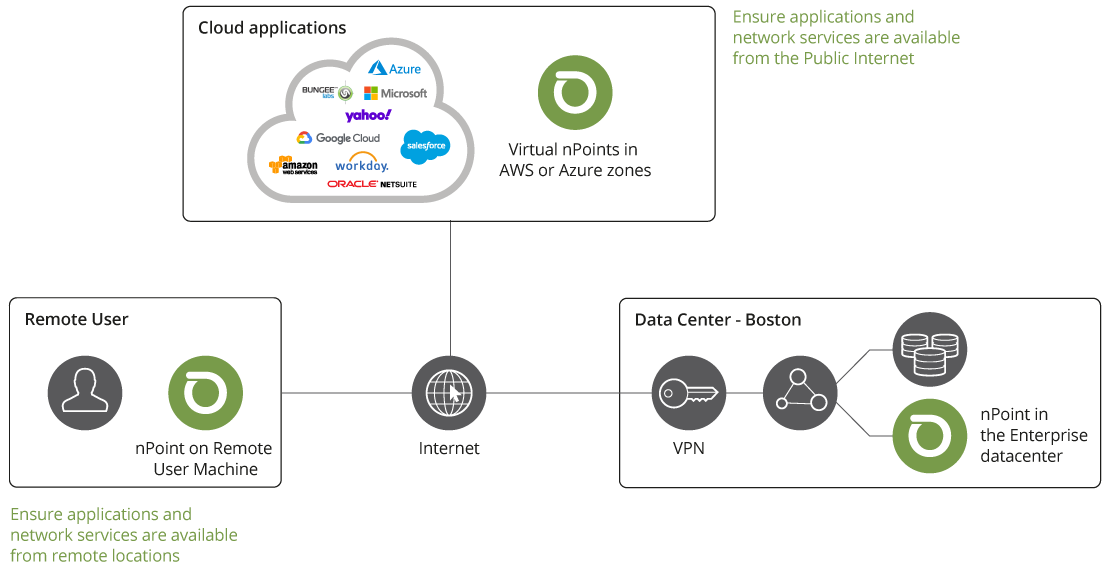 O nGeniusPULSE elimina as falhas de visibilidade da TI no home office
Trabalhar em casa já é um desafio enorme para os funcionários, então, acessar aplicações SaaS e UCaaS para poder realizar as tarefas não deveria ser mais um problema. Use o nGeniusPULSE para avaliar o desempenho e solucionar problemas, garantindo uma experiência de alta qualidade para os usuários remotos. Saiba como a NETSCOUT pode ajudar você a monitorar serviços críticos de comunicações unificadas e colaboração.
Podemos ajudar você a monitorar o desempenho de SaaS. Entre em contato conosco hoje mesmo.