Inscrivez-vous dès maintenant pour recevoir les dernières nouvelles de NETSCOUT en matière de continuité de service.
Visibilidad continua
Migrar a una red definida por software (SDN) es una transformación importante para cualquier empresa. Una SDN ofrece administración simplificada, seguridad, agilidad de aprovisionamiento y una mayor rentabilidad de los centros de datos.
Sin embargo, precisar la causa raíz de las interrupciones en la SDN puede resultar complicado si el personal de TI no tiene visibilidad rápida o utiliza herramientas ineficientes.
Para llevar a cabo una migración exitosa y lograr operaciones ininterrumpidas, es necesario superar la falta de visibilidad en las dependencias de las aplicaciones y en la experiencia del usuario. Sus ingresos finales dependen de la disponibilidad continua y la calidad de la experiencia del usuario final; cualquier otro escenario pone en peligro su negocio.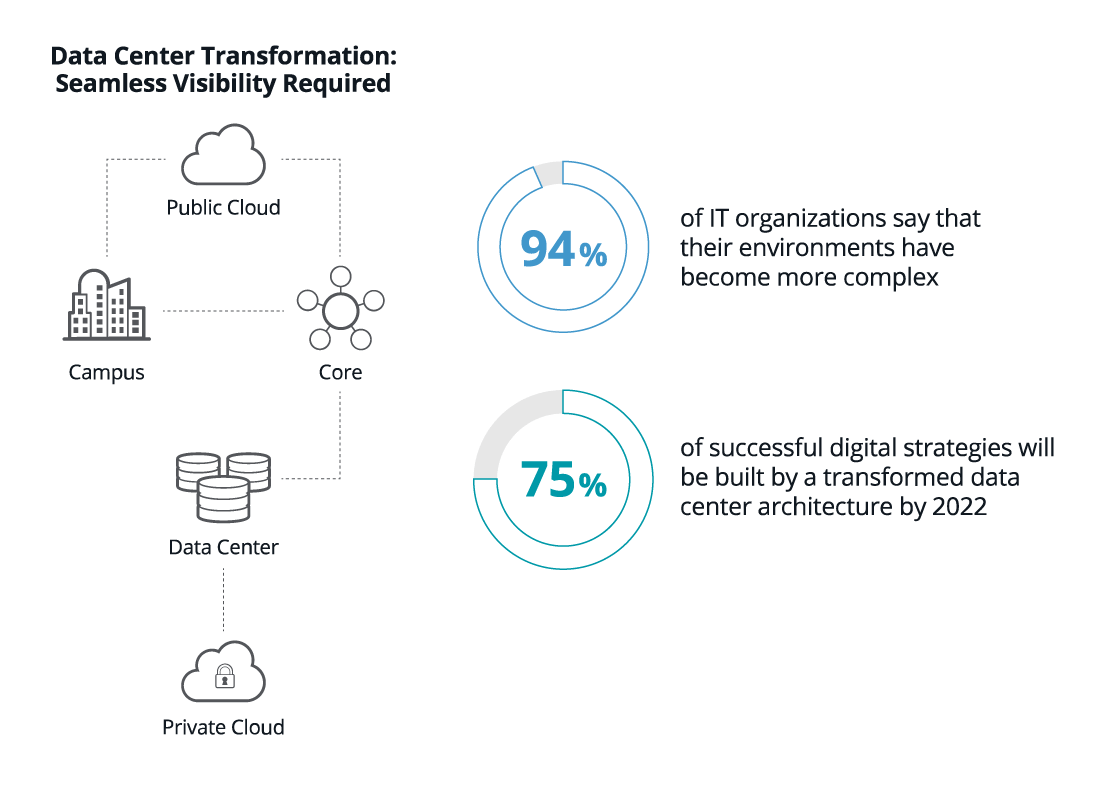 Case Study
Assuring Railway Data Center Transformation Success With NETSCOUT
See how one transportation company met the challenge of Data Center Transformation with NETSCOUT network monitoring and visibility before, during, and after transition.
La solución NETSCOUT
Netscout cierra las brechas de visibilidad, lo cual permite que usted conserve una alta calidad y la continuidad del negocio durante la transición a SDN. Los beneficios incluyen:
Visibilidad del desempeño en tiempo real de las aplicaciones y la experiencia del usuario, y validación de la correcta implementación de los controles de seguridad.
Información sobre las dependencias de una aplicación y comparación de su desempeño.
Cumplimiento de las metas de la experiencia del usuario y aprovisionamientos más rápidos y dependientes para las aplicaciones instaladas en SDN.
Tiempo de resolución de problemas de aplicación y red más rápido, con visibilidad completa del tráfico este-oeste y norte-sur.
Reducción de la complejidad de implementación y las tareas manuales.
Visibilidad de extremo a extremo
NETSCOUT ha desarrollado una solución revolucionaria para ampliar la potencia de la tecnología Adaptive Service Intelligence™ (ASI), que lleva el análisis de paquetes más allá de los centros tradicionales de datos y tráfico norte-sur en entornos virtualizados, para brindar estadísticas profundas del tráfico este-oeste. Esta solución brinda visualizaciones perfectas que se amplían para abarcar toda su instalación de SDN y sus entornos de centros de datos heredados y de nube híbrida.
La plataforma nGeniusONE brinda visibilidad única de extremo a extremo de los servicios de la empresa, y brinda flujos de trabajo contextuales para acelerar la resolución de problemas. A través de las visualizaciones generales del desempeño de las aplicaciones y la experiencia del usuario, nGeniusONE expone las dependencias de los servicios subyacentes que ayudan a los equipos de TI a gestionar de manera más efectiva los problemas de salud, disponibilidad, seguridad y experiencia del usuario en las instalaciones de SDN.