Inscrivez-vous dès maintenant pour recevoir les dernières nouvelles de NETSCOUT en matière de continuité de service.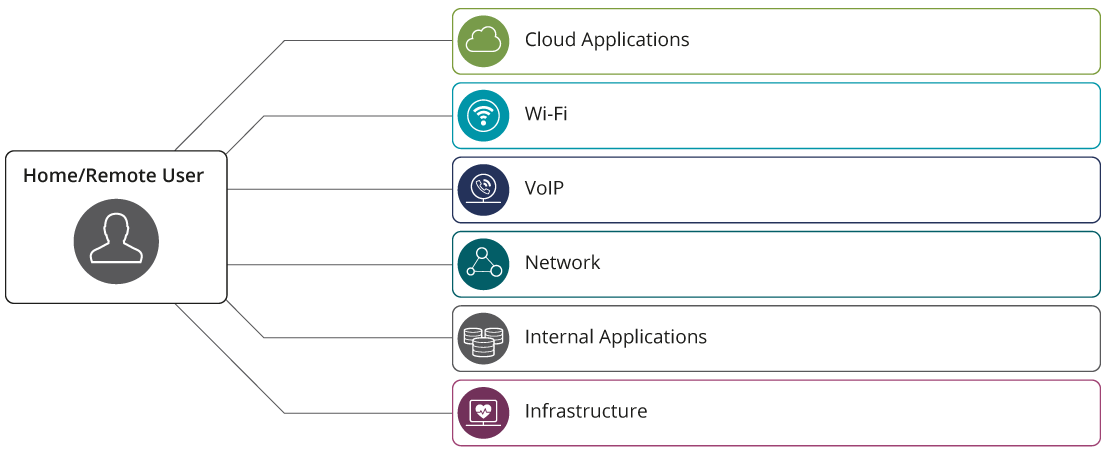 La demanda de acceso y rendimiento de los usuarios no va a cambiar solo porque tengan que trabajar a distancia. Sin importar dónde trabajen los usuarios, usted necesita tener la capacidad de proteger, supervisar y validar la disponibilidad, el desempeño y la experiencia del usuario con sus aplicaciones SaaS clave.
Es imprescindible poder entender la experiencia de los empleados que trabajan desde casa para garantizar el cumplimiento de las necesidades y expectativas corporativas en cuanto al rendimiento de SaaS de alta calidad.
Use Case
nGeniusPULSE for SaaS Monitoring
NETSCOUT's nGeniusPULSE provides visibility to how SaaS applications are performing at their remote sites and where delays are occurring.
nGeniusPULSE
nGeniusPULSE de NETSCOUT brinda visibilidad en la experiencia de los usuarios, gracias a que simula sus acciones desde cada ubicación, mediante el uso de agentes de TI virtuales colocados en su escritorio.
Esta perspectiva le permite saber si el usuario presenta problemas de conectividad y le brinda la información necesarias para resolver el problema rápidamente. nGeniusPULSE nPoints reúne de manera automática y continua la información del desempeño de la TI sobre el acceso del usuario a los servicios empresariales y de redes esenciales, entre ellos:
Office365

SalesForce.com

Workday

ServiceNow

UCaaS

Accesibilidad por VPN

Capacidad de la VPN

Desempeño de las redes
nGeniusPULSE está diseñado para brindar información sobre el desempeño de cualquier aplicación o servicio web, como los servicios para SaaS, UCaaS y VoIP; además, ofrece datos sobre las aplicaciones in situ personalizadas, sin importar cómo se instalen (en la nube pública, en la nube privada, en las instalaciones o en un entorno híbrido) ni cómo se acceda a ellas (ya sea con una conexión por cable o por Wi-Fi). Además, puede supervisar el desempeño de las etapas o acciones de una aplicación, desde el momento de inicio de sesión hasta la desconexión, gracias a las pruebas programadas y regulares.
nGeniusPULSE cubre la brecha de visibilidad de TI en las oficinas en casa
Los empleados que trabajan en casa enfrentan muchas dificultades, así que el acceso a las aplicaciones SaaS y UCaaS para realizar sus labores no debería suponer otro inconveniente. Evalúe los problemas de desempeño y detección de problemas para garantizar una experiencia de alta calidad a sus usuarios remotos usando nGeniusPULSE. Conozca NETSCOUT y descubra cómo puede ayudarle a monitorear los servicios de comunicación unificada y colaboración.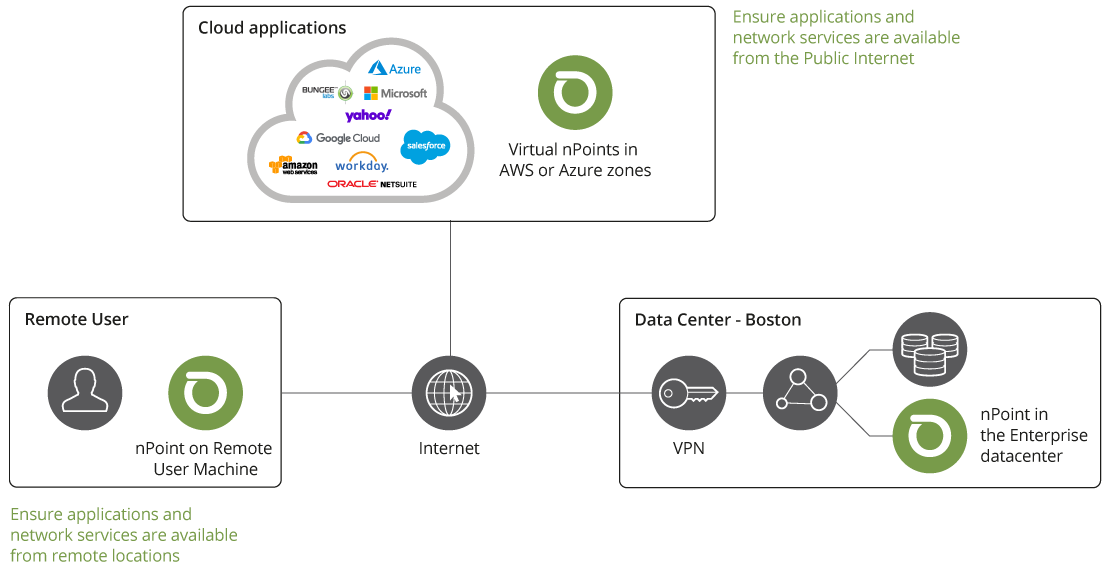 Llámenos hoy mismo para ayudarle a monitorear el rendimiento SaaS.