It's about being up, Always.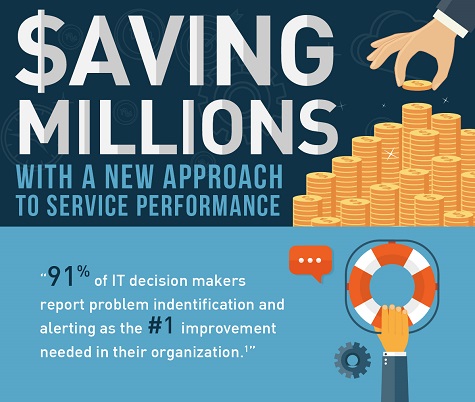 Your customers expect constant availability and your company expects you to deliver it.
As systems grow more complex, so does the job of keeping them running. You are on the front line and expected to catch problems before they become problems. During your day-to-day battle for consistent uptime you are also charged with understanding the road ahead. Software Defined Networks, Software as a service, private cloud, hybrid-cloud, public cloud, and all aspects of digital services dominate your day.
Now your company is talking about business and digital transformation. You are looking to automate every aspect of IT and business possible. Systems and architectures are in flux. Wouldn't it be nice to maintain constant visibility throughout the entire journey?
Network Performance Management (NPM)

NETSCOUT's NPM solution assures that the network, a critical component of the overall service infrastructure, is performing at its peak. NPM is a part of NETSCOUT's overall suite of Business Assurance solutions that provide real-time actionable insight to optimize corporate business agility, assure service delivery, mitigate risk and offer valuable insight on service performance to operations, development, and business functions.
NETSCOUT's NPM solution relies on Adaptive Session Intelligence™ (ASI) technology and the nGeniusONE™ platform to proactively monitor network performance issues. The nGeniusONE platform scales to manage some of the largest and most complex IP networks in the world and offers a holistic and consistent end-to-end view of the service infrastructure. In the past, products such as Sniffer and other network analyzers were used to manually sift through large volumes of captured traffic data. This time-consuming and inefficient way to manage networks and perform root-cause analysis is replaced today with ASI technology. ASI uses its rich deep packet inspection engine to continuously monitor and analyze large volumes of big-data in real-time to deliver actionable insights.
While NetFlow and SNMP data can be used for NPM purposes, the richest, most comprehensive and coherent insight is derived by ASI directly from the traffic data. This includes information on user experience, traffic volumes, application server response times, server throughputs, aggregate error counts, error codes specific to application servers and domain, as well as other data related to network and application performance. Lastly, since everything we do is based on standard traffic data we provide you a consistent version of the truth both today and tomorrow as your network scales and evolves.
The Voice of the Customer
A recent TechValidate study revealed that NETSCOUT customers successfully utilize the nGeniusONE platform and ASI technology to tackle complex performance issues and achieve high value business outcomes and growth. Some of the results are:
FOR MORE INFORMATION PLEASE REFER TO: TECHVALIDATE – THE VOICE OF THE CUSTOMER
RESOURCES
Case Studies
Data Sheets
Quick Looks