Overview | Enterprise | Service Provider | Case Studies | Commentary | Infographic
Third-Party Research Source Confirms NETSCOUT nGeniusONE Service Assurance Platform Dramatically Reduces MTTK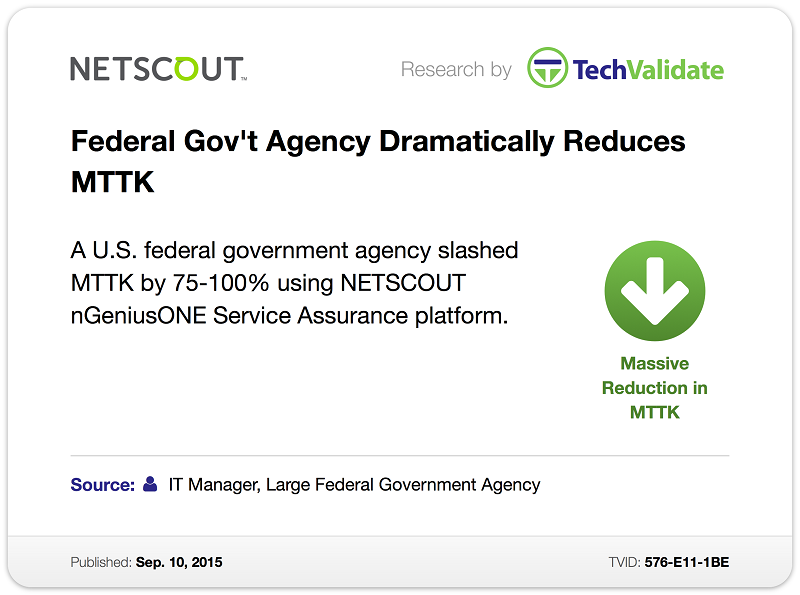 Whether you're a governmental or profit-driven entity, the strategic importance of IP-based services has never been more important to organizations. Indeed, digital services are the lifeblood of a connected world that drives a global economy worth 77 trillion dollars. If the loss of those strategic services were to occur globally, the meltdown would be felt in virtually every corner of the world.
While the odds of that happening are minimal, the reality is enterprises and service providers around the globe are asked to deliver critical services faster and with higher quality – and at a lower cost. Plus, the children of the Informa­­tion Age want their digital services and they want them now without any perceivable diminution of quality. And that is the fundamental challenge – achieve always-on service with perfect service delivery.
It's also the headache of IT and network operations managers worldwide. Indeed, to achieve the highest quality user experience, continuous monitoring and real-time analysis of the service delivery environment is utterly mandatory.
The traditional bottom-up approach using multi-vendor, silo-specific tools is ineffective because they use disparate datasets that lack the insight into interrelationships and dependencies between service delivery components. A service assurance solution must use traffic-based intelligence capabilities to see the whole service delivery picture so as to reduce mean-time-to-repair (MTTR) of the inevitable issues that arise with enterprise and service provider networks. And reducing MTTR is contingent upon identifying the root cause(s) of service degradations, thus preventing outages. Indeed, mean-time-to-knowledge (MTTK) is the precursor to MTTR reduction with MTTK making up 90% of MTTR.
Furthermore, a Forrester analyst report focused upon enterprise businesses in North America found that an astonishing, "91% of respondents report problem identification and alerting as the #1 improvement needed in their organization." So, clearly then service triage is the #1 IT problem for businesses and service providers. Moreover, Forrester also found out that IT issue resolution cost companies almost $11 million per year.
NETSCOUT Customer MTTK Results
As service triage is NETSCOUT's bread and butter, we were curious as to what results our customers are receiving. In late May 2015, TechValidate, a customer research firm, sent a survey to 600+ NETSCOUT customers and asked them. The results were astonishing:
What were some specific customer results?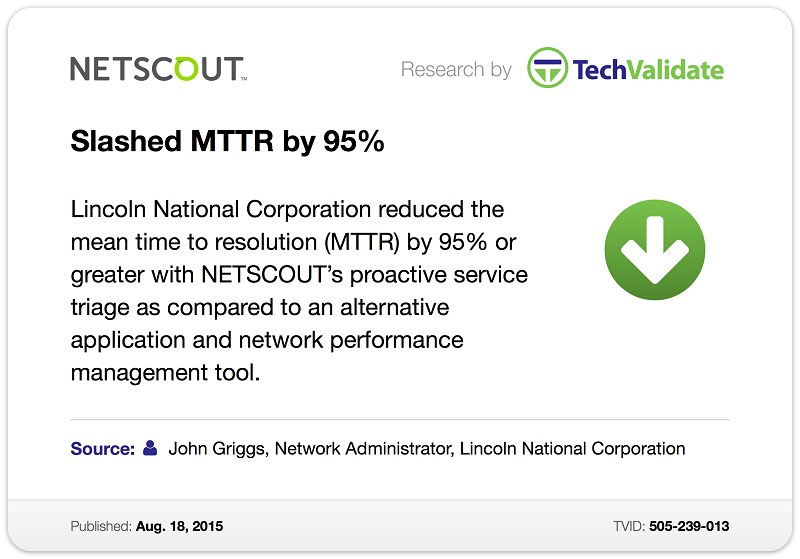 It is important to mention that all of the survey results were independently verified by TechValidate as well, thus bolstering NETSCOUT's reputation as a superior service and network performance management platform. The NETSCOUT nGeniusONE Service Assurance platform and Adaptive Service Intelligence (ASI) technology are the common denominators that enable the rapid identification of the root cause of service performance problems, and thus keeps end-users and customers happy in a connected world that's always on.