OptiView XG Network Analysis Tablet
The wireless companion to nGeniusONE for full WLAN lifecycle management and troubleshooting network infrastructures
Put Portable Troubleshooting Power into Local Hands
OptiView XG enables Wi-Fi and wired network infrastructure troubleshooting by local technicians, giving them the portability to go anywhere – and the visibility they need – to solve problems down to the desktop. With automated discovery, mapping of the local network and multiple functions to isolate the root cause of infrastructure-related problems, OptiView XG helps distribute problem solving throughout your organization, making everyone more effective.
Ensure Wi-Fi Networks Are Secure and Operating Effectively
Integrated radios and wireless analysis software speeds planning, troubleshooting and securing WLANs. Survey sites for "dead zones" and interference, ensuring optimal performance for all users. Automated expert advice simplifies engineers' workload and minimizes user complaints by providing instant answers to ANY wireless connectivity, performance and security issue – even engineers with minimal WLAN expertise can solve the toughest problems with OptiView XG.
Used with nGeniusONE, OptiView XG provides infrastructure diagnostics from the access layer to data center
All-in-one network infrastructure analyzer – complete wireless and wired network discovery and troubleshooting
Quickly find root cause of network infrastructure-related performance problems
Troubleshoot remote sites without travel – use remote user interface for collaborative troubleshooting
Integrated into nGeniusONE for Efficient Workflows
nGeniusONE together with OptiView XG provides service assurance and visibility from the data center to the WAN, cloud, and remote site access layer – wired or wireless. nGeniusONE users can readily access OptiView XG remotely from nGeniusONE and provide an enterprise-wide perspective and collaborate in the troubleshooting process.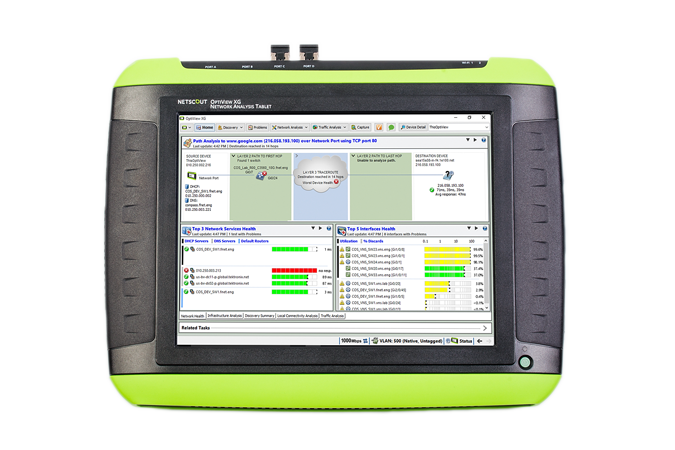 OptiView XG Product Features
Integrated WLAN Deployment and Troubleshooting

Isolate the Root Cause of Infrastructure-related Problems

Test the Quality of Network Infrastructure

Portable Power for Troubleshooting Anywhere in the Network
"A major benefit of the OptiView XG is that it allows me to better utilize my staff. I can now confidently leverage technicians with less experience and expertise to handle problems that used to require a higher-level technician to diagnose, let alone remediate. In effect, the OptiView XG pushes the years of experience of a senior technician to the edge and makes my entire team more productive."
– Aaron Kostyu, Lowndes County Director of Technology
…
Enterprise Case Study
Quick Look
Data Sheet
OptiView XG Network Analysis Tablet the wireless companion to nGeniusONE
Full WLAN lifecycle management and network troubleshooting in a portable, easy-to-use device.
Download PDF
OptiView XG Network Analysis Tablet
The wireless companion to nGeniusONE for full WLAN lifecycle management and troubleshooting network infrastructures.
Download PDF
Contact NETSCOUT
Please complete this form to contact NETSCOUT.