nGenius 6000 Series Packet Flow Switches
Massive Scale, Hardware-accelerated Performance
When less becomes more.
As the number and capacity of your network monitoring systems increases, your need for targeted network traffic access increases as well. High-scale and non-blocking architecture enable you to consolidate the monitoring fabric into fewer packet flow switches with seamless any-port-to-any-port connectivity and session-based traffic forwarding to the monitoring systems with port speeds of 1/10/40/100 GbE.
If you can see it, you can fix it.
Component failure is an ever-present concern. nGenius 6000 Packet Flow Switches (PFS) enable you to monitor network systems across hundreds and thousands of ports in order to effectively manage complex and high-traffic volume environments.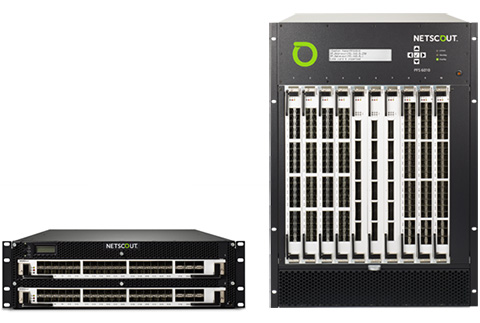 Intelligent, modular, large-scale network monitoring switch.
nGenius 6000 series provides targeted network traffic access to an increasing number of monitoring systems, including the nGeniusONE Service Assurance platform, as well as other monitoring and security systems. The nGenius 6010 model provides the massive density and capacity for 1/10/40/100 GbE traffic with all-inclusive feature functionality and best-in-class packet conditioning. The nGenius 6002 model provides the same capabilities in a smaller form factor. Both models deliver non-blocking, hardware-accelerated performance for the most demanding applications.
nGenius 6000 series packet flow switch helps you:
Reduce undesirable bandwidth bottlenecks
Reduce packet drops due to aggregation and interface/speed conversion
Simplify and grow your monitoring architecture
Ease manageability and provisioning
Products you can trust.
NETSCOUT provides time proven solutions that unlock the power of traffic-based data to efficiently deliver specific network traffic access to the appropriate monitoring systems in the world's largest and most demanding networks. Let us show you how nGenius 6000 series packet flow switch enables you to deliver complete IT visibility in a cost-effective manner.
…
Case Study
Data Sheet
Quick Look
U.S. Agency Improves Network Agility and Further Secures R&D Environment with NETSCOUT PFS Technology
Innovative Solution Meets Cost-Containment Guidelines, Supports Network Transition to 100G Speeds
Read More
Visibility Upgrade Extends Value of Agency Performance and Security Tools Investments
Successful Data Center Transformation Validates Investment in NETSCOUT Packet Flow Switch Technology
Read More
nGenius 6002 Packet Flow Switch
A Packet Flow Switch Data Sheet with Hardware-accelerated Performance and All‑Inclusive Features
Download PDF
nGenius 6010 Packet Flow Switch
A Packet Flow Switch Offering Massive Scale and Hardware-accelerated Performance
Download PDF
Contact NETSCOUT
Please complete this form to contact NETSCOUT.