NETSCOUT and AWS Partnership Supports Your Digital Transformation
If your organization is undergoing digital transformation it most likely relies on IT and SecOps to continuously deploy new services and migrate on-premises workloads across hybrid cloud environments. And although AWS offers clear benefits in the form of elasticity and scalability, your organization also needs holistic visibility into hybrid AWS cloud environments in order to make full use of them. Regardless of whether you are migrating application workloads by lifting and shifting, refactoring existing applications, or developing applications natively in AWS, you need a way to see across your entire distributed infrastructure—what we think of as visibility without borders.
Visibility Without Borders for End-to-End Insights Into Workloads Pre and Post Migration to AWS
Migrating applications adds increased security and performance requirements as companies use refactoring or microservices, which are loosely coupled, small pieces of code, and require frequent communication. That means successful migration must start with Visibility Without Borders.
As a result of cloud migration (or data center transformation) initiatives, the threat and vulnerability landscape changes and with it the importance of focusing on security and performance. Continuous monitoring of services that span the hybrid cloud is a necessity to assure both service security and high-quality customer experience.
Against such a backdrop NetOps, SecOps, and other IT organizations must collaborate more tightly to build common situational awareness. To make this happen, companies need a visibility and collaboration platform that delivers comprehensive real-time analysis and consistent views of service performance.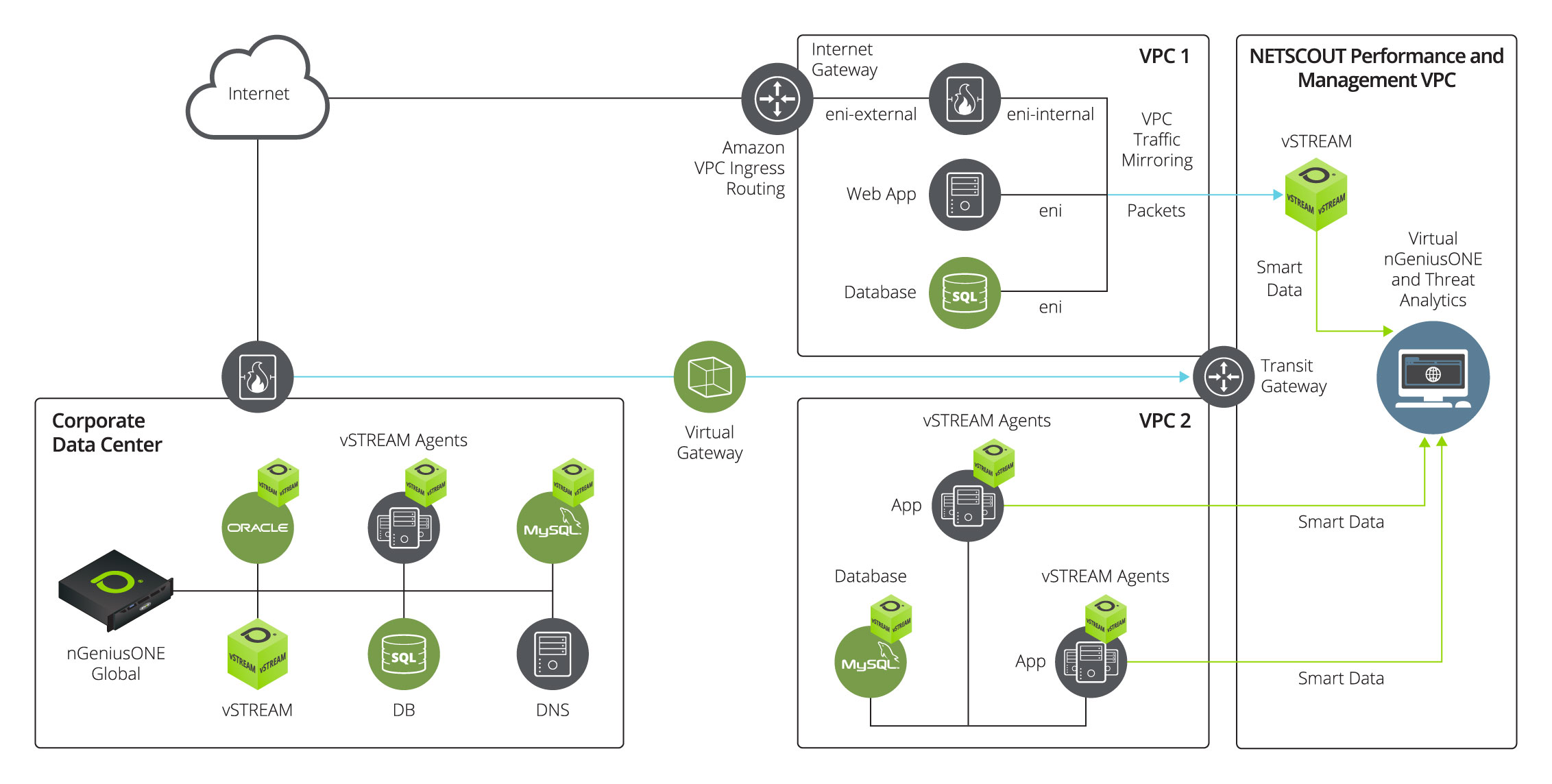 Some of the typical areas you may focus on as you execute these cloud initiatives include:
Which application workloads to migrate as lift-and-shift and which to refactor?
What are the current service dependencies for this application for it to continue to operate as expected when the services move to the cloud?
How can assuring application performance optimize customer experience?
How will infrastructures and services be elastically scaled in AWS?
When extending or connecting an on-premises environment to AWS, what needs to be done to continuously monitor for vulnerabilities and security threats?
Through continuous monitoring and by capturing all wire data (traffic flows) traversing the hybrid cloud environment - performing simultaneous deep-packet inspection and real-time analysis - NETSCOUT generates Smart Data at its point of collection. NETSCOUT smart data solutions let you migrate workloads to AWS cloud with confidence, providing a foundation for common situational awareness by monitoring a variety of availability, reliability, responsiveness and threat metrics -- making them easily accessible in real time to the right team members with custom views relevant to their function.
AWS Commercial and GovCloud Marketplace
NETSCOUT extends its offer to AWS Marketplace for AWS GovCloud (US) region in the latest release for Public Sector, Government, Education, and other regulated customers.

Customers can deploy NETSCOUT software on AWS VPCs using BYOL (Bring Your Own License) option to easily migrate to AWS.
PAYG
In the Pay As You Go (PAYG) model customers pay to AWS directly for usage of NETSCOUT solutions.
Visit AWS Commercial Marketplace for more information »
Key Benefits:
Optimize the performance of application workloads migrated to the AWS cloud and assure outstanding customer experience for migrated applications.
Baseline current traffic patterns and application response times to ensure performance is maintained throughout digital transformation projects.
Empower collaboration between enterprises and AWS as they work together to achieve business goals.
NETSCOUT supports AWS native features such as Amazon VPC Ingress Routing and Amazon VPC Traffic Mirroring to complement NETSCOUT's embedded virtual appliances that offer software-based instrumentation of application workload