What a Difference a Year Makes!
Connecting with our communities: NETSCOUT Guardians return to prepandemic levels of volunteering
As the world and our communities cautiously started reopening in 2022, NETSCOUT Guardians enthusiastically jumped back into in-person service projects with the Heart of Giving program, continuing our almost decade-long tradition of helping to create the positive changes we want to see in our lives.
Heart of Giving
The NETSCOUT Heart of Giving team volunteer program is open to all full-time and part-time employees. Employees worldwide can choose causes and make meaningful contributions to the betterment of their communities at any time during the year. Our program started in 2013 with one project at an elementary school. By the end of 2022, we had completed 170 employee-driven volunteer projects—including one all-intern project for Catie's Closet—with more than 89 organizations around the world. 
Over the years, our employees in China, the Czech Republic, India, Ireland, Italy, the Netherlands, the United Kingdom, and across the United States have participated in these efforts in person and virtually, and this year we were pleased to add three new countries to our volunteer map: Australia, South Africa, and the United Arab Emirates. 
Any employee can see an opportunity to address an issue in their community and, with support from Heart of Giving, step up and organize a team to work on it. The program has evolved to include a mix of favorites that run each year along with new projects—for new organizations or locations or led by new team captains—added annually. This mix makes the Heart of Giving program dynamic and flexible for employees and their communities.
And these employee-led projects have covered a wide area of interests and needs, including the following:
Hands-on: Cleaning animal kennels, crates, and pens; feeding (and petting!) adoptable animals; washing laundry; building stairs; weeding vegetable gardens; landscaping; unloading food trucks; event-staff volunteering; participating in walkathons; sorting food at food pantries; collecting and organizing donations for resale shops; playhouse building; beach cleanup; trail cleanup and clearing at outdoor spaces and conservation lands; baking and delivering cookies to frontline workers; and more  
STEM skills-based: Mentoring datathon, cybersecurity, and business and entrepreneur camp students, as well as scouts earning badges in robotics
Other skills-based: Working with a recipient organization's staff to refine their social media strategy
Honestly, is there anything NETSCOUT Guardians can't do?
2022 Volunteer Projects
In 2022, our employees happily completed 25 team volunteer projects in their communities—returning to our pre-pandemic levels of volunteering.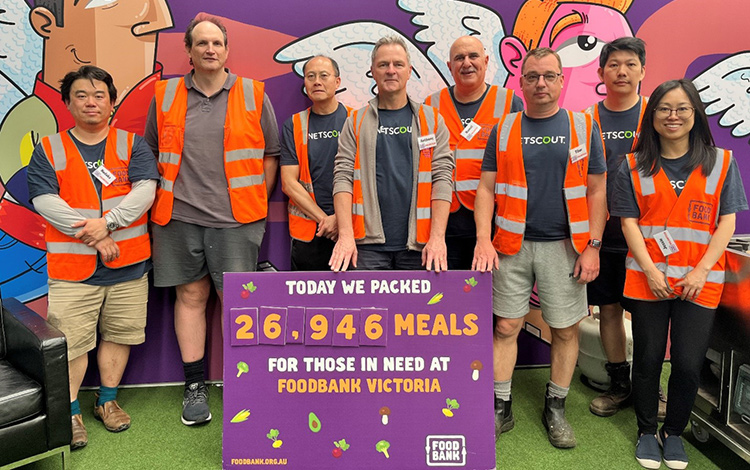 In Australia, employees spent the day at the warehouse of Foodbank Victoria, which has been providing vital food relief for more than 90 years. The 26,946 meals our Guardians packed for vulnerable Victorians will be sent to several of the 450-plus charities Foodbank Victoria supports. "The team felt great contributing in such a tangible way," noted team captain Ramzi Kort, NETSCOUT director of global services. "It was a great day having the opportunity to truly make a difference to Victorians in need."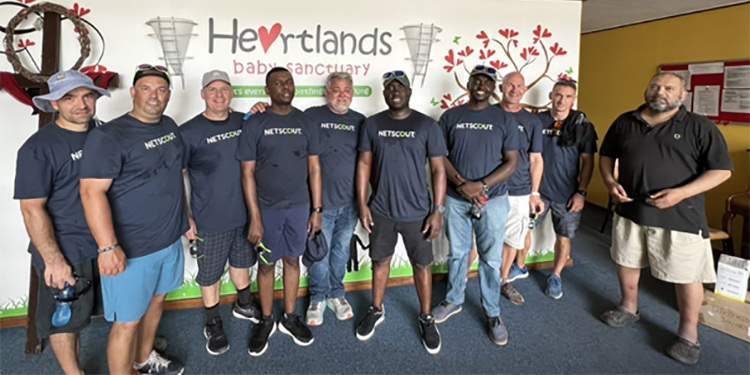 Over in South Africa, NETSCOUT Guardians did more hands-on work and heavy lifting in the Heartlands Seeds of Hope garden at Heartlands Baby Sanctuary. "It was an extremely labor-intensive morning in extremely hot weather," said team co-captain Bryan Hamman, NETSCOUT regional director of sales. "Team spirit and camaraderie between the team and family members kept smiles on everyone's faces until the job was completed." Added co-captain Nicholl-John Appolis, NETSCOUT international sales engineer, "The team gets my thanks for all their hard work on the day. It really makes you feel like you are a part of something bigger."
The garden was created to provide a sustainable source of food and income and is managed entirely by volunteers. It provides a significant amount of organic plants and vegetables, so much so that the pilot project will now be extended to sell to restaurants and the community as another form of income. Heartlands Baby Sanctuary, based in Somerset West, Western Cape, is a temporary residential safe care facility for up to 25 children from birth to 6 years old. The organization provides individual specialized care and support to children in desperate need of care.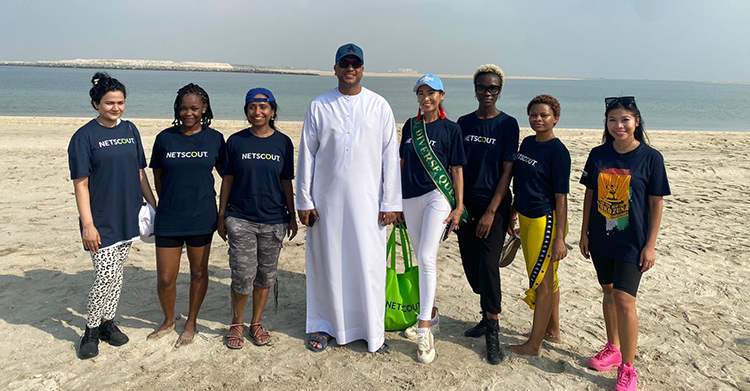 On the shores of the United Arab Emirates, our employees, friends, and family members spent a day volunteering at a beach cleanup on Palm Deira Island in Dubai. The event was organized by Dubai Municipality Services to drive environmental awareness and provide an opportunity for diverse community members to work together toward a common goal. 
According to team captain and NETSCOUT sales administrative assistant Daylinda Ramirez, "It was an amazing experience for everyone. We gathered with 130 other volunteers to help make our community a better place to live. It was inspiring to see families work together as an example to everyone that we have a responsibility to take good care of our Mother Earth. We are thankful to all individuals who have a golden heart and are willing to give back to our community. Also, to the NETSCOUT Heart of Giving culture that supported us to make it happen."
In addition to the new countries and new team captains who joined our Heart of Giving volunteer projects, we repeated and maintained relationships with several organizations, including previous community grant participants Megan's House, Merrimack Valley Food Bank, Frisco Fastapcs, and Podcestny Mlyn, and we just celebrated 11 continuous years of participating in the Lowell Transitional Living Center's Steps to Home Walk.
"Our Guardians continue to demonstrate their deep commitment to important causes around the world," said Karen McCloskey, director of internal communications at NETSCOUT. "We're happy to see an uptick in the number of employee-driven volunteer projects and to see in-person volunteering making a comeback."
The global pandemic has been rough on everyone and continues to be a background worry for most, but NETSCOUT Guardians all over the world found ways to minimize their health risks and maximize their charitable efforts in their parts of the world.
Hear them talk about it in their own voices:
NETSCOUT's Heart of Giving Program | Connected for Good.
Learn more about NETSCOUT's Heart of Giving program.