Catching Up with the CARDBoard Project and DIA
NETSCOUT helps address the digital divide in North Texas.
In June 2021, our Allen, Texas office employees chose the CARDBoard Project and Dallas Innovation Alliance (CBP and DIA) as the recipients of that year's $10,000 Heart of Giving community grant and volunteer service. The award was to fund the creation of an internet and technology support line for the organizations' joint (Em)Powerment initiative, which benefits local communities that struggle to get connected to and successfully use the internet. This is part of our annual grant program in partnership with the Communities Foundation of Texas.
When they made their presentation, CBP and DIA told us the $10,000 grant would help them create an internet and technology support pipeline for local communities that struggle to get connected digitally, access and use laptops and hotspots, and troubleshoot any problems with these devices. They identified branches of the Dallas Public Library as their first in-person targeted locations, and they offered interesting, skills-based volunteer opportunities, which, crucially, could be done virtually.
Our employees from the Allen, Texas office:
Translated getting-started tutorial instructions into Chinese, Spanish, Farsi, Burmese, Arabic, and French—some of the most commonly spoken languages in the areas around the Martin Luther King and Highland Hills branch libraries in Dallas
Provided recommendations and guidance on implementing the help ticketing system. 
Spearheaded a meeting between CDP and DIA and our friends at Tech Goes Home, who offered access to their tutorials (many created by NETSCOUT volunteers) and guidance on creating new tutorials tailored to the needs of the Dallas community.
Met regularly with CDP and DIA to provide guidance to the overall project and help connect others to volunteer opportunities.
Said Mike Rudnicki, principal technical writer in our Allen, Texas, office, "It was great to work with local organizations that provide laptops along with Wi-Fi connection and internet usage instructions to people who had little or no experience with computers or the internet. Bridging the digital divide is a worthy cause well suited to NETSCOUT's culture and values."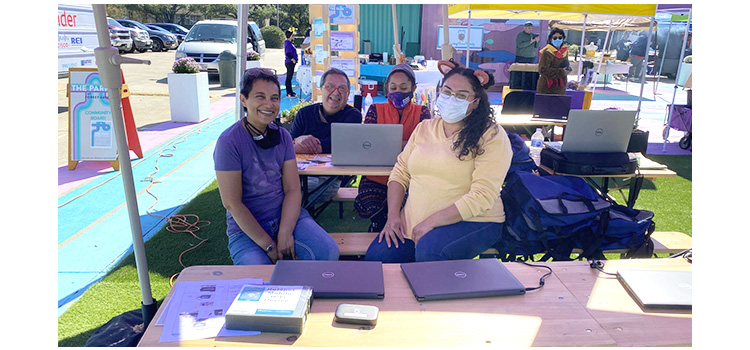 "The CARDboard project and Dallas Innovation Alliance have great initiatives, so it was a pleasure to help them," noted Sylvain Plante, senior engineering manager at NETSCOUT. "With COVID, it's harder to help the community, so I jumped at the occasion when I saw a way I could help online. I hope my small contribution to the project helped someone in need."
Because we were so impressed with the initial project and digital equity and inclusion are among our environmental, social, and governance (ESG) pillars, we further funded them with a corporate grant for $20,000 to allow them to expand with (Em)Powerment popups.
A year later, CDP and DIA are making great progress on their initiative to implement a help desk to assist first-time users with operating their Chromebooks and getting connected to the internet. The pilot program kicked off on May 25, 2022, at the Martin Luther King branch library.
At the library, CDP and DIA will provide one-on-one startup and technical support for the Chromebook/hotspot bundles when users check them out. In addition to the previously mentioned startup guides, which users can take home, Zoom video tutorials are available—either at the library or for participants at home. Concurrently, the CDP and DIA Digital Ambassador program will be piloted onsite to provide comprehensive awareness and education about available programs for affordable Wi-Fi, digital skills classes, telehealth, transportation, and job seeking. Their partnership with the Martin Luther King branch library will also include regular popups each week and will expand resources provided to guests as the curriculum expands.
"COVID placed a glaring light on the scope of the digital divide and the impact it has on the lives of our communities," commented Jennifer Sanders, executive director at Dallas Innovation Alliance. "The silver lining is the acceleration of work to solve this issue, and through the support of NETSCOUT, we have been able to expand our programs that provide critical on-the-ground support for our neighbors in need of connection and navigation to fully benefit. We are so grateful to the team for their investment and faith in our organizations."
Armando Cantu, executive director CARDBoard Project, noted, "The NETSCOUT team were extraordinary with supporting our collaboration with the Dallas Public Library system. The team provided us with valuable feedback and connected us with a new partner, Tech Goes Home, which shared some of its video tutorials to address digital knowledge gaps many of our guests face."
Learn more about: