Accelerate and Assure SD-WAN Deployment and Operational Success
With enterprises actively investing in SD-WAN as a cost-effective and preferred means to connect branch offices and other fixed locations to the corporate network and enable higher quality, real-time applications, assuring and protecting the end-user experience is both complex and necessary.
NETSCOUT's partnership with Dell Technologies enables turnkey deployment and swift turn-up of the vSTREAM® on Dell EMC Virtual Edge Platform uCPEs running the VERSA SD-WAN solution. In combination, the solution delivers end-through-end application visibility and proactive monitoring of LAN/WAN traffic flowing through the Virtual Network Function (VNF) service chain.
In SD-WAN environments, vSTREAM (vendor and technology agnostic instrumentation) acts as a virtualized InfiniStreamNG to collect packets at branch locations or the micro-edge and send Smart Data, to the centrally located nGeniusONE platform for continuous monitoring of network and application health edge-through-edge.
Business Benefits
LAN and WAN Traffic Visibility
Enable inbound/outbound traffic comparisons to assess firewall integrity.
Agnostic Implementation
Software-based data collector is easily integrated into a multi-vendor VNF with multi-vendor SD-WAN providers.
Application-level Details
Meaningful service dashboards deliver insights and quality user plane metrics for a better understanding of services affected by bandwidth constraints.
Unmatched Visibility at the Edge
Ideal for microEDGE locations the Dell Technologies-based SD-WAN offering features a lower cost, in-line uCPE (Dell Virtual Edge Platform) running the Versa SD-WAN and NETSCOUT vSTREAM as Virtual Network Functions.
Used in combination with the NETSCOUT Advanced Fabric Visibility and Service Assurance offerings from Dell Technologies, a complete solution enables core to micro-edge (N/S/E/W) monitoring for network security, application, and performance.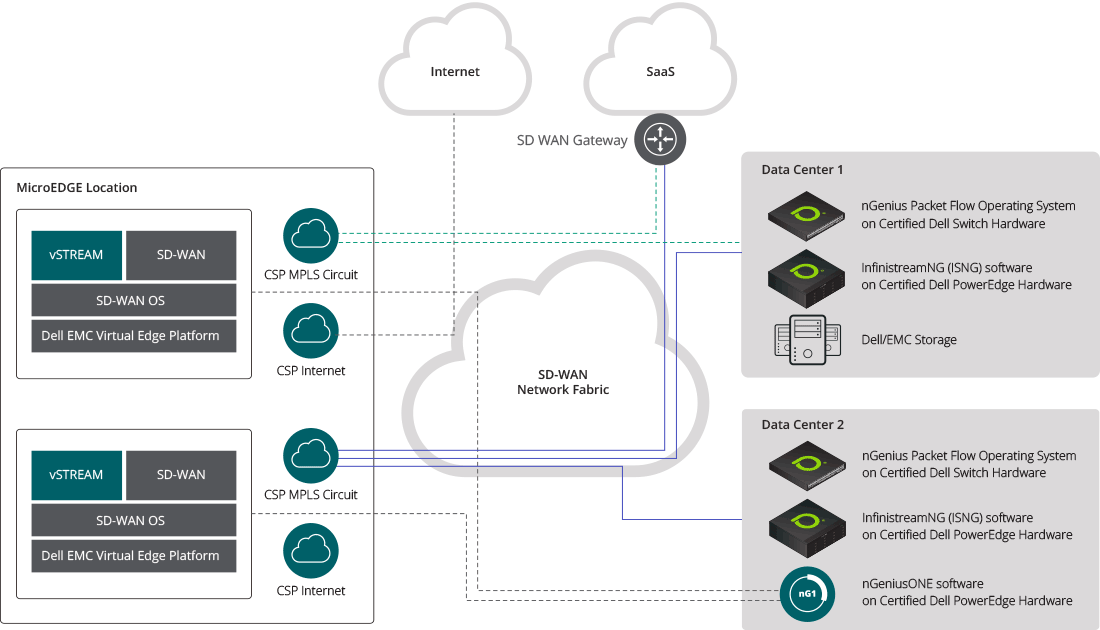 Example Use Cases
Unified Communications (Voice & Web Conferencing, Contact Centers, Cloud & UCaaS, Voice and Video, SIP Trunking)
Server Message Block (SMB) for network file sharing
Traffic monitoring of conversation pairs for bandwidth capacity assessment and improved performance engineering
LDAP session analysis
Integrated solutions from NETSCOUT and Dell Technologies address data center and digital transformation needs.