Network Monitoring, Application Performance,
and End-User Experience Assurance
Organizations can accelerate digital transformation and meet network and application visibility challenges with ultimate flexibility. Dell's OEM Engineered Solutions program enables turn-key deployment of NETSCOUT's InfiniStreamNG® (ISNG) and the nGeniusONE® service assurance solution in a manner best-suited to specific infrastructure, visibility requirements and budgetary goals.
NETSCOUT Service Assurance Solutions for IT enable rapid troubleshooting, predictive analysis, network topology and health diagnostics reporting with high-performance data collection and analysis delivered on Certified Dell EMC PowerEdge Series hardware.
InfiniStreamNG Software on Certified Dell PowerEdge Hardware
Transform live network packets into "Smart Data" for continuous and uniform visibility across large-scale network environments with NETSCOUT's patented Adaptive Service Intelligence® (ASI) technology.
Key Capabilities
Real-time: Support for Real-time Network Packet Traffic and Synthetic Testing Results
Visibility: Real-time Visibility into User Experience
Assurance: Ensure Security, Manage Risk and Drive Service Performance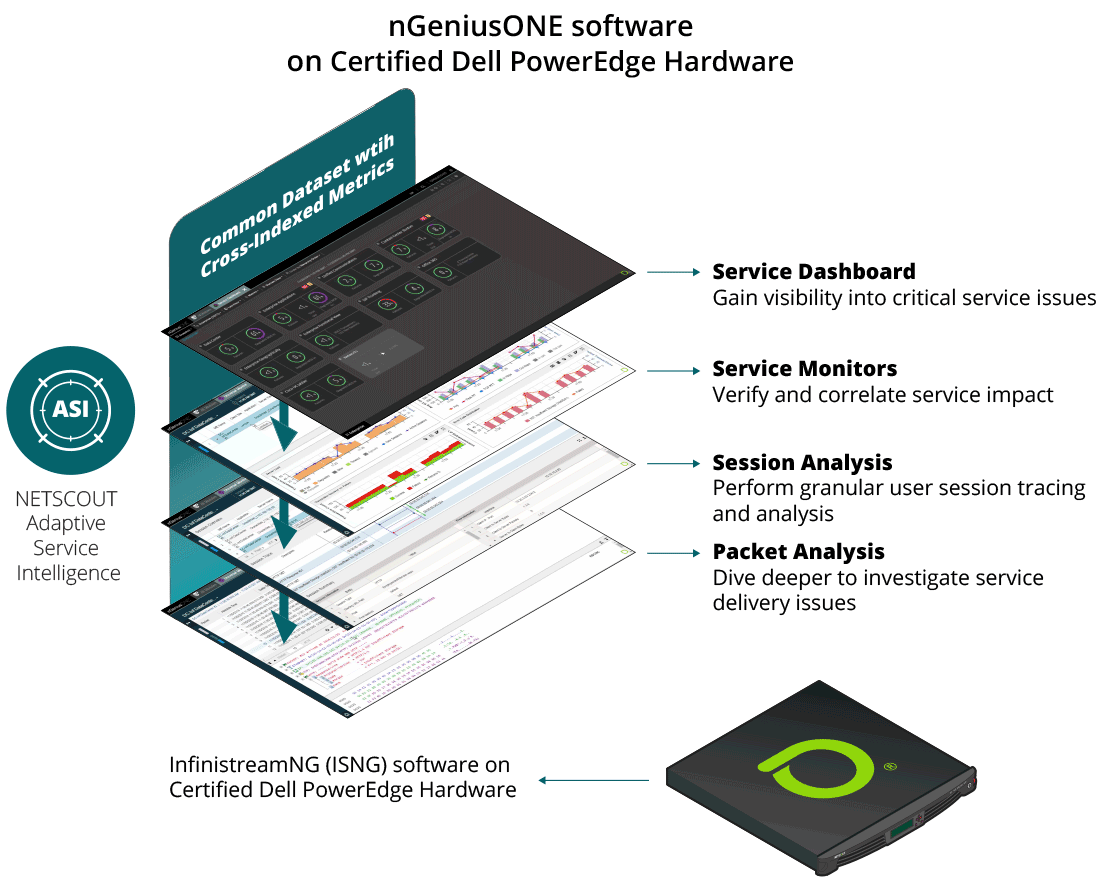 nGeniusONE Software on Certified Dell PowerEdge Hardware
Assure performance and availability of multi-cloud enterprise environments. The nGeniusONE Service Assurance solution provides visibility and analysis into any infrastructure environment—data center, private & public cloud, and co-locations; for whatever service is deployed—customer-facing applications, voice, video, SaaS, and UCaaS; from wherever they are accessed—headquarters, regional locations, or home offices.
Key Capabilities
Performance Analysis: At-a-glance views into overall service performance required keep businesses up and running on all networks and all platforms.
Service Dependency Mapping: Reduces migration risk by visualizing "hidden" client/server relationships and messaging performance.
Application Analysis: Business- and protocol-specific monitors, with metrics for troubleshooting and improving the end-user experience.
Session Analysis: Drill down from sessions and packets for detailed forensics within the same tool.
Integrated solutions from NETSCOUT and Dell Technologies address data center and digital transformation needs.