Packet Broker Solutions
Simplify procurement and deployment of NETSCOUT's advanced packet broker functionality with the nGenius Packet Flow Operating System (PFOS) and PFS Fabric Manager for certified Dell EMC PowerSwitch Series hardware.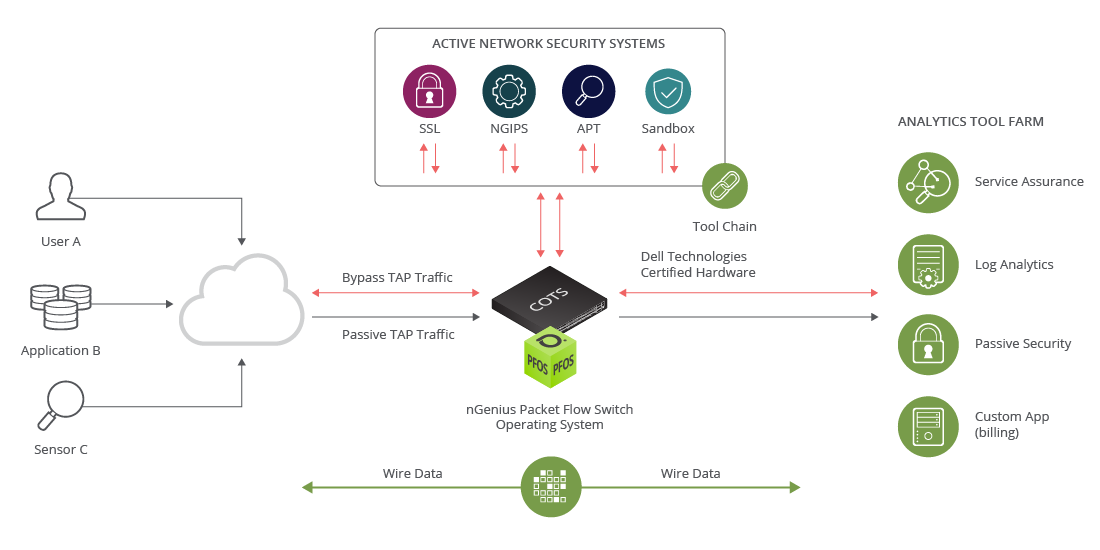 nGenius Packet Flow Operating System on Certified Dell PowerSwitch Hardware
Flexible and Powerful Filtering
Session-Based/Flow-Aware Load Balancing
Selective Packet Aggregation and Replication
MPLS and L2GRE Header Stripping
L2GRE & VxLAN Tunnel Origination and Termination
Tunnel Load Balancing
Scalable, Self-Healing Dynamic Meshing
Local and Remote Trigger Policies
Active Inline Security Features:
Tool Chaining, Tool Health Checks (+ & -)
LLDP Neighbor Learning
Line Rate Features on All Ports
PFS Fabric Manager on Certified Dell PowerEdge Hardware
Centralized Management and Configuration of Multiple Packet Flow Switches
Drag-n-Drop Flow Mapping / Topologies for Mapping Traffic Flow to Appropriate Tools
Centralized Monitoring and Visibility
nGenius Packet Flow eXtender Software Available from NETSCOUT
Complement this OEM Engineered Solutions Offer with advanced features designed to improve on security and monitoring tool capacity and performance.
Packet Deduplication
NetFlow/IPFIX Generation
Header Stripping
Packet Slicing
Packet Masking
Service Assurance: Efficiently scale and optimize network monitoring and performance management systems.
Security Assurance: Complement downstream security tools and policies for active inline and passive monitoring applications.
Integrated solutions from NETSCOUT and Dell Technologies address data center and digital transformation needs.